Archeologists Discover Original Home Of Harriet Tubman On Maryland's Eastern Shore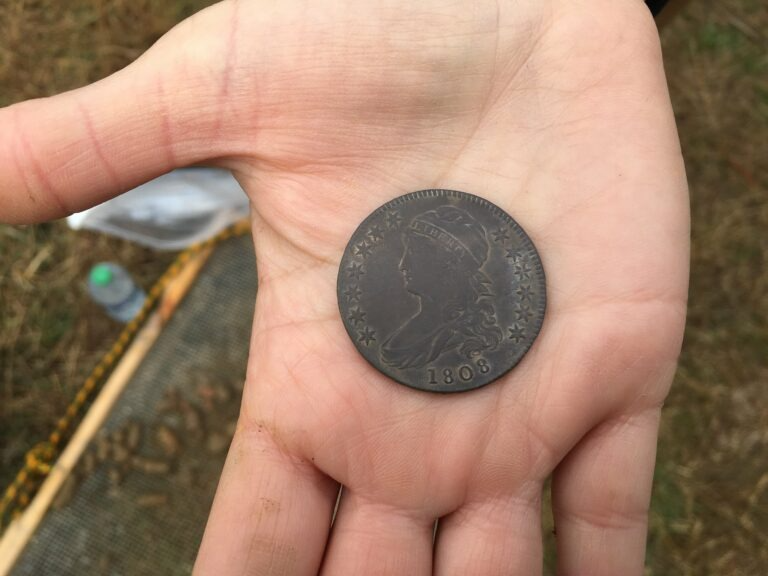 In November 2020, archaeologist Julie Schablitsky and a crew of experts waded through a muddy (and very buggy) portion of marshland on Maryland's Eastern Shore.
With rubber boots on their feet, mosquito nets on, and shovels in hand, the group searched near Blackwater River in Dorchester County for evidence that could possibly point to the location of "Ben's Ten" — 10 acres of property left to Ben Ross, the father of abolitionist and Underground Railroad conductor Harriet Tubman. Historians believe Ross acquired the property when Anthony Thompson, the man who enslaved him, died in 1836.
According to Schablitsky, a dozen archeologists dug and dug through the area along the Blackwater River — eventually digging 1,000 holes in the search for clues that might link the area to Ross' property.
When the digs brought up nothing, Schablitsky's frustration grew, and she turned to using a metal detector. She uncovered up a 50-cent coin from 1808 — the year Ben Ross and Harriet Tubman's mother, Harriet "Rit" Green, were married and started their family. As the search continued into March 2021, more discoveries— pipe stems, buttons from shirts, and old ceramics — pointed to Ross' past.
On Tuesday, Schablitsky, joined by Maryland Lt. Gov. Boyd Rutherford and Tina Wyatt, a descendent of Tubman and Ross, announced that the search has uncovered enough evidence to confirm that they'd found the Ross' lost property, where Tubman likely spent the first years of her life.
"This discovery adds to another puzzle piece in the story of Harriet Tubman, the state of Maryland, and our nation," Rutherford said at a press conference at the Harriet Tubman Underground Railroad State Park. "It [is] important that we continue to uncover parts of our history that we can learn from, especially well we can do this, before time and other forces wash it away. I hope that this latest success story can inspire similar efforts and help strengthen our partnerships in the future."
According to Rutherford, historians believe Ross harvested and sold timber along the property to free Black mariners, who built ships in Baltimore. As Tubman grew up working alongside her father, she learned the roadways and waterways, which later helped her lead dozens of enslaved people to freedom through the Underground Railroad — including some of her own family.
The U.S. Fish and Wildlife Service initiated the search in 2020, when it acquired 2,600 acres of land near Blackwater to preserve the habitat, according to Marcia Pradines, a refuge manager with service. But before stepping onto the property, Pradines said she knew that Ben's Ten could be located within the 2,600 acres, and initiated plans to search the parcel.
"In less than one year from when we've purchased the site, the crew has indeed found Ben's Ten," Pradines said during the press conference Tuesday. "Just in time, as the river rises and valuable bits of the story are about to be lost forever."
The site isn't open to the public yet, due to the location of the property (surrounded by forest that's facing the threat of sea-level rise) and the ongoing excavation. According to Pradines, officials would like to create visiting opportunities in the future, and are looking at different trail options that would make the historical site accessible by foot.
While the discovery marks a major archeological feat and provides some answers into Tubman's past, Schablitsky said the findings pose just as many important questions that require further investigation.
"We want to return back because we want to learn more," Schablitsky said. "What did he eat? What did he have in his home? How big was the site? All those questions have yet to be answered, and so we're going to be able to learn more."
Throughout the search, archeologists kept Tina Wyatt — the great-great grandniece of Harriet Tubman and the great-great-great-great-great granddaughter of Ben Ross — abreast of what they were finding.
"As you come up with more and more artifacts, it tells the story, it expands the story of our family, but also... the story of enslaved life," Wyatt said. "It also humanizes [Ross], it makes a connection for us as a family."
Wyatt added that the discoveries have also allowed her to imagine her own stories and images of her ancestors.
"When she found the pipe, I said, 'Oh, so he was a pipe smoker,'" Wyatt said. "So that helped me to visualize at the end of his day, that he had time to go in and sit in his cabin, and smoke his pipe, and sit down and contemplate what he was going to to next."
The findings fit into the broader historical footprint of the Underground Railroad in the state, especially in Montgomery County, where about 5,400 enslaved people lived by 1860.
This story is from DCist.com, the local news website of WAMU.
Name spelling
May 14, 2021
This story was updated with the correct spelling of Julie Schablitsky's name.
Questions or comments about the story?
WAMU 88.5 values your feedback.