At Black Lives Matter Plaza, Quiet Relief In The Wake Of The Chauvin Verdict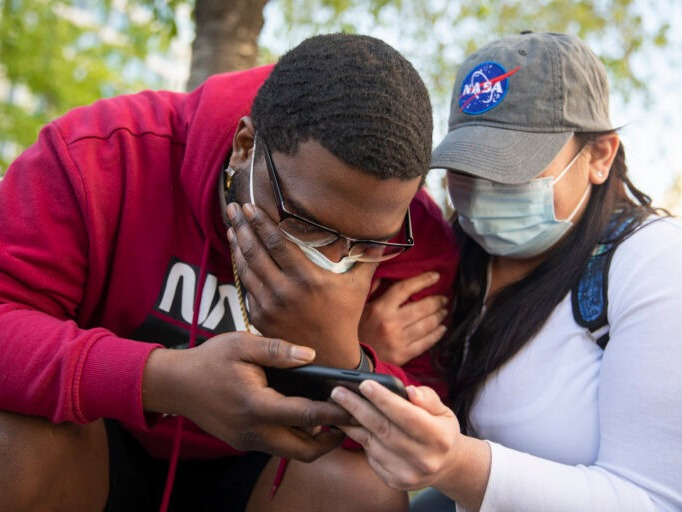 London Williams and Stephanie Toledo were on a date when they saw the crowd at Black Lives Matter Plaza. The couple stopped and crouched around an iPhone, streaming the scene from Minneapolis. Williams anxiously clutched his masked face.
Around him, a few dozen people (and an even larger number of reporters) were gathered on the stretch of 16th Street NW. Shortly after 5 p.m., they learned the verdict: former police officer Derek Chauvin was found guilty on all three counts he faced in the murder of George Floyd.
Williams burst into tears. He and Toledo clutched each other in a long embrace as they absorbed the news.
Across the city, D.C. residents cheered and honked car horns.
City officials had braced for the possibility of large-scale protests after the verdict, with 250 National Guard troops deployed at the request of Mayor Muriel Bowser. Instead, a happy, but subdued crowd of people milled around BLM Plaza, reflecting on the moment in the symbolic space that came into existence in the wake of Floyd's killing.
The area quickly became a nexus of ongoing protests against racial injustice (as well as backdrop for other historic moments). It has been both a locus for community healing, and a witness to more pain and violence.
On Tuesday evening, the plaza filled with the sound of Montell Jordan's "This Is How We Do It" and Kool & The Gang's "Celebrate" playing from speakers, as some in the crowd formed a dance circle. Others carried signs that read "End racist policing" and "Justice for George Floyd." As dusk set in, most reporters began filing out of BLM Plaza, and a small, quiet crowd remained.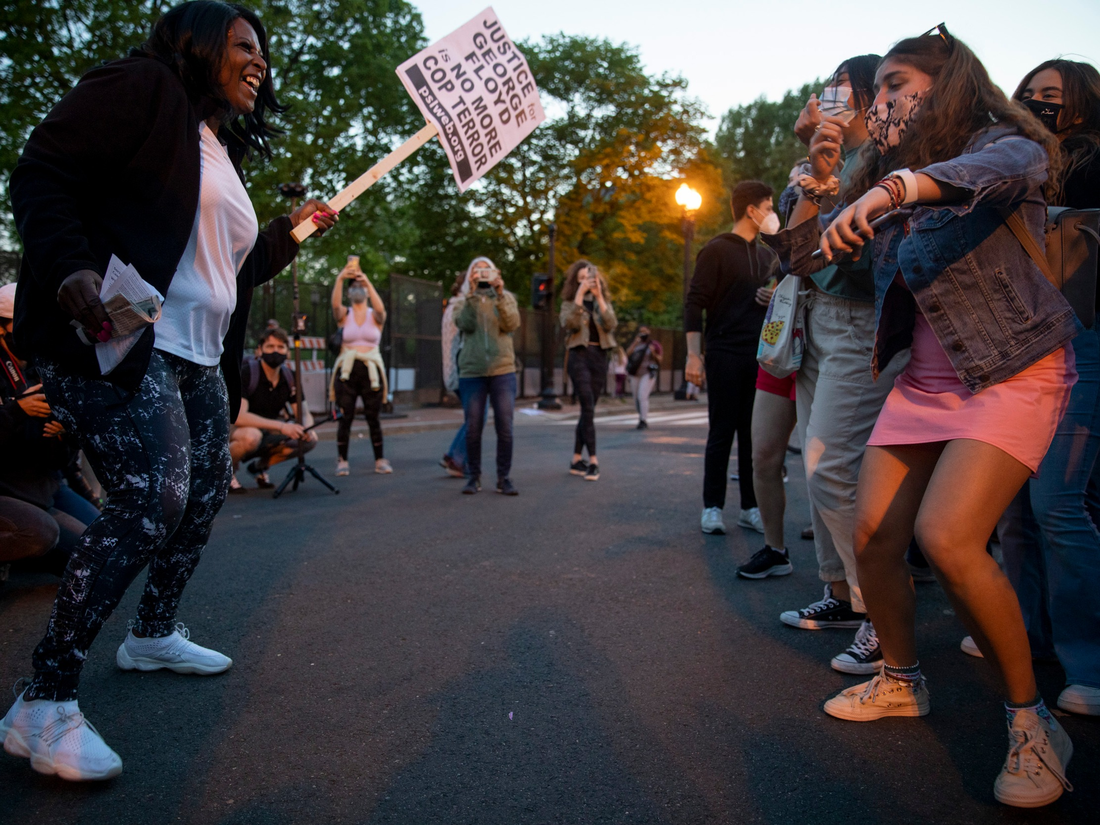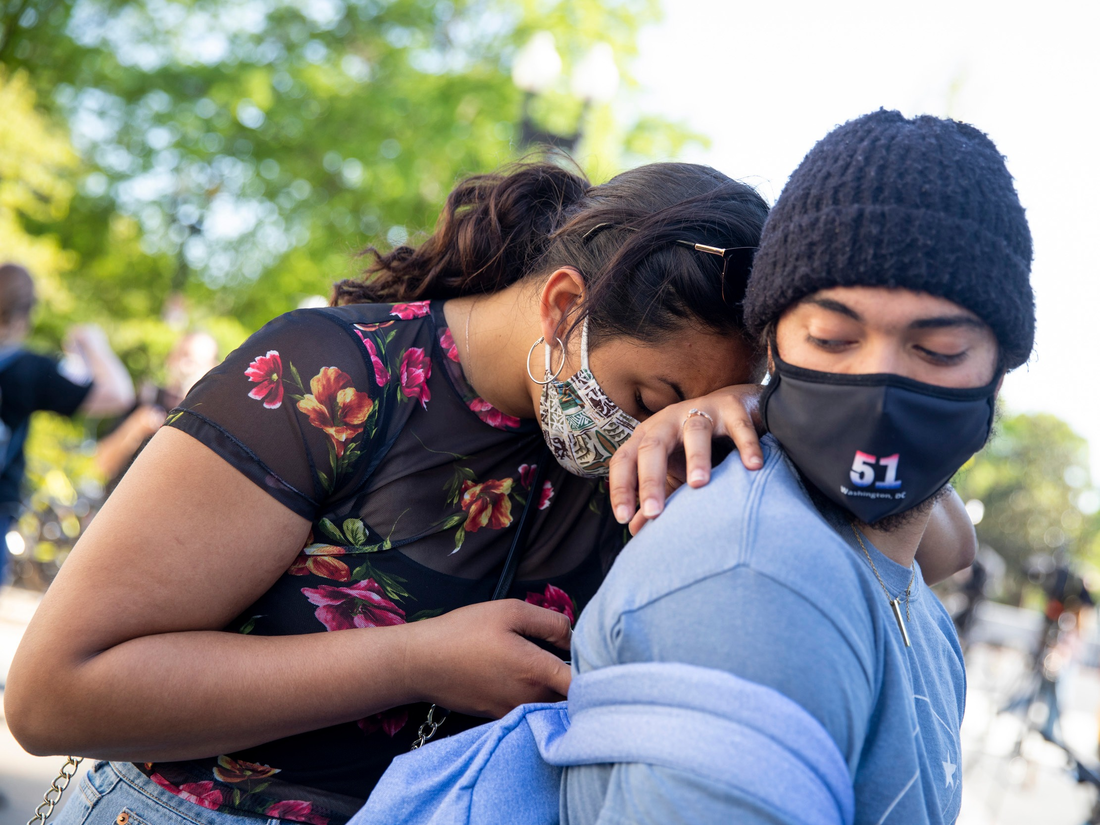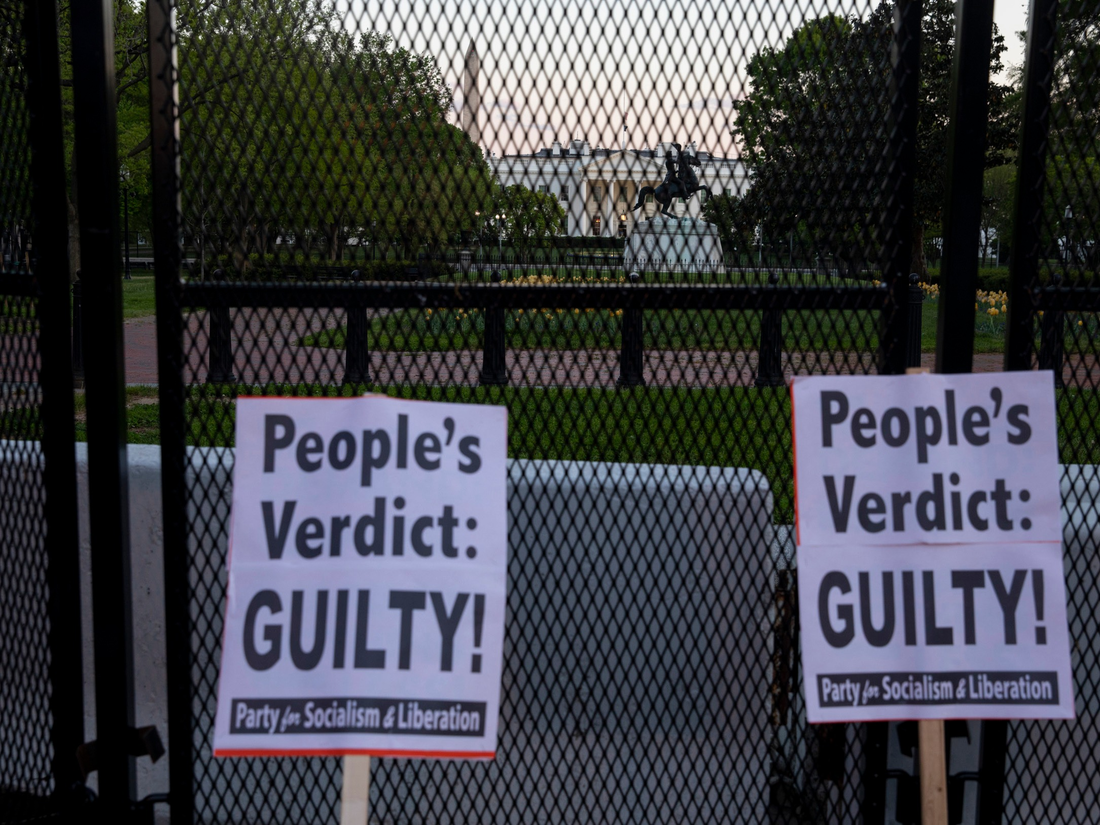 The region's top officials — Virginia Gov. Ralph Northam, Maryland Gov. Larry Hogan, and D.C. Mayor Muriel Bowser — all tweeted their support of the verdict as justice rightfully served. But some Twitter users called out the officials for their statements; Marylanders pointed to Hogan's recent veto of police reform legislation in Maryland, while others repeated calls for Bowser to address issues within D.C.'s police department.
After the verdict was announced, Julian Hargrove walked to Black Lives Matter Plaza from his downtown office. The 36-year-old said he hadn't expected the jury to find Chauvin guilty because police officers are so rarely held accountable for the killing of Black people.
One study found that just seven police officers have been convicted of murder across the country for their actions on the job since 2005. Chauvin was convicted of second-degree unintentional murder, third-degree murder, and second-degree manslaughter
"I've heard more not guiltys than guilty," Hargrove said. "It was a sigh of relief — a brief sigh — because you still wait for sentencing."
The Silver Spring resident said many more officers need to be held accountable for their actions, including the officer who killed Daunte Wright, the Black man who was fatally shot during a traffic stop in Minnesota during Chauvin's trial.
"This is one step in the right direction," he said. "Let's take another step."
Hargrove said he has attended several protests for racial justice since last summer and has noticed fewer people at local demonstrations since pandemic restrictions began to ease. He urged people to keep showing up.
"It got quieter, but the murders, the hate crimes didn't cease," he said. "The people who think that it's over, they're wrong."
Still, the moment has offered a modicum of relief.
"I felt like justice was served," Williams said. "I felt like we finally can walk the streets and feel safe and protected — somewhat protected — from police."
At the same time, Floyd's family remained in his thoughts: "There's no amount of time that they can get back with George."
This story is from DCist.com, the local news website of WAMU.
Questions or comments about the story?
WAMU 88.5 values your feedback.