There's A Petition To Rename National Airport After JoJo Siwa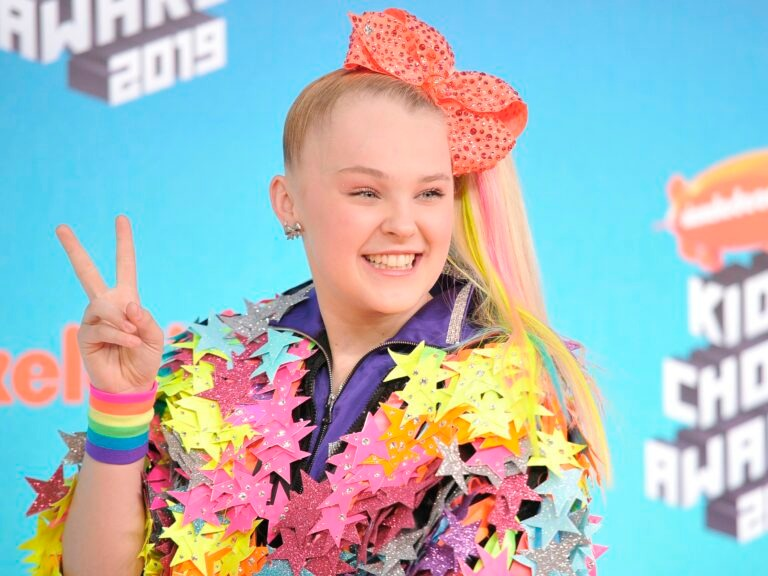 The year is 2023. You just received your second COVID-19 booster vaccine, and you're waiting, maskless, to board your flight at JoJo Siwa Washington National Airport.
While that scene might feel like it's from an alternate reality, a petition floating around the Twittersphere is actually trying to make that vision come true (at least the airport part).
A change.org petition to rename Ronald Reagan Washington National Airport (also known as DCA, also known as National Airport) after the famed teen singer, dancer, actor, and walking sequin JoJo Siwa gained thousands of signatures on Wednesday.
"Why on earth is there an airport named after this war criminal in an area as liberal as the DMV," reads the description of the petition.
For those unfamiliar, JoJo Siwa is a 17-year-old pop-star known for her gigantic bows, colorful aesthetic, and whimsical personality that's captured the undying adoration of millions "Siwanatorz." She boasts a total of 10 million followers on Instagram, 33.4 million followers on TikTok, and more than 12 million subscribers on YouTube. A dancer, Siwa originally claimed fame on the reality television show Dance Moms before going on to land deals with Nickelodeon and the accessory boutique Claire's. She eventually released her own music.
Most recently, Siwa came out as pansexual and introduced the internet to her girlfriend, further cementing her position as a youth role model for self-expression and acceptance. She's bouncy, bubbly, a member of the LGBTQ+ community, and owns a Tesla with her face on it — basically a diametric opposite to the airport's current namesake.
The petition's creator, Georgetown University freshman and California native Dylan Long, tells DCist he thought to make the change.org petition on Tuesday, while talking about the airport on the phone with a friend.
"I always fly in and fly out through Reagan Airport and every time I'm there, I'm sort of reminded of Ronald Reagan and you know, it's disappointing," says Long, who currently lives in Georgetown.
A member of the LGBTQ+ community, Long says he didn't think the airport should hold the name of a figure whose failure to address the HIV/AIDS epidemic harmed that community, and the first replacement that came to mind was Siwa. Long says he was more of an active Siwanator during her Dance Moms days, but admittedly enjoys some of newer music, describing her hit song "Boomerang" as a "good, nice bop."
The Siwa petition is not the first attempt to remove Reagan's name from the airport, a touchy (and politicized) debate for locals. Washington National Airport was renamed after Reagan in 1998, but many people refuse to call it so, opting to use "DCA" or "National Airport" instead. A 2015 Washington Post poll found that only 35% of Democrats surveyed referred to it as "Reagan" or "Reagan National," compared to 72% of Republicans.
The call for a rebrand comes as regional leaders propose rededicating streets, schools, and monuments that bear the names of historical figures with ties to slavery and racism. While Siwa isn't a historical figure (she can't even drink legally in the U.S. yet), her nascent legacy as an American LGBTQ+ role model already stands in opposition to Reagan, a conservative Republican president often criticized for his failure to address the HIV/AIDS epidemic, and racist remarks. (The name rebrand is also timely; the airport just closed its most-cursed gate and unveiled a redesigned concourse).
In the comments of the petition, several people noted the stark differences between the figures as their "reasons for signing."
"Because Jojo Siwa is an icon to young kids everywhere, and Ronald Reagan was a racist poop head. Thank you for your time," wrote signer Hattie Weinroth.
"I use this airport frequently and the name disgusts me. Let's change it to the name of a true American hero, Jojo Siwa," wrote another supporter.
Others put it more simply: "I'm signing because it's what's right."
It's unclear what, if anything, could come from the change.org push, and arguably impossible that anyone would be jetsetting from JoJo Siwa Washington National Airport in the near future. When the airport officially took Reagan's name in 1998, it did so with Congressional approval, and a previous renaming effort called on national lawmakers to make it happen.
It doesn't seem like Long has a plan forward, either. The petition is addressed to the "Mayor of Arlington" — a position that doesn't exist. Long wasn't aware of the error until DCist pointed it out to him, but says he "should probably fix that, though, considering [the mayor of Arlington] is not a real person."
Neither Siwa nor her manager responded to DCist's requests for comment, and Long doesn't think she's seen his petition. But he'd be thrilled if she did.
"If she interacts with this in any way that'd be amazing," Long says. "I think that would be my dream."
This story is from DCist.com, the local news website of WAMU.
Questions or comments about the story?
WAMU 88.5 values your feedback.