A Quieter, Mostly Virtual Funk Parade Highlights D.C.'s Black Broadway History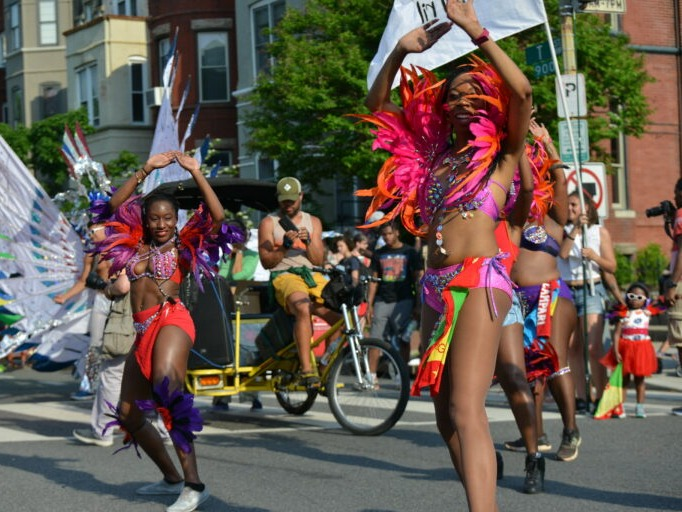 The Funk Parade typically draws tens of thousands of people to U St. NW to party and celebrate D.C.'s homegrown music scene. Today, the 2021 Funk Parade is underway, but U St. is relatively quiet as the coronavirus pandemic continues to rain on the parade.
Last year the festival was canceled. This year, organizers have created a scaled-down, mostly virtual program. The programming includes a virtual music festival, available to view from the comfort of one's couch (or living room dance floor). The festival also includes socially-distant U St. mural tours and Funk U(niversity) panels.
"We're excited to bring forward not only a little bit of art and entertainment this year, but also a little bit of education," says Jessica Teachey, with The MusicianShip, which has run the festival since 2019. This year, there's a focus on U St.'s history as Black Broadway.
"Since the early 1900s and through the Jim Crow Era and segregation, the U St. corridor was the only place for Black people in Washington, D.C. to perform and to have music and freedom and creative expression," says Teachey. The corridor's theaters and clubs hosted many of the biggest stars of the time. Duke Ellington grew up in the neighborhood. And Black intellectuals and activists flocked to the area too, from Langston Hughes to Zora Neale Hurston.
"The whole purpose of the parade is that it was founded upon celebrating the history and the inspiration of this amazing corridor of African-American history, arts and culture," says Teachey. The DC Funk Parade was founded in 2014.
"With Washington, D.C. being one of the highest-gentrified metropolitan areas in this country, what happens is an ability for history to be erased, to be muted and to be covered up," Teachey says, noting that many of today's popular music genres, including rap, hip hop, and go-go, can trace their roots back to the music once played on Black Broadway.
Historian Bernard Demczuk leads the mural walks. He spoke to DCist after a tour this morning, while outside Ben's Chili Bowl, where a jazz quartet played in the alley. There was a small, masked, socially-distant crowd, Demczuk said — nothing like the tens of thousands that would usually throng the street.
"There's probably about 50 or 60 people just milling around the front, eating chili dogs and chili cheese fries and jamming, jamming while they're eating chili dogs," Demczuk says.
The murals along U St. tell the musical history of D.C., particularly Black D.C., Demczuk says, from iconic jazz greats like Duke Ellington, Cab Calloway, Ella Fitzgerald, and Billie Holiday, to go-go pioneer Chuck Brown.
"The murals are really to make sure that we remember and we honor and respect our great African American history on the Black Broadway, U St," says Demczuk, who serves as historian for Ben's Chili Bowl and the Funk Parade.
The Funk U panels are available to stream for free. The pre-recorded virtual music festival is available to people who buy tickets for $10 – $25, and can be watched at any time until Monday, May 10 at 11 p.m. The virtual program includes performances and appearances by Oh He Dead, Rallo Boykins, Roquois, OnRae LaTeal, Leon Scott, Les the DJ, Main Attraction Divaz, Langston Hughes II, Marissa Zechinato, and Chazz G.
So far, organizers aren't committing to a plan for 2022 — it depends on the state of the pandemic.
Demczuk says it's one more reason to stay masked up and get vaccinated. "It really is up to us. We can beat this thing and we can be back on the streets next year in 2022 for the funk parade."
This story is from DCist.com, the local news website of WAMU.
Questions or comments about the story?
WAMU 88.5 values your feedback.