D.C. To Lift Most Capacity Restrictions On May 21, Reopen Fully In June
After more than a year of shifting closures and restrictions brought on by the pandemic, D.C. officials said Monday they are throwing open the doors over the course of the next month, lifting capacity and other restrictions on everything from churches and bars to concert venues and stadiums.
Speaking at a press conference, Bowser said that May 21 and June 11 would mark two major reopening milestones for businesses and other activities.
On May 21, restaurants, libraries, museums, schools, places of worship, and most other businesses will be able to open at full capacity, and the city will also end its capacity limit on private gatherings. The changes will also mean D.C.'s dancing ban at wedding venues and bars will also be lifted.
Certain restrictions for some establishments will remain in place thereafter, though: Bars and nightclubs will only be able to operate at 50% of their usual capacity, and sports and entertainment venues like the 9:30 Club and Nationals Park will still have to get special permission for events.
But on June 11, those remaining restrictions will lift, and bars, nightclubs, large entertainment, and sports venues will be permitted to open at full capacity.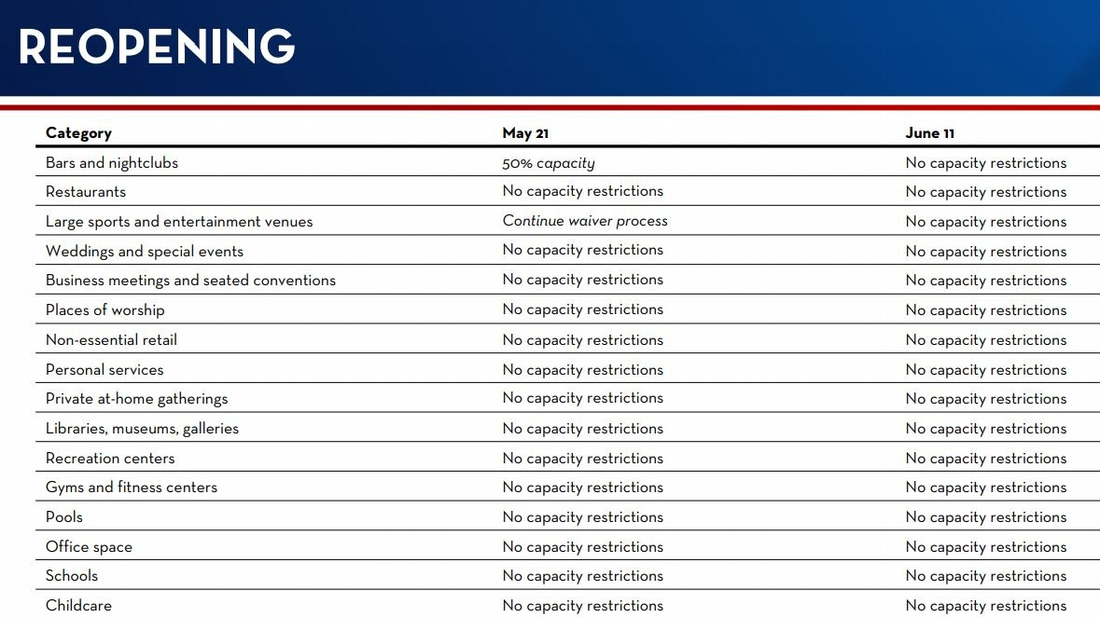 Residents, workers, and visitors will still be required to follow CDC mask guidance, including wearing masks indoors.
The reopening announcement comes after a week of lobbying from local officials and business owners. Last week, Ward 5 Councilmember Kenyan McDuffie called for a reopening plan — rather than ad hoc restrictions being lifted by mayoral pronouncement — so that businesses could prepare to offer normal service again.
On Thursday, a coalition of performance and entertainment venues — including the 9:30 Club and Monumental Sports — followed with their own letter to Bowser, proposing a full reopening by July 1. In their letters, both McDuffie and the entertainment owners cited other jurisdictions, including Pennsylvania, New York City, and Chicago, that have lifted restrictions. Last week, Virginia Gov. Ralph Northam opened the door for the commonwealth to rescind its own capacity limits and other restrictions by June 15.
Bowser and Health Director LaQuandra Nesbitt have said it is health metrics, not letters and other jurisdictions' decisions, that have driven D.C's decision-making. The District's reopening metrics are trending in the right direction, they said, with a seven-day COVID-19 case rate standing at 6.6 per 100,000. The goal has been to hit five or below, which means minimal community spread.
"We are fast approaching the green [on the reopening dashboard] and we expect, with continued vigilance, that that's exactly where we're going to be," Bowser said. "Our health metrics continue to go in the right direction."
D.C. is also dismantling its temporary hospital site at the Washington Convention Center, which was never used. Fewer people have also been reported showing up to testing sites.
"We are [fast] approaching what appears to be containment of the virus in the District," Nesbitt said at the Monday press conference. "A lot of people have been waiting on this day. It's a true testament to the commitment that our residents have had, our businesses have had, our health care workers, everybody, this 'we're all in this together' approach has paid off for us here in the District."
But Nesbitt said residents need to remain vigilant and that people still need to get vaccinated. She said health officials don't want to see people "left behind" and sickened by the coronavirus since there are ample opportunities to get vaccinated now.
"We still want people to be cautious," she said. "If you are not fully vaccinated, your degree of risk is still going to be higher than someone who is fully vaccinated. The more that you want to do without a mask, the more we need people to continue to get vaccinated."
As the District moves into this next phase of the pandemic, D.C. Health is reviewing and updating all health guidance over the next week. Guidance will emphasize the current mask and travel guidelines, cleaning and disinfecting recommendations, and more.
Bowser also said D.C.'s public health emergency will likely last beyond these reopening dates. The emergency status must be in place for federal reimbursement for fighting COVID-19, and Bowser said it will be in place while people are still working to completely end the pandemic.
This story is from DCist.com, the local news website of WAMU.
Questions or comments about the story?
WAMU 88.5 values your feedback.