Lafayette Square Reopens To The Public After 11 Months Of Being Totally Fenced Off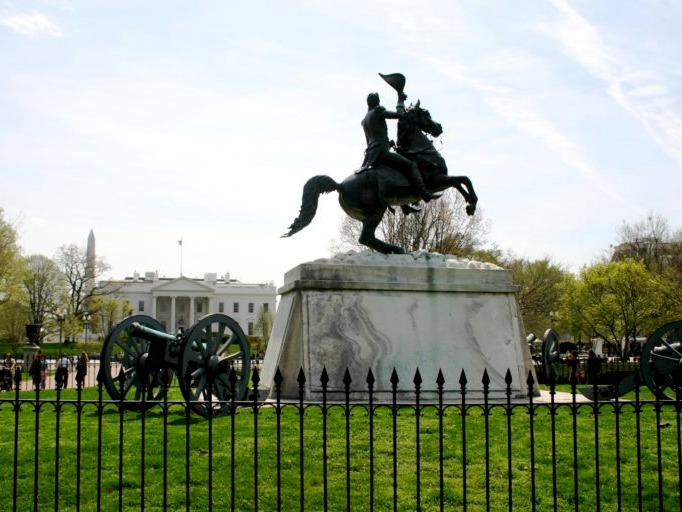 The public can once again return to Lafayette Square near the White House.
The fencing is still up, but gates have opened to allow pedestrians and cyclists access into the square.
"In protecting the White House and its residents, the U.S. Secret Service acknowledges that the surrounding area can be a powerful symbol of our nation and our democracy, and the agency is committed to balancing necessary security measures with the importance of public access and view," the Secret Service said in a statement to DCist.
They declined to answer more questions about why the park is opening now and when or if the fences will come down.
"Due to the need to maintain operational security, we do not discuss the specifics of security fencing or other operational means and methods," a spokesperson wrote in an email.
For now, you can't access Pennsylvania Avenue or get as close to the White House fence as you used to. Low metal fences, strapped into squares in front of concrete barriers, separate the square and Pennsylvania Avenue. You can see what access now looks like in this video.
For the first time in nearly a year, pedestrians are strolling through Lafayette Square Park. A small protest of three people are chanting and live-streaming in front of the White House. Tourists are posing for photos as Secret Service officers patrol on bike. pic.twitter.com/mLoRWK4wcU

— Marissa J. Lang (@Marissa_Jae) May 10, 2021
The limited access came as a moment of surprise — and joy —for passersby on Monday (many of them journalists) after the park's almost year-long closure. The fencing went up last June, shortly after police and National Guard troops forcibly removed peaceful protesters from Lafayette Square for former president Donald Trump's infamous Bible-clutching photo op.
In early March, the fencing surrounding St. John's Episcopal Church, situated across the street from Lafayette Square, came down, and the Capitol Police scaled back the fencing that surrounded the U.S. Capitol later that month.
Still, 1.25 miles of fencing remains around the Capitol complex, to the dismay of lawmakers on both sides of the aisle. Capitol Police have reportedly discussed keeping the fencing up through September.
This story is from DCist.com, the local news website of WAMU.
Questions or comments about the story?
WAMU 88.5 values your feedback.