Amid Rising Road Deaths, Bowser Pledges $10 Million For Traffic Safety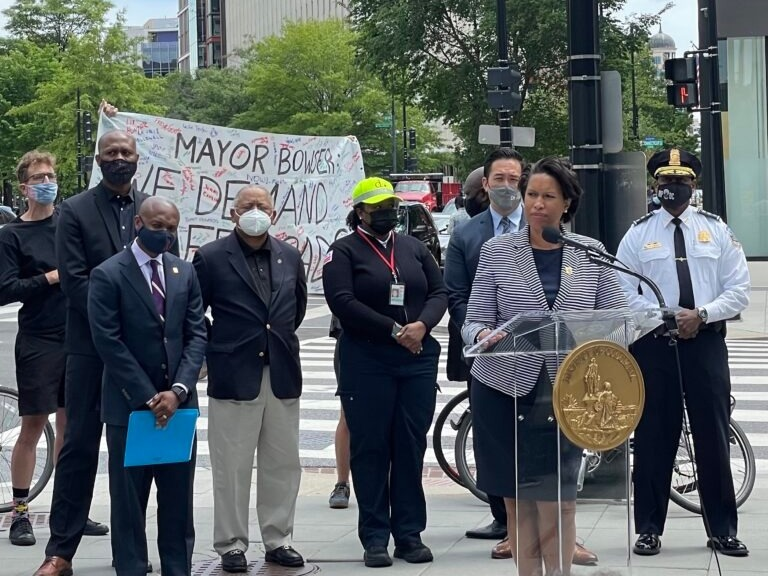 With traffic deaths happening at the fastest pace in recent years, Mayor Muriel Bowser said Wednesday that she's dedicating $10 million to add speed cameras across D.C. and make changes at dangerous intersections.
The District has had 16 roadway fatalities so far in 2021, six more than during the same period last year. Nine of those were pedestrians, two were cyclists, two were drivers, two were motorcyclists, and one a passenger.
"We are very troubled by the significant increase in fatalities... and we know that too many of the deaths on our roads are due to drivers recklessly speeding through our streets," Bowser said at a press conference announcing a Vision Zero Summer Safety Campaign. "We need drivers to slow down, not just because they're avoiding a ticket, but so they don't kill people on our streets and sidewalks."
About $5 million in her upcoming budget proposal will help upgrade equipment and technology that support the District's automated traffic enforcement program — the speed and red-light cameras. Officials provided few details about how many cameras the money would buy, where they would go, and when they would launch. The city already has more than 120 cameras in place.
Bowser acknowledged that some drivers don't like the cameras, but said anyone can avoid a ticket — and the costly fines, which start at $100 and increase from there — if they drive the speed limit.
Last year, Bowser lowered the speed limit on residential and local streets to 20 mph to help save lives, though many say enforcement is non-existent.
"It's clear that a person is more likely to survive a crash if traveling less than 20 miles per hour," Bowser said. "Drivers need to drive like that understand that. We've already seen a child killed, cyclists killed, pedestrians killed. And I'm sure that those drivers never imagined they'd be behind the wheel when someone was killed."
There have also been multiple instances in recent weeks of cars careening onto sidewalks, into buildings, and across school grounds.
Bowser also wants the D.C. Department of Transportation to reallocate $5 million to "rapidly deploy safety improvements for pedestrians and cyclists at dozens of locations across the District."
Few details were available on those proposals as well, but they are expected to be quicker solutions like using plastic bollards to narrow intersections, which will force drivers to slow down as they turn, and more painted crosswalks. It will also include creating medians in some places for pedestrians and other solutions to reduce "aggressive speeding." D.C. will also install many more digital signs that show drivers how fast they are going compared to the posted speed limit.
But road safety advocates say they remain unconvinced Bowser's summer initiative will make a difference. Rachel Maisler and Matthew Sampson, who advocate for bike and pedestrian safety, said drivers who don't care will ignore the signs.
"It's great that we'll get more equipment, but then we need to act with the data and change our roads with the data," Maisler said, referring to demands for "road diets" and other changes to how roadways are designed and built. "The enforcement should inform infrastructure changes. It shouldn't just be fatalities [that gets changes]."
Bowser kicked off the Vision Zero campaign in 2015, aiming to end traffic fatalities and major injuries by 2024. But the problem has gotten worse, with more traffic fatalities almost every year since.
"I believe with all of us working together, we can make our streets safer," Bowser said about meeting the goal, before she was interrupted by Sampson shouting at her to build the Eastern Downtown Protected Bike Lane project from Shaw to downtown D.C. that has been shelved by her administration.
Maisler and Sampson said they heard a lot of the right things, but want to see the words turned into action. Critics say the District is doing as much as it can up until it would inconvenience drivers, which is what needs to happen to slow down traffic.
"Vision Zero is a smoke and mirrors campaign in D.C.," Maisler said. "They say a lot of the right things, but the action is really slow to follow."
The Council's transportation committee is having a roundtable on Vision Zero on Wednesday.
Bowser said she is looking at the Council's sprawling Vision Zero omnibus bill, which is currently unfunded, and is deciding what aspects of it to fund now. "We will continue to look at the bill and make those improvements or investments that will have immediate and long-term impacts," she said.
At the press conference, Bowser also said she would try to bring back free fares on the D.C. Circulator, which she said would incentivize people to get out of their cars. She initially piloted free fares in early 2019, before the Council opted to discontinue it. Lawmakers said there was no evidence it helped the people most in need.
Bowser also announced she's appointed Everett Lott as permanent director of DDOT. He had been serving as interim director since January, when then-director Jeff Marootian left for a job in the Biden Administration. Lott will need to be confirmed by the Council.
Lott said he wants to improve safety for children, families, and seniors in their neighborhoods and focus on equity in transportation.
"We have some areas of town that we need to make sure we have more reliable transportation and more affordable transportation," he said. "And so that's definitely one of my commitments to make sure that we're able to connect people to jobs and jobs, to people specifically in some of our under-resourced communities."
Lott joined DDOT as deputy director in 2018 and was responsible for administration, operations, project delivery, and information technology. Prior to his arrival at DDOT, Lott worked for the Federal Highway Administration.
This story is from DCist.com, the local news website of WAMU.
Questions or comments about the story?
WAMU 88.5 values your feedback.