A Fairfax Entomologist Is Rapping His Welcome To The Brood X Cicadas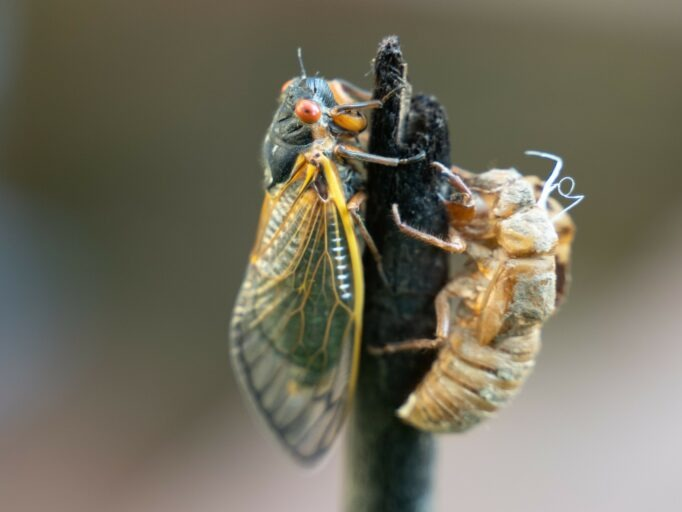 Brood X-cellent to see you again / I been / chillin' underground with my friends / sippin' on root juices / 17 years as a nymph ...
So begins the latest track from the D.C. region's favorite (and likely only) entomologist/hip-hop artist, MC Bugg-Z. The new song and video arrived just in time for 2021's peak cicada emergence.
MC Bugg-Z is Andy Lima, a trained entomologist whose day job is working at the Fairfax County Health Department's Disease Carrying Insect Program.
"I just wanted to always keep the focus in my songs as true to life as possible," Lima says. "You know, rap what you know."
Lima has produced numerous other tracks about bugs (and the diseases they carry), including Zika 101, Tick Check 1-2, and West Nile Story. His videos have collectively garnered more than 40,000 views on YouTube.
Lima traces his interest in bugs back to childhood nature walks with his mom, and a high school biology teacher who got him to start a bug collection.
"I can remember being fascinated by cicadas, even as an 8-year-old in 1990 in the Chicago area where I grew up, where Brood XIII was was emerging at that time."
Lima was in college at Indiana University — Brood X territory — during the 2004 emergence. The experience inspired his first foray into bug-themed music.
"You can actually hear them outside in the recording that we made, says Lima. "That was actually the start of of my bug rap career."
17 years later, Lima is again rapping about Brood X cicadas. The new song, titled "Brood X-cellence," is packed with accurate biological information about cicadas' lifecycle, behavior, and habitat.
"As a passionate entomologist, I find that I have a desire to share that that enthusiasm with other people," says Lima. "By putting scientific information into song form, it gets picked up by a wider audience and can actually have some of this viral feel and can help spread the knowledge of how cool and how important insects are in our daily lives."
In the song, Lima raps his way through the five nymphal stages cicadas go through while living underground.
Playin' that super long game / with impressive results /fossorial front legs / that are used to excavate / yeah, we can dig it / all up in it / and ready to captivate.
He also makes references to some human events, mentioning the current pandemic that cicadas are emerging into:
Ground is riddled with half-inch tunnels / up in your COVID bubble / to sing with trillions of my friends and cuddle.
And there are also a few nods to pop-culture. Lima mentions Billboard's top song of 2004.
When my folks were doin' what I'm doin' now / Usher's 'Yeah' was number one / and I was just a baby headed underground.
In a line about how loud cicadas are, Lima sneaks in a reference another Billboard #1 song: Ludacris's "Money Maker."
And in some places we'll number / hundreds of thousands per acre / 100 decibels drummin' when I'm shakin' my money maker.
"I wish I could have gone, 'shake your money make-er!'" Lima says. "But it didn't work for the flow of the song.
Lima wrote and produced the song and video in just two and a half weeks, with audio production by Kelton Williams and video by Greg Holmes.
He had much bigger plans for the 2021 emergence, but the pandemic got in the way.
"My original plan was to go down for Brood IX, the brood that that preceded this one in 2020, in southwest Virginia," Lima says. He planned to have a song written by then, so he could perform and film it during the Brood IX emergence. "I wanted to go there and watch the cicadas teeming out of the ground and have footage of me rapping this song, and cameos of all the cicada scientists out there that descend on each one of these broods to try to track them,"
Then, he would have had a whole year until the Brood X emergence to put together the video. "COVID spoiled those plans," Lima says.
Now, he has 17 years to prepare for the next Brood X emergence.
This story is from DCist.com, the local news website of WAMU.
Questions or comments about the story?
WAMU 88.5 values your feedback.