The Ban On Recreational Weed Sales In D.C. Lives On In Biden's Proposed Budget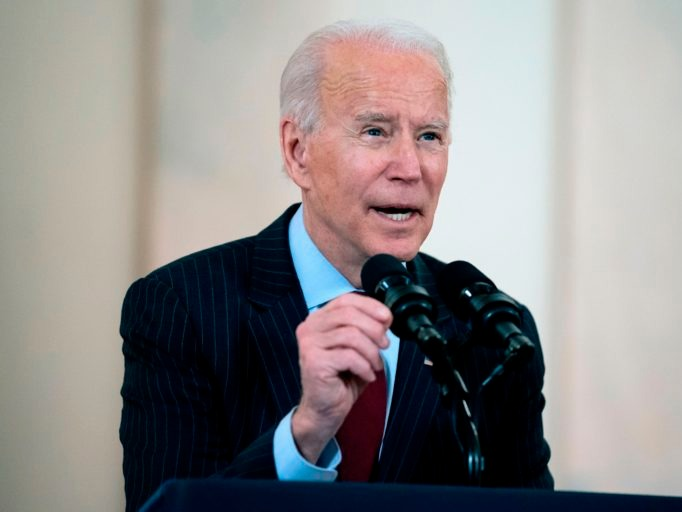 President Joe Biden's proposed 2022 budget is a mixed bag for the District of Columbia.
On one hand, the newly released $6 trillion spending plan includes $40 million for a program that allows D.C. residents to pay in-state tuition at public colleges and universities anywhere in the U.S. — a boon for D.C. residents, according to D.C. Del. Eleanor Holmes Norton, who sponsored the bill that created the program. The spending plan also allows D.C. to spend its own money during a federal government shutdown, among other District-friendly provisions Norton heralded on Monday.
But the budget fails D.C. in one big way, Norton says: It maintains language that blocks the city from legalizing and taxing the sale of recreational marijuana. That ban, known as the Harris Rider, has been loathed by D.C. statehood supporters and cannabis activists since Rep. Andy Harris (R-Maryland) introduced it in 2014.
"I am having a hard time reconciling the administration's strong support for D.C. statehood, which would give D.C. not only voting representation in Congress but also full local self-government, with a budget that prohibits D.C. from spending its local funds on recreational marijuana commercialization," Norton said in a statement Monday.
D.C. officials say they're ready and willing to create a recreational cannabis market in the city. Mayor Muriel Bowser has sought to fully legalize weed for several years, most recently with the Safe Cannabis Sales Act of 2021, which she introduced in February.
"Through this legislation, we can fulfill the will of D.C. voters, reduce barriers for entering the cannabis industry, and invest in programs that serve residents and neighborhoods hardest hit by the criminalization of marijuana," Bowser said at the time.
D.C. voters signaled their approval of marijuana legalization with the passage of Initiative 71 in 2014, which allowed adults 21 and over to grow, possess, and gift small amounts of marijuana — but not sell it. D.C. currently has a medical marijuana program and a grey market for recreational weed that is largely tolerated by officials, with some notable exceptions.
But the District cannot fully legalize marijuana sales as long as the Harris rider remains in place. Norton says the stars are aligned for Congress to toss out the ban, but Biden is squandering his chance.
"With Democrats controlling the White House, House and Senate, we have the best opportunity in over a decade to enact a D.C. appropriations bill that does not contain any anti-home-rule riders," the congresswoman said in a statement.
Norton vowed to continue pressuring her House colleagues to remove the rider. The White House did not respond to a request for comment.
Marijuana policy observers say Biden's inaction on the ban reflects his generally cautious approach to cannabis. White House Press Secretary Jen Psaki said earlier this year that Biden supports decriminalizing the plant on the federal level, letting states decide whether to legalize recreational marijuana, and legalizing medical cannabis. But she stopped short of saying Biden would support a federal marijuana legalization bill. (Biden has said he supports D.C. statehood, though, under which the new state would be free to legalize marijuana.)
Cannabis news website Marijuana Moment summed up Biden's cannabis policy as "yes to medical cannabis, no to recreational marijuana."
Ward 4 Councilmember Janeese Lewis George told the Washington Post that Biden's inaction prompted "disappointment and shock" among her colleagues. Legal marijuana could bring the city millions in revenue every year — which would be welcome any time, though particularly in the wake of a pandemic that left thousands of residents unemployed and in need of enhanced social services.
In Virginia, where the General Assembly voted to create a legal pot marketplace by 2024, lawmakers were dazzled by estimates that showed marijuana sales could rake in as much as $308 million a year.
Rep. Harris, an anesthesiologist who has been called "Public Enemy #1" by cannabis advocates, justified his budget rider by pointing out potential health effects of marijuana use. He doubled down in 2020, when he tweeted, "Any talk of legalizing recreational marijuana is a bad idea, especially in the midst of an opioid abuse and addiction crisis, worsened by COVID."
Norton called unsuccessfully for Congress to repeal the ban in coronavirus relief legislation. She notched a win in 2019, when the House removed the rider from the 2020 D.C. Appropriations bill — but the Senate put it back in, at the urging of Republicans in that chamber, and the White House.
D.C. officials have pledged to create D.C.'s first recreational weed market if and when Congress removes the rider.
"It is beyond unreasonable that congressional interference keeps only the District from commercializing recreational marijuana, while all other jurisdictions are free to do so," Norton said last year.
This story is from DCist.com, the local news website of WAMU.
Questions or comments about the story?
WAMU values your feedback.