Anacostia River Shows Gradual Improvement, According To Report Card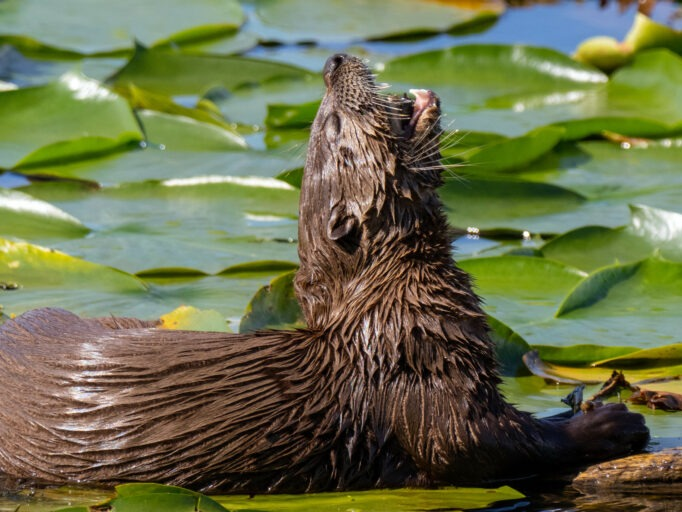 The Anacostia River is slowly getting cleaner, according to the latest report card on the river's health from the Anacostia Watershed Society. The river got a passing grade this year — but just barely.
"A lot of the other watershed groups that use some type of report card system are grading on a curve, whereas we are not," says Emily Conrad, development director with AWS. This year, the river scored 63% overall, a D. (Anything above 60% is considered a passing grade.)
The Anacostia River has long been a poster child for polluted urban waterways, but years of investment in cleanup appear to be paying off. This is only the third time the river has gotten a grade above an F.
Bright spots this year include a new D.C. government plan to deal with toxic chemicals embedded the river bottom. These toxins are the legacy of decades of industry dumping along the banks of the Anacostia. The remediation of this polluted sediment has been subject of study, negotiation and debate for years. Now there is a plan in place to clean up 77 acres of toxic hot spots, at a cost of $35.5 million.
Another positive sign: underwater grasses are thriving. Conrad says those grasses, known as submerged aquatic vegetation, are a sign of a healthy ecosystem.
"Submerged aquatic vegetation provides habitat for fish, particularly as as a nursery. So it's really vital to a lot of fish species."
Even more exciting: North American river otters appear to making a comeback in the watershed. The semiaquatic mammals were spotted by the Anacostia river for the first time in recent memory by AWS staff in 2016, at the National Arboretum. Since then they've also been documented by the District Department of Energy and Environment. Recently, the National Park Service shared a photo of a river otter exploring a pedal boat on the Tidal Basin.
A North American river otter is a rare sight around the National Mall.🦦Once eliminated from the area, the species is on the road to recovery. Though they are cute & playful, you otter remember that they are wild animals & never get too close. #WashingtonDC pic.twitter.com/NpeeAUMGsl

— National Mall NPS (@NationalMallNPS) May 24, 2021
But the Anacostia still has a ways to go to reach the goals of making the water safe to swim and fish in. This year, fecal bacteria pollution was up, as was stormwater runoff — both consequences of an unusually rainy year. Rain, particularly heavy downpours, washes pollution down storm drains and into the river, and also causes sewer overflows.
"Not only did we have a lot of precipitation in 2020, it was also a record year for the most days with 2-plus inches of rain," Conrad says.
The river's score this year was the same overall as last year and 2018, which was the first time the Anacostia got a passing grade. In 2019, the score dipped into failing territory — just 51% — after the wettest year on record in D.C.
More challenges lay ahead, though, particularly climate change. A quickly warming planet is bringing more rain to the mid-Atlantic region, and more severe rain events.
This story is from DCist.com, the local news website of WAMU.
Questions or comments about the story?
WAMU 88.5 values your feedback.