Report: D.C. Police Responsible For Tear Gas Use During Lafayette Park Clearing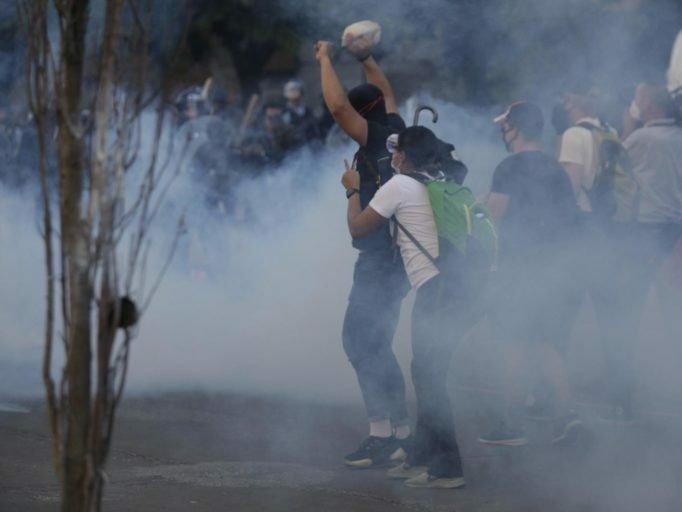 A new report from the U.S. Interior Department's inspector general has found that while D.C. police officers did not participate in the clearing of protesters from Lafayette Park last June, they did use tear gas against protesters who were leaving the area — and did so even though federal police officers themselves were told not to use tear gas during the operation.
The report also finds that the Metropolitan Police Department's use of tear gas — formally referred to as CS gas — "surprised" federal police officers who had been told not to use it, prompting them to rush to gather gas masks to avoid becoming incapacitated.
The 41-page review of the the U.S. Park Police's actions on June 1, 2020, broadly concludes that protesters weren't forcefully cleared out of the park to make way for then-president Donald Trump to walk to a nearby church for a photo op, but rather to make way for fencing to be placed around the park in response to violent racial justice protests that had happened on two prior nights.
The report also sheds light on which police forces did what during the confusing and often violent incident, which protesters and some civil liberties groups said was unprompted. It makes clear that Park Police and Secret Service led the operation, with assistance from the Arlington County Police Department, U.S. Marshals Service, Federal Protective Service, and D.C. National Guard, along with specialized officers from the U.S. Bureau of Prisons. MPD, though, was briefed on the operation but acted separately.
"MPD was not under the control of the unified command and did not participate in the clearing of Lafayette Park," says the report, referring to D.C. police. That conclusion backs up initial claims made last year by then-MPD chief Peter Newsham, who said after the clearing that local officers "did not participate."
But the report goes on to clarify that while federal officers used non-irritant smoke as part of the clearing operation, it was D.C. police officers who deployed tear gas against protesters on 17th Street NW between Pennsylvania Avenue and H Street — even though Park Police commanders had told the officers under their own command not to use it. (The Park Police insisted in the days following the incident that its officers had not used tear gas.)
"We determined, and the MPD confirmed, that the MPD used CS gas on 17th Street on June 1," says the report. "As discussed above, the MPD was not a part of nor under the control or direction of the USPP's and the Secret Service's unified command structure. Near the end of the clearing operation, some USPP officers reported putting on gas masks to avoid becoming incapacitated by what they believed to be CS gas in the area."
An attorney for MPD confirmed for the first time late last month that D.C. police officers used tear gas around Lafayette Park on June 1; the report says that officers said they used it in response to violent protesters. A spokeswoman for the department repeated that claim in a statement on Wednesday.
"On June 1, 2020, a number of individuals in the area of 17th and H Streets NW began throwing multiple objects at MPD officers. This included an incendiary device attack that seriously burned and scarred the limb of an MPD officer. In response to these assaultive actions, MPD deployed crowd control tools that included tear gas in an effort to stop the riotous behavior and protect both officers and others in the area. As was stated previously, MPD was not involved in the movement of the President from Lafayette Square to St. John's church on June 1, 2020," said Kristen Metzger, a spokeswoman for MPD.
In the wake of the incident, the D.C. Council passed a law limiting the use of chemical irritants on peaceful protesters, but confusion remains as to when police can decide to use it against crowds it deems unruly.
The report also found that Bureau of Prisons officers "may have" fired pepper balls into the crowd, despite orders not to do so; that MPD tried to delay the clearing until 7 p.m. so officers could arrest protesters for violating a 7 p.m. citywide curfew; and that the Park Police borrowed a loud-speaker device from MPD to warn protesters to disperse but that some may not have heard it and some police charged the crowd before the final warning was issued.
The entire incident at Lafayette Park prompted weeks of criticism, admissions, and denials over who may or may not have used tear gas that day, and a federal lawsuit. Arlington County cited the events of June 1 when it chose to withdraw its officers from D.C.
The report recommends the Park Police develop a "more detailed policy" on incidents where force may be used and that it "improve its field communication procedures to better manage multiagency operations," steps the department says it is now taking.
This story is from DCist.com, the local news website of WAMU.
Questions or comments about the story?
WAMU 88.5 values your feedback.