Nellie's Sports Bar Fires Security Company After Bouncer Dragged A Black Woman
Nellie's Sports Bar Fires Security Company After Bouncer Dragged A Black Woman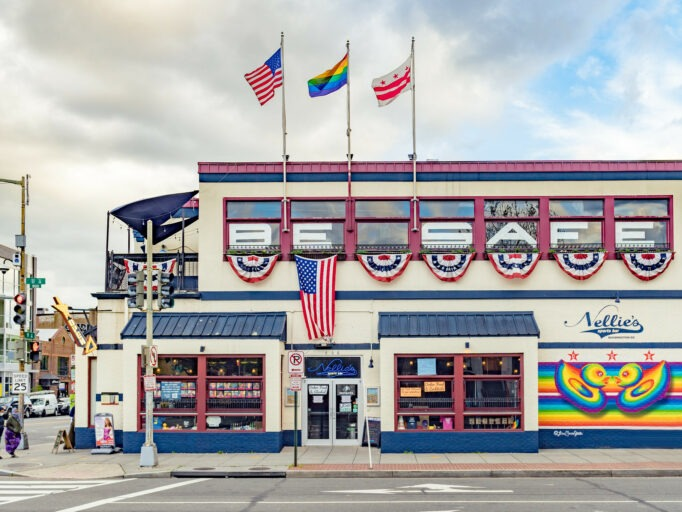 A viral video of a young Black woman being dragged out of Nellie's Sports Bar in Shaw sparked a protest on Sunday night and calls to boycott the establishment.
Keisha Young, a 22-year-old college student at Morgan State University, has identified herself as the woman in a viral video. The footage, filmed Saturday night, shows an apparent security guard dragging Young down the stairs head first. It's not clear from the video why Young was dragged down the stairs and removed.
On Monday, Nellie's said it fired the independent security vendor it hired for Pride Week.
"Our investigation into the matter is ongoing, and we will cooperate with any law enforcement investigation, however we do not need to wait for the investigation's conclusion before we take decisive action," the bar said in a Facebook post. "We offer a heartfelt apology to all who witnessed the horrific events of this past weekend. No matter what behavior occurred prior, nothing warrants mistreating, and disrespecting, one of our guests."
The bar says it will close this week "as we evaluate this regrettable situation, though we will continue to pay all non-security staff their normal wages."
Nellie's Sports Bar and owner Douglas Schantz have not responded to requests for comment.
Young said she was glad the security firm was fired. And she appreciated Nellie's apology, though she noted it was directed at bystanders, rather than to her.
"The public didn't really get dragged down the stairs. I did. The public doesn't have bruises. I do." Young told DCist.
Young told WUSA9 that she didn't do anything wrong and it was a case of mistaken identity. She says she was there to celebrate Pride and was "dragged by the security guards for no reason."
Young and her lawyer, Brandon Burrell, say they are pursuing a lawsuit and will file a police report against the security guard.
"She does want justice," Burrell said. "So we're going to at least do our part to file the report and see what the prosecutors make of that."
In a GoFundMe to pay for legal and mental health services, Young describes bruises, body aches, and hip pain, as well as feeling anxiety and humiliation.
A day after the incident, a large group of protestors gathered outside the bar, chanting "justice for Keisha" and "protect Black women."
Harriet's Dreams, a Black-led community defense organization and one of the groups that organized the protest, wrote on Instagram that it's important that the community knows what happened at Nellie's. They say bar security failed to protect Keisha.
"[Young] is experiencing hurt and harm and it's up to us to support and keep her safe," Harriet's Dreams wrote.
One protestor on Sunday told journalist Chuck Modi echoed that sentiment, saying, "We're tired of Nellie's only caring about Black dollars but not Black bodies. We're fed up."
This is not the first time Nellie's has come under fire for concerns about inclusivity. The activist group No Justice No Pride organized a boycott of the bar in 2018 after patrons noticed a Blue Live Matter flag flying above the establishment. Nellie's apologized and said it learned a lesson about racial inclusivity and that it was planning to make the space more welcoming in the future.
"I'm feeling a little humiliated to have went viral being assaulted by a Black man who should be protecting me," Young wrote on her GoFundMe. "I'm just happy that it didn't escalate too far and that I'm still here in my pain and grief still able to tell my story and get justice."
On Monday, Young said she's since heard a lot of stories about the bar after her story came out.
"I doubt it was that one security guard every single time, so I feel like something really needs to be done... something more serious, you know?" Young said. "It's starting to look like it's a Nellie's problem, not that security guy's problem."
Jordan Pascale contributed to this report.
This story is from DCist.com, the local news website of WAMU.
Questions or comments about the story?
WAMU 88.5 values your feedback.