What It Took To Get A Whole Metro Car Into Edgewood's New Metrobar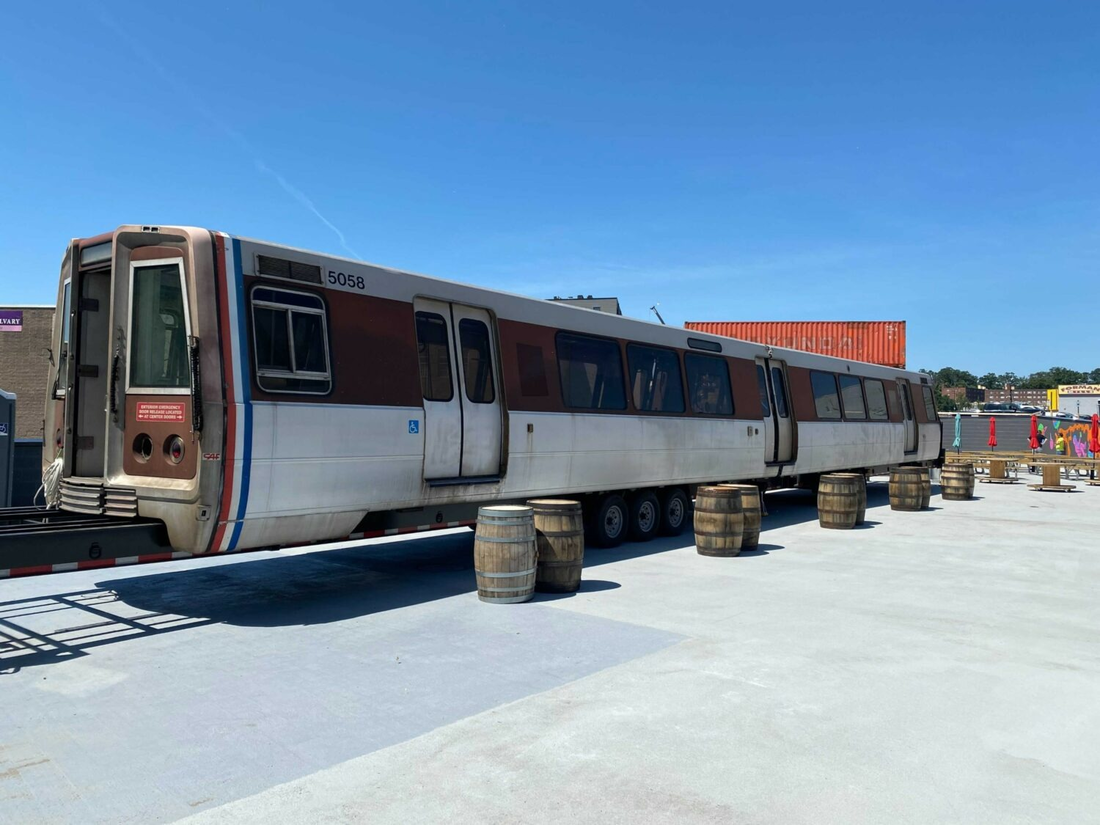 Early on Friday morning, a Metro train arrived.
But it wasn't pulling into a station or moving commuters. Rather, the old Metro railcar was trucked in to be the centerpiece of the new outdoor Metrobar in the Edgewood neighborhood.
The redeveloped area — home to 345 apartment units, a food hall, a movie theater, retail, and perhaps a future health club — is so new it doesn't even show up on Google's satellite images. But trust us: The area around the bar at 640 Rhode Island Avenue NE is a relatively tight squeeze.
For both logistical and regulatory reasons, the bar owners got the 75-foot railcar — which they purchased from Metro a few years ago — cut in half with a giant saw at a fabricator near Baltimore.
"There's enough turning radius to get it in, but D.C. doesn't allow vehicles over 75 feet to come through the District," said Jesse Rauch, a co-owner and general manager of Metrobar. "We knew moving the train cars had to be efficient, so we cut it in half, put them on two separate trailers, and reconnected them on site."
So at close to 1 a.m. last night, two trucks backed into the concrete pad used for the outdoor bar. Professional truck drivers and laser guidance helped moved the two halves perfectly in line, Rauch said.
"It's a complex geometry problem," Rauch said. "We did it in dead of night to have the time and space to do it without the pressure of onlookers."
It took between two and three hours to get the trailers placed correctly. All the train wheels were removed, and the railcar was set on a trailer that will be a permanent part of the installation. A deck will be built around it to hide the bottom portion; a ramp will also be built to offer accessibility to the inside of the railcar.
"Part of it is finding good partners and good fabricators and builders who are able to be creative to do this and make sure that it's safe," Rauch said. "We've been able to do that."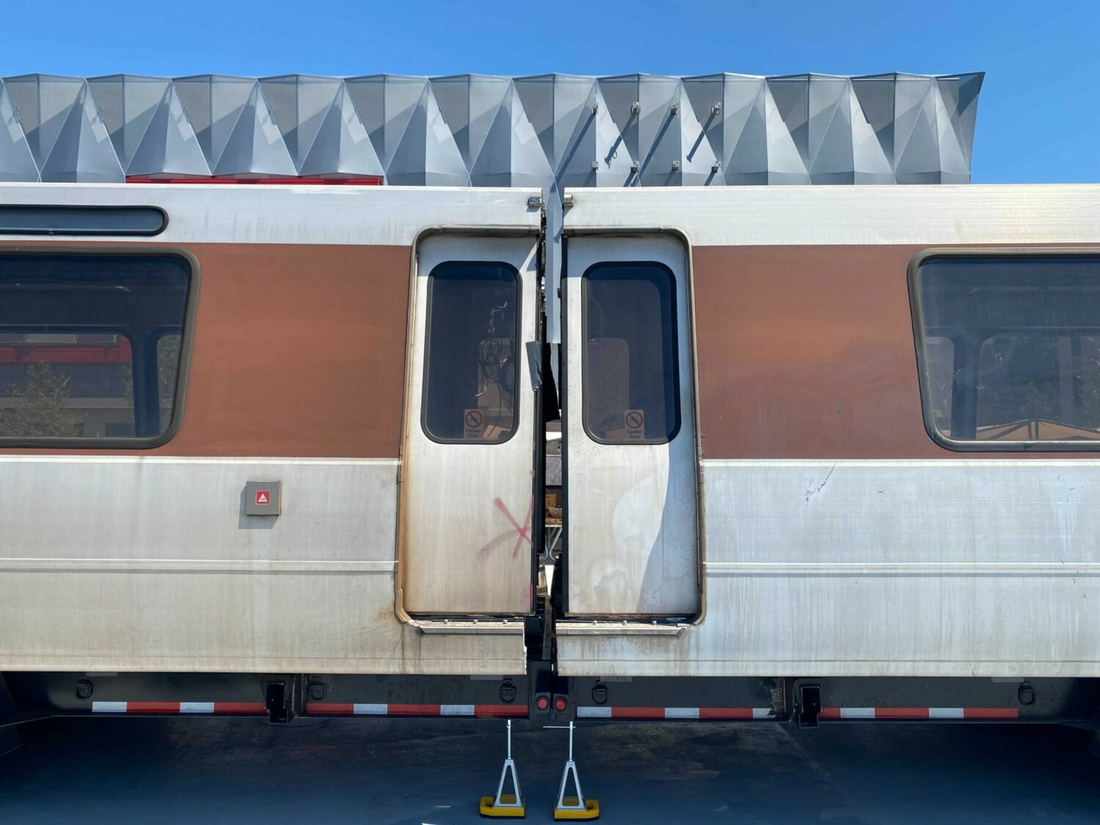 The whole process — from conception to logistics to the eventual renovation — has been a complicated process.
"I'd say a nine out of 10. The biggest challenge is probably trying to just make the space reflective of D.C.," he said. "There's always a way to solve construction problem, that's usually the time and money."
Right now, the interior of the 5000-series railcar is completely gutted, though some of the old seats will return, reupholstered with a dark blue vegan leather, a break from the classic vinyl maroon and light blue cushions.
Heating and A/C are also going in, as is new lighting and electrical both for bar service and so patrons can plug in phones or laptops. Half of the car will have a bar (with an abstract Metro map on the counter) that can serve both patrons inside and outdoors. The other part will have the back-to-back seat configurations of the old cars. Tables will be placed in the middle to create intimate booths. The end of the train car will remain more open for parties, karaoke or a small band. It should fit about 50 people total.
Rauch said he's unsure when the train car will be ready for use, but said he hopes it goes smoothly and quickly. They're still dealing with some pandemic-related supply issues. Expect more pictures and videos of the moving process and renovation on their Instagram.
"It's taking a tool of mass transit and turning it into something more intimate and have a whole different function," Rauch said. "We're trying to be as dynamic as we can with the place."
Finding a place to put the bar was also a challenge. They looked at several spaces before COVID-19 hit and later found the Bryant Street development, which was just a hole in the ground at the time. The location is ideal: the Rhode Island Avenue-Brentwood stop is so close that bargoers can see Red Line trains pass by. It's also close to the Metropolitan Branch Trail.
But the bar isn't permanent. It's a placeholder for a couple of years before a new building is built there.
The bar serves only local beer, wine, and liquor, and has food trucks on rotation. Drinks are named after transit and some named after D.C. (They're also open to suggestions on drink names, Rauch said.)
The idea to repurpose old cars isn't without precedent. In 2017, Metro hired a developer to morph decommissioned 4000-series cars into local vendor kiosks at the Grosvenor-Strathmore Metro station.
Elliot Williams contributed to this report.
This story is from DCist.com, the local news website of WAMU.
Questions or comments about the story?
WAMU 88.5 values your feedback.