There's A New Swingers Lounge In Dupont ... No, Not That Kind
Upon walking into the new Dupont Circle establishment Swingers, one might first be a bit confused. No, it's obviously not that kind of swingers venue (no need to leave your phone at the door). But is it a lounge? A club? An indoor mini-golf course? A food hall? It's been described as all of those things, and, based on a visit to the newly opened spot, it pretty much meets all of those criteria.
The two-floor, 20,000-square-foot space comes from a London-based company that launched their concept with a pop-up event in a warehouse in 2014. They then expanded to two locations that British GQ called some of the best "activity bars" in London.
The cheeky concept has landed in the U.S., with D.C. as the debut location (and a New York version to follow).
The putt-putt club takes over the former Buffalo Billiards and Front Page location on 19th Street NW, offering craft cocktails and four food vendors from Knead Hospitality + Design.
"Crazy golf" isn't much different from what regulars at H Street Country Club are used to — except, where H Street centers on D.C. landmarks, Swingers takes on the style of a 1920s-style English golf clubhouse. Its two 9-hole courses are decorated with model waterwheels and windmills, and an old-fashioned golf cart that serves as an obstacle (or Instagram photo backdrop).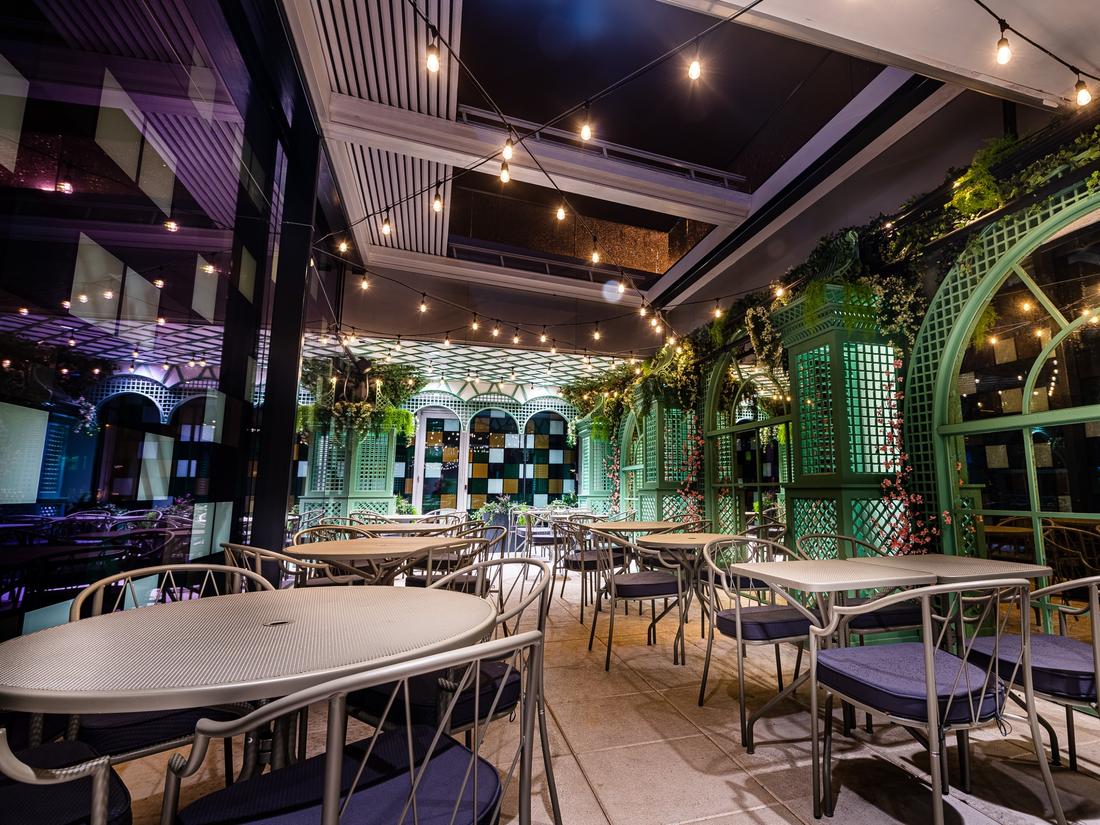 The most skilled golfers at Swingers might also end up the most buzzed: If you happen to make a hole-in-one, a "caddy" might surprise you with a shot like the "Sex on the Green" (made with blood orange, passionfruit, lime juice, and curaçao.)Golfers are invited to drink while on the course as servers come around frequently.
A giant wheel at the end of the course lists free food and booze that golfers — excuse me, swingers — can win with a final hole-in-one. And, to keep things upbeat, a live DJ mixes disco and funk hits nearby. A champions podium is set up for a photo op.
The venue is chic, no doubt, but also silly —photoshopped images of celebrities like Kanye West, Lady Gaga, and Timothée Chalamet playing golf and holding PGA trophies adorn the walls.
The four food vendors are the real standouts here, though. Mi Vida chef and owner Roberto Santibañez brings Tu Taco, a Mexican street food concept with highlights like churros, nachos, tacos al pastor, and a crispy brisket flauta with Fresno chili peppers.
James Beard award-winning chef Edward Lee — Knead's culinary director — offers Southern-style sandwiches at Lil' Succotash (an adaption of his restaurant Succotash). Dishes include the slow-smoked chicken wings with Alabama white BBQ sauce, the fried pickles, and a sweet and spicy BBQ burger with mushrooms, jack cheese, and jalapeños.
Want pizza? Kneadza features oven-fired New York-Neapolitan style pizza, arancini, and garlic knots. Guests can finish it all off with sweets, like a simple but satisfying brownie sundae, from Mah-Ze-Dahr Bakery.
A hefty drink menu includes frozen margaritas and punches, a peanut butter and salted caramel whiskey Old Fashioned with Hella orange bitters (my personal favorite), and craft non-alcoholic drinks.
A cocktail can run you anywhere from $10 to $18 and food items cost $5 to $20. Flat screens around the club show diners when their orders are ready to be picked up — and it can be a bit of a wait if the place is crowded.
Tickets just for golfing cost $19 to 24 per person with group packages available upon request. Meanwhile, the vendors will be serving food from noon to 11 p.m. every day, with takeout available.
Even on a busy night, though, it's hard to feel cramped in the space. There are four bars across the two floors, including a mini-bar at one of the courses, and a 50-person dining area with bench-like tables. High-tops are available near the bar areas and, across all of its spaces, the venue can fit about 500 people total.
Plus, ask a staff member about the patio and they'll lead you to a true hidden gem — a spacious, subterranean outdoor seating area with an open roof, a reprieve from the party going on inside.
Crazy golf, it turns out, isn't so much crazy as it is entertaining and, perhaps, a bit intoxicating.
"There's no dress code, ban on phones or penalties for going out of turn," reads the website. "Unless you're at the bar."
Swinger's Crazy Golf, 1330 19th St NW; Open seven days a week, 12 p.m. to midnight.
This story is from DCist.com, the local news website of WAMU.
Questions or comments about the story?
WAMU 88.5 values your feedback.