D.C. Gets High Marks For Tree Equity — A 'National Success Story'
Wealthier, whiter neighborhoods tend to have more trees, and that's not just a D.C. phenomenon. Nationwide, wealthy areas have 65% more tree canopy compared to lower-income neighborhoods, according to a new "tree equity" project created by the nonprofit group American Forests.
The new project, which includes interactive maps, shows D.C. does have a disparity in tree cover, but the city is doing better than many other cities, and much better than it was doing 20 years ago. The project gives D.C. a tree equity score of 91 out of 100 — among the best in the nation.
"It's really a national success story," says Ian Leahy, vice president of urban forestry at American Forests.
Leahy says the origins of today's tree disparity can be found in racist and classist policies of the past such as redlining, which incentivized investment in white neighborhoods.
"We can see where those policies were implemented back then in our tree canopy today," Leahy says.
In D.C., the new tree equity map generally shows less tree canopy in neighborhoods east of Rock Creek, and in neighborhoods with more people of color and with higher poverty levels.
However, D.C.'s tree canopy does not entirely match up with racial and socioeconomic data — particularly east of the Anacostia River. Predominantly Black Wards 7 and 8, which also have some of the District's highest rates of poverty, include some of the District's leafiest neighborhoods.
For example, Ward 7 neighborhoods of Penn Branch and Hillcrest, with more than 90% non-white residents, have more than 50% tree canopy cover — on par with the greenest neighborhoods in Upper Northwest in Ward 3, which is about 80% white.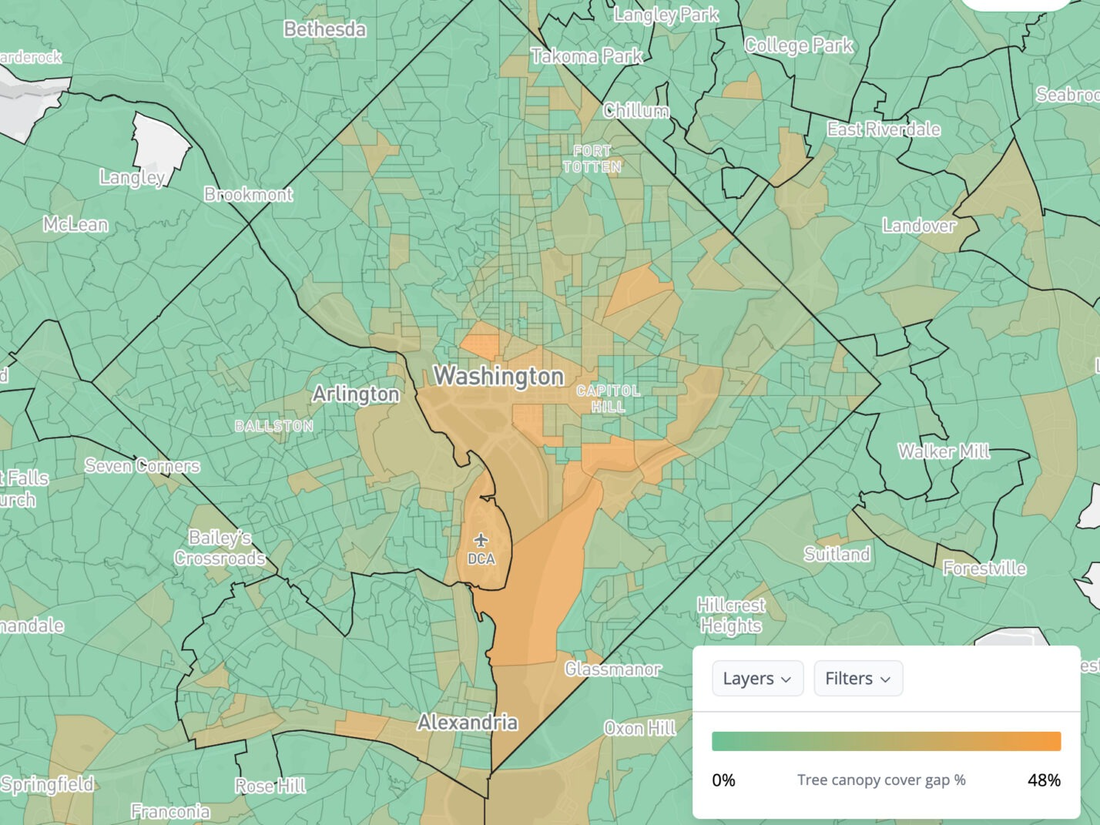 It wasn't always this way. Life is never easy for an urban street tree — roots covered by concrete and asphalt, leaves dusted by air pollution. But things were particularly bleak for D.C.'s trees in the 1990s, after a quarter century of disinvestment. For several years in the '90s, when the city was facing budget shortfalls and run by a federally-appointed financial control board, no new street trees were planted.
In 1999, a report by American Forests showed the effects of that disinvestment: between 1973 and 1997, tree cover in the District dropped by 16%. Areas with more than 50% tree canopy dropped from 37% of the city to just 13%, while areas with less than 20% tree canopy rose from 51% to 71.8% of the city.
The same neighborhoods seeing rising poverty rates saw plummeting tree cover rates.
The 1999 report and ensuing media coverage was something of a wake-up call for the city and its tree lovers. D.C. started investing more in tree planting and tree maintenance, creating a new agency, the Urban Forestry Administration, to focus on trees. Special emphasis was placed on planting in areas that lacked tree cover.
The tree equity project examined data from nearly 500 U.S. municipalities, taking into account factors including existing tree cover, population density, income, employment, race and ethnicity, age and urban heat island effect. The project calculated a tree equity score for each each census block, showing which neighborhoods have the most need for the benefits trees can bring.
"Especially as cities are heating up, this is becoming more of a critical infrastructure," says Leahy. "We've often seen trees as backdrop, as kind of nice to have but not necessary. They're really emerging into this critical infrastructure role."
Trees have all sorts of benefits, all of which are becoming more important in an era of rapid climate change. Trees help keep things cool in the summer, reduce stormwater runoff to prevent flooding, filter air pollution, and sequester carbon, slowing down climate change.
This story is from DCist.com, the local news website of WAMU.
Questions or comments about the story?
WAMU 88.5 values your feedback.