Washington Football Team President Rules Out 'Warriors' For New Name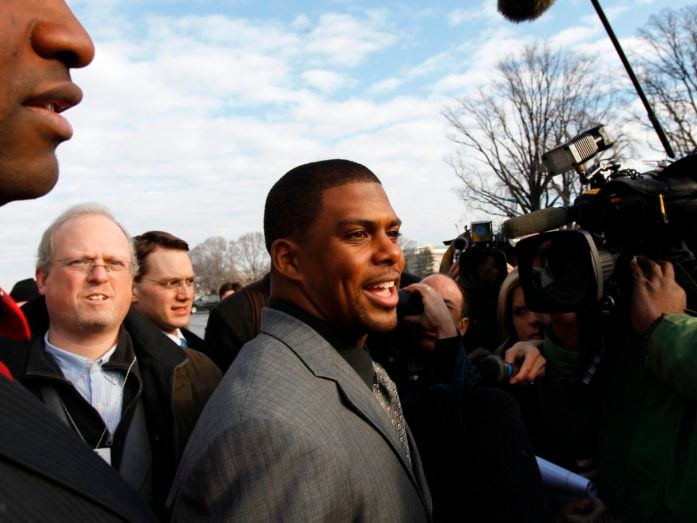 As the Washington Football Team continues its quest for a new identity, there's one name that's been ruled out: Warriors.
Team president Jason Wright nixed the potential moniker, which he noted "has emerged amongst our fanbase," in a statement Monday morning.
"Feedback from across communities we engaged clearly revealed deep-seated discomfort around Warriors, with the clear acknowledgement that it too closely aligns with Native American themes," Wright wrote. "Such an embrace of potentially Native-adjacent iconography and imagery would not represent a clear departure that many communities have so forcefully advocated for us to embrace, and that frankly, we set out to do when we started this process a year ago."
The Warriors name has been floated around this year, after the team began surveying season-ticket holders for their thoughts on the team's rebranding. Ticket-holders were provided different lists of 10 potential names and instructed to select two preferences. The franchise has narrowed down a short list of new names, according to Wright's statement, and the team is expected to reveal its new identity for the 2022 season.
Wright's brief Monday indicated than any future name will have "no ties to Native American imagery," following conversations with Native American leaders throughout the country.
"This process has exposed to us the very deeply-held personal feelings about our previous imagery and association — and not just the simple, easy-to-categorize 'who's for or who's against' polling of our old name, but research revealing the psychological effects of Native American team names on American Indian and Alaska Native youth," he wrote.
Wright's message comes a little over a week after the National Football League levied a $10 million fine on the team, following a yearlong investigation in the team's workplace culture. The franchise has also recently named Tanya Snyder as co-CEO alongside her husband, Dan Snyder.
This story is from DCist.com, the local news website of WAMU.
Questions or comments about the story?
WAMU values your feedback.