Parents Take Aim At D.C. Law That Lets Minors Get Vaccinated Without Permission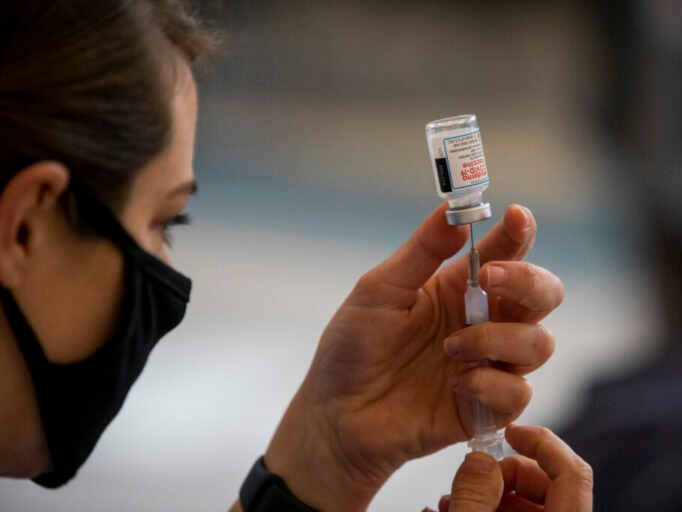 D.C. parents are suing city officials over a new law that allows children 11 and older to acquire vaccines without permission from parents.
Four parents of students at several public schools — both traditional and charter — said giving children the autonomy to get immunized on their own violates parents' rights and religious freedom, according to a July 12 lawsuit filed in the U.S. District Court in Washington.
"All parents have a right to be directly involved in medical decision-making about their children," said James Mason, an attorney representing the parents.
It is the second lawsuit brought in recent weeks by parents who want the federal court to strike down the law, which went into effect in March.
The D.C. Council voted 10-3 in November to allow minors to give their own consent for vaccines recommended by the Centers for Disease Control and Prevention, even if a parent has filed a religious exemption.
It is unclear if or how the legal challenges will affect the city's efforts to inoculate youth against the coronavirus before the next academic year starts.
A spokesperson for Mayor Muriel Bowser declined to answer specific questions about either lawsuit, citing the pending litigation.
Public schoolchildren in the District must receive immunizations against several diseases including the measles, mumps and polio in order to attend school. Parents may seek medical or religious exemptions for their children from vaccines, which are highly effective and safe.
Several physicians and the D.C. chapter of the American Academy of Pediatrics, a leading professional organization for pediatricians, strongly supported giving young people autonomy over vaccination decisions during a public hearing about the bill.
But Mason, who is vice president of the Home School Legal Defense Association, which advocates for parental rights, said the law encourages schools and insurers to hide students' vaccination status from parents.
The law directs physicians to submit a student's immunization record directly to the student's school if a parent has submitted paperwork objecting to vaccines because of their faith. Healthcare providers who administer vaccines must seek payment directly from insurers without notifying parents.
One parent, Victor Booth, said in the lawsuit that he fears his 12-year-old son will be pressured to receive vaccinations for HPV, meningitis and COVID-19 when the boy's charter school reopens for in-person learning in the fall.
Booth and three other parents who filed the complaint strongly object to vaccines for religious reasons and argue the law is intended to "circumvent and subvert the decision of parents."
Another parent in Anne Arundel County filed a separate lawsuit on July 2 after his 16-year-old daughter traveled to a pediatrician's office in the District for a Tdap vaccine, which protects against bacterial diseases and was required for a summer camp she wanted to attend. The father argues the D.C. law creates an "entire structure by which the health care provider, insurance company, school, and health department all engage in an elaborate and deceitful scheme."
As a child, the teen suffered allergic reactions after receiving vaccines that protect against the bacterial diseases, the complaint says. The father also objects to vaccines for religious reasons.
The 16-year-old ultimately decided to leave the office without being immunized but has "not abandoned her intention" to seek vaccines again, according to the lawsuit.
Aaron Siri, an attorney for the Anne Arundel parent, did not respond to requests seeking comment.
Physicians and lawmakers emphasize that allowing children to seek vaccines without permission from parents can spare children from becoming sick with preventable illnesses and stop diseases from spreading.
Councilmember Mary Cheh, who introduced the measure after measles outbreaks occurred in multiple states, said youth in the District are already able to receive other health services without parents' permission, including accessing contraceptives and getting treatment for substance abuse.
"The child has his or her own agency in their body and their health and their lives," said Cheh, who represents Ward 3.
The law also includes safeguards to protect children, she added.
A child can only receive a vaccine without parental permission if a physician determines the child is capable of informed consent, a standard that means the minor is able to comprehend why they need the vaccine and understand "any significant risks ordinarily inherent in medical care," according to the law.
About 10 states have given teenagers some rights to make their own health care decisions, according to Stateline, a publication from The Pew Charitable Trusts.
Some states, including Alabama, Oregon and South Carolina, give teenagers authority to consent to all health care decisions on their own. Others, including California and New York, allow children 12 and older to consent to vaccines for sexually transmitted diseases.
The D.C. Council began considering whether to allow children to receive vaccines without parental consent before the pandemic. But the measure was adopted with greater urgency as the coronavirus raged in the fall.
"The one thing that COVID-19 has taught us is that policymakers need to make science-driven decisions about health policy," Councilmember Vince Gray said during an October meeting.
Gray, who represents Ward 7 and chairs the health committee, said the bill was guided with input from health experts.
Children 12 and older have been eligible to receive the coronavirus vaccine produced by Pfizer-Biontech since May. In the District, about 23% of 12-to-15-year-olds and 26% of 16 and 17-year-olds are fully vaccinated, according to city health data.
School leaders have strongly urged youth to get inoculated against the virus but have not made it a requirement for returning to in-person learning.
D.C. Public Schools has operated COVID-19 vaccination sites from middle and high school campuses, where consent policies vary.
Chancellor Lewis Ferebee said getting students vaccinated is an important step to fully reopening campuses for in-person learning in the fall.
"Vaccines are the single most effective tool we have to stop the spread of the coronavirus," Ferebee said in May. "It is our responsibility as a community to get vaccinated, including our middle and high school students."
This story is from DCist.com, the local news website of WAMU.
Questions or comments about the story?
WAMU values your feedback.