Langley Park Tenants Are Suing Their Corporate Landlord, Alleging 'Reverse Redlining'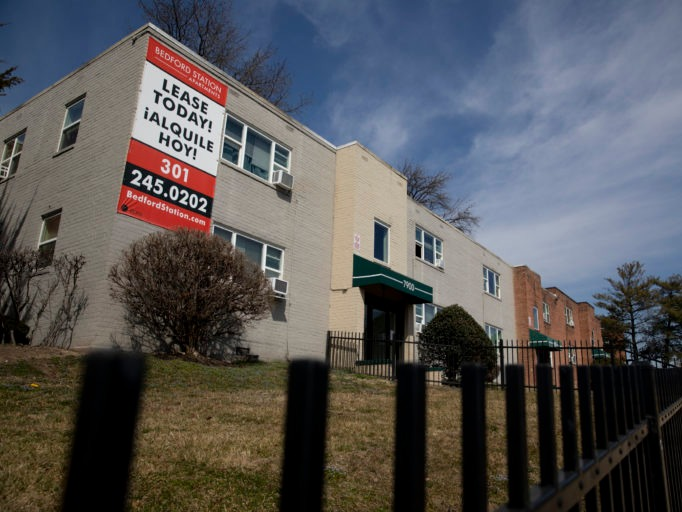 Tenants in a troubled apartment building in Langley Park, Maryland, are suing the building's corporate owners, alleging the company fostered substandard living conditions that "would shock the conscience of most Marylanders," according to a class action filed Monday morning in federal court.
Advocates with the nonprofit CASA de Maryland brought the complaint to Maryland's U.S. District Court in Greenbelt on behalf of the tenants, immigrants from Central America who live in Bedford Station and Victoria Station, two buildings infamous for poor living conditions.
The suit accuses building owner Arbor Realty Trust, Inc., and its subsidiaries of violating the Fair Housing Act by snapping up apartment buildings in low-income communities of color and neglecting their upkeep in order to wring them for profit. The plaintiffs are seeking damages, including for past rent paid and violations of their civil rights.
A spokesperson for Arbor Realty Trust did not return a request for comment by press time.
WAMU/DCist recently interviewed residents of the complex about the unlivable conditions — made worse during the pandemic — that plague their apartments. Problems at the buildings date back years, but Prince George's County has long struggled to use its housing code to improve troubled properties in the county, according to a 2019 CASA-commissioned study, and the landlord retains an active rental housing license.
The defendants in the suit encompass a web of eight business entities that all have ties to the complex. Officially, the buildings are owned by the single-purpose LLCs Bedford United and Victoria United, companies owned by the publicly traded Arbor Realty Trust. The complaint describes Arbor as a "specialized real estate finance company that invests in real estate-related bridge and mezzanine loans, preferred equity, discounted mortgage notes, and other real estate-related assets" — including Bedford Station and Victoria Station.
The buildings are managed by ROSS Management Services, a Bethesda-based company that calls itself "a leader in multifamily property management in the Mid-Atlantic region." Emails to company representatives were not immediately returned.
The complaint details a long list of alleged issues inside the apartments, including severe pest infestations, pervasive mold, rusted bathroom radiators, mold-contaminated AC units that no longer work, dangerous electrical wiring, and large holes in walls and ceilings. Defendants accuse Arbor Realty Trust and its subsidiaries of intentionally allowing the buildings to decay.
"Basic maintenance and necessary repairs to both properties have been ignored and neglected to the point that the exclusively minority families living in them are forced to live in conditions that belie expected housing conditions in the region," the complaint says. "Like reverse redlining, Arbor targets properties at the lowest level of [sic] real estate quality spectrum located in low-income communities...and systematically increases the rent year-over-year, without making the capital investments in the property that are required to make the property safe for human habitation."
The vast majority of residents at Bedford Station and Victoria Station are immigrants from Central America, mainly Guatemala and El Salvador, according to CASA. Many pay around $1,600 a month to live in the market-rate complex, which spans about 600 units off University Boulevard in Prince George's County.
Arbor has bought around a dozen multifamily buildings in the D.C. suburbs since 2013, all of which are located in majority-minority communities, according to the complaint. The lawsuit alleges that these buildings have received far less investment and maintenance than others owned by the company, such as 10 Rutgers Street, a luxury property on the Lower East Side of Manhattan that Arbor purchased in 2018, and the Quarry at Alamo Heights, another attractive Arbor property located in a majority-white neighborhood in San Antonio, Texas.
"The disparities in maintenance and capital investment between Arbor's properties cannot be explained by non-racial factors," the suit says.
In their request to certify the class action, the plaintiffs are seeking to represent all current tenants of any Arbor property as well as anyone who has lived in Victoria Station or Bedford Station during the last three years. (A class action must be certified by a judge before it can proceed to pre-trial.)
Dozens of households at Bedford Station and Victoria Station went on a rent strike last fall, calling for improved conditions and rent forgiveness for tenants who lost their jobs during the pandemic.
Built nearly 70 years ago, neither property has ever undergone a significant renovation — a fact that did not escape Arbor Realty Trust when it purchased the complex in 2013, according to the plaintiffs.
"No reasonable investor operating within the requirements of the Fair Housing Act would invest in such a property without accounting for the need for a significant amount of capital investment unless there was some alternate plan for turning a profit," says the complaint. Preserving revenue by knowingly neglecting the properties, the suit says, is Arbor's alternate plan.
In September 2020, while tenants at Bedford Station and Victoria Station were facing collapsed ceilings, severe mold, and mounting eviction notices, Arbor Realty Trust CEO Ivan Kaufman gave an interview to The Ground Up, a podcast about real estate investing. Kaufman said his company was "having its best year ever."
"Our business is just, in many ways, one of the winners in this recession," the CEO said.
This story is from DCist.com, the local news website of WAMU.
Questions or comments about the story?
WAMU 88.5 values your feedback.