Virginia Recommends That Students And Staff Wear Masks At Some Schools This Fall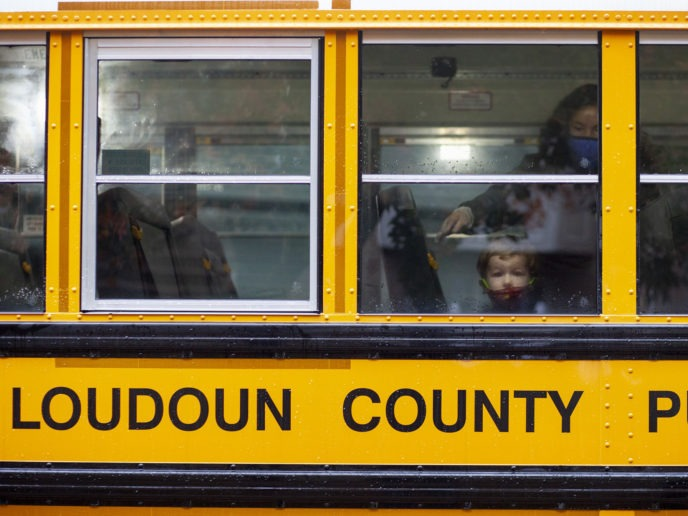 Virginia's Department of Health says students, teachers, and staff at elementary schools and some middle and high schools should wear masks for the upcoming school year.
The guidance from the agency is a recommendation to schools, but not required under the law. It follows the recent recommendations from the Centers for Disease Control and Prevention on preventing outbreaks of COVID-19 in schools.
The commonwealth's public health experts "strongly recommend" that elementary schools should require all students, teachers, and staff to wear a mask indoors until vaccines are available to children under the age of 12. The guidance also says that "at a minimum, middle and high schools should implement a requirement that teachers, students and staff who are not fully vaccinated wear masks indoors."
Finally, schools may want to consider a universal mask mandate if a large portion of their population isn't vaccinated, there are increased COVID-19 transmission rates in the surrounding community, or difficulties emerge in the enforcement of mask policies or the monitoring of vaccination status.
Gov. Ralph Northam said in a statement that the state continues to follow the science for protecting communities against COVID-19.
"[This guidance] will provide necessary flexibility for school divisions while ensuring a safe, healthy, and world-class learning environment for Virginia's students," Northam said. "Getting your shot will protect you, your family, and your community — and it is the only way we can beat this pandemic once and for all."
Earlier this year, Virginia's General Assembly passed a bill that requires schools to provide in-person instruction available to students during this upcoming school year. Additional updated guidance also says that physical distancing of at least three feet should be maximized to the extent possible, but "schools should not reduce in-person learning to keep a minimum distance requirement."
Atif Qarni, the state's education secretary, lauded the guidance for providing schools with flexibility.
"We know that students learn best in school buildings, and this guidance ensures that divisions have the flexibility and support they need to provide access to in-person learning five days a week," Qarni said in a statement.
In Virginia, 64.3% of adults 18 and older are fully vaccinated, according to the state's health department. But COVID-19's Delta variant accounts for approximately 69% of the new infections as of the beginning of July, according to the CDC. COVID-19 cases are steadily rising in the region. In Virginia, cases reached their lowest point of around 143 a day in mid-June, and they're now back up to more than 400 a day last week, according to health department data.
Masks are still required on all public transportation in Virginia, including school buses.
This story is from DCist.com, the local news website of WAMU.
Questions or comments about the story?
WAMU 88.5 values your feedback.