D.C. Reinstates Indoor Mask Mandate For All Individuals Starting Saturday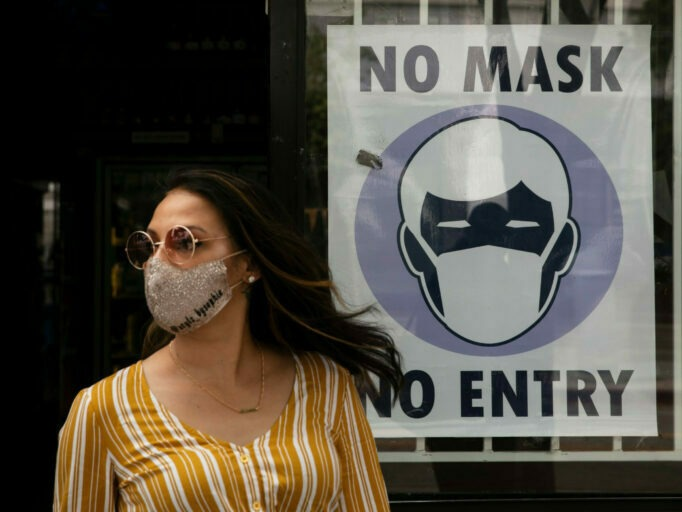 This post will be updated.
A little more than two months after D.C. lifted its mask mandate, Mayor Muriel Bowser announced Thursday that masks will once again be required in all indoor settings, starting Saturday, July 31.
The new order will apply to all individuals over age two – regardless of vaccination status.
The city's order follows new guidance from the Centers for Disease Control earlier this week, which directed all individuals, regardless of vaccination status, to wear a mask indoors if they live in a part of the country with "high" or "substantial" virus transmission. Nearly two-thirds of the country fits that definition.
As of Wednesday, D.C. reached the point of "substantial" community spread, per the CDC. "Substantial" transmission occurs in any locality that reported 50-100 new cases per 100,000 residents over the past week, or is reporting a positivity rate between 8% and 10%. According to the CDC's website, D.C. reported 52 new cases per 100,000 residents in the past seven days, and the District's positivity rate stands at roughly 2.6%.
D.C. is currently reporting a seven-day average of 59 new cases a day — a six-fold increase from the beginning of July, and the highest that metric has been since early May.
While the city's public health emergency expired on Sunday, Bowser extended its public emergency, which allows her to retain certain powers, like a mask mandate. D.C. originally ended its city-wide mask mandate on May 17, and instead left it up to businesses to decide whether or not they would require patrons to wear a mask. (Masks were, and still are, required for public transit, taxis and ride hailing services, airports, train stations, schools and daycares, healthcare settings, workplaces, if applicable, homeless shelters, and correctional facilities.)
Regionally, Alexandria City has also recommended that its residents resume wearing masks in indoor public spaces, after the city fell into the "substantial" transmission zone on Tuesday. Loudoun County's transmission's rate is also substantial, but officials have not yet announced an updated mask recommendation.
This story is from DCist.com, the local news website of WAMU.
Questions or comments about the story?
WAMU 88.5 values your feedback.