Voices Of Wards 7 And 8: COVID-19 Vaccinations
Vernice Puryear, who lives in Ward 7, is supportive of the COVID-19 vaccine. But she says she understands why some other Black D.C. residents, particularly those living in wards 7 and 8, are skeptical about it.
"I'm living in a food desert right now," says Puryar. "People say, 'You should do this because it's for the betterment of you' — but...it's a contradiction. How can you establish trust when there's contradiction?"
Vaccination rates in the District and its suburbs are higher than the national average. However, a significant number of locals remain unvaccinated. And vaccination rates correspond with resources: parts of the city where poverty rates are highest have the lowest percentages of fully vaccinated residents. Just 36% of Ward 7 residents over 12 are fully vaccinated, and 31% of Ward 8 residents over 12 are fully vaccinated. Meanwhile, in every other ward of the city, the percentage of fully vaccinated residents is at least 47%. The disparities in vaccinations are smaller when you look just at D.C.'s seniors — but they are stark for kids and teens: In majority-white and wealthy Ward 3, about 56% of residents aged 12 to 17 have been fully vaccinated. In Wards 7 and 8, the percentages are hovering around 10% and 7%, respectively.
Rhea Boyd, a pediatrician and public health advocate, told The Atlantic recently that the gap in vaccinations is not an individual problem. Instead, she says, it's a systemic issue that "illustrates preexisting fault lines in our health-care system, where resources — including credible information — don't get to everyone."
Epidemiologists and infectious disease experts say that getting a COVID-19 vaccine is the best way to protect yourself and your community from the coronavirus. In recent weeks, calls for Americans to get vaccinated have taken on even more urgency as the highly-contagious delta variant has begun rapidly spreading across the country — and the D.C. region.
So DCist spoke with residents of Wards 7 and 8 about their thoughts on the COVID vaccine. Some had gotten the shot, while others had not. Some were more firm in their positions, while others were more on the fence. But what many of them shared was a critique of the broader power structure in this city, which routinely supports the health of white residents in wealthy neighborhoods over the well-being of Black residents in neighborhoods that have been deprived of investment and health care access.
Here's what ward 7 and 8 residents had to say about the vaccine. Responses have been edited for length and clarity.
I have not been vaccinated but I do not judge those who have are. I choose not, I'd rather go the holistic route. I feel like it should have taken a little more time to roll out the vaccine and not rush things. When you rush, you begin to have those hiccups. I believe some vaccinations may save a life, but as for me I just chose the natural way. I feel like the pandemic challenged a lot of people and brung a lot of people together as a community and as a village. We need to stick together.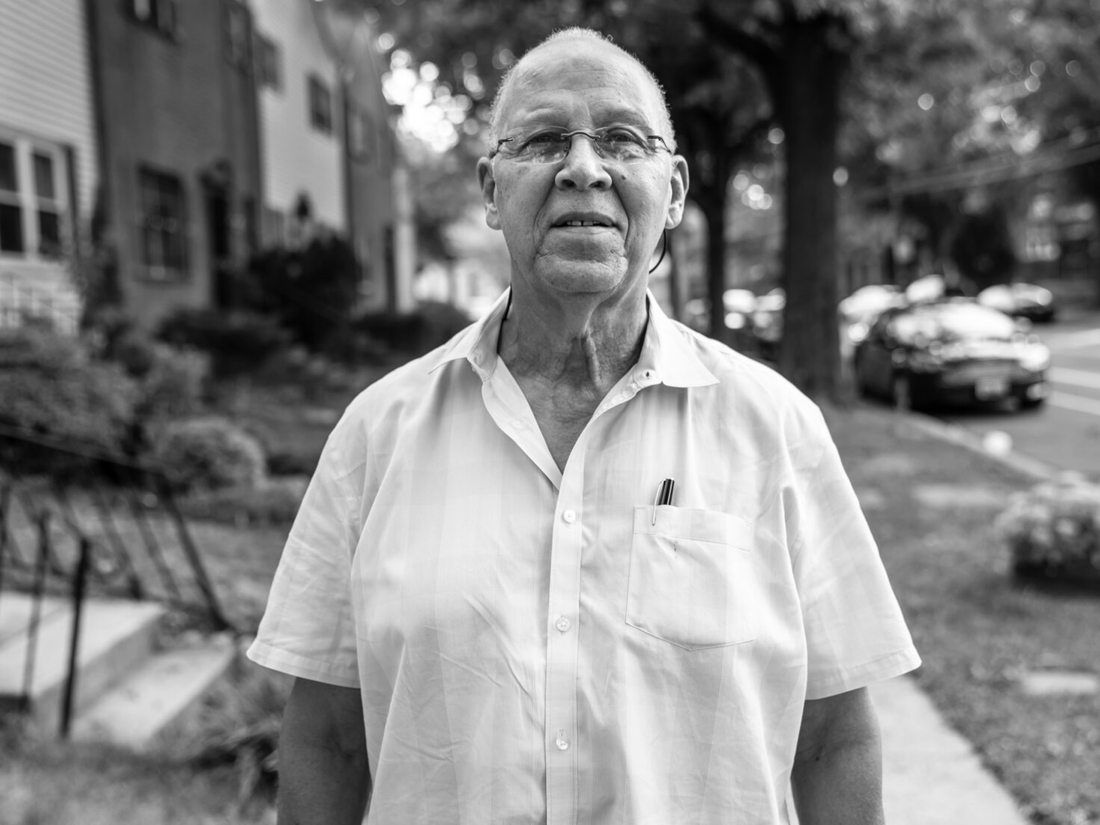 I'm vaccinated [and] that's a statement right there. I feel that it's important for everyone to go get vaccinated for us to get through this catastrophe that we've had. Unfortunately, the prior administration and the continuing holdover from that has a lot of people misunderstanding ... about getting vaccinations. When I run across someone who is not vaccinated most reasons don't make sense to me. The excuse of 'I'll wait to see or I don't trust the government.' My major in college was mathematics. I deal with logic and facts, most people if you listen to what they say it's emotional or irrational in my view reason for not getting the vaccine. You have family members or church members that you're putting at risk if you don't get a vaccination. They say well you know the vaccine may hurt me, well you know the chances of you getting hurt by a vaccination are way less than the chances of you getting COVID-19. If you look at the percentages it's a no brainer decision. That goes back to my reasoning in math background doing analysis. I make a decision based on the facts. I pray that everyone gets vaccinated so that they can protect theirselves and their loved ones. The sooner we can get everyone vaccinated we can get back to having more events and kids can go to school without wearing their mask.
Since the pandemic arrived and looking at the senior citizens, one of the reasons people are hesitant in getting their vaccinations is due to our forefathers. Going back many many years our population were preyed on ... Everyone is fearful of the vaccination. The numbers are low east of the river with the COVID-19 vaccinations because people are uncertain and afraid. It's been so many stories and myths about the vaccination that many don't know what's the truth. If I had a solution I'd say we'd have to keep having these talks. Once I got more educated about the vaccine I said 'Ok I'll go ahead and get the shot.' As for the government building trust with communities, I feel they just need to be more honest with the people. My last words are that people should have faith and go get vaccinated.
I feel like the COVID-19 vaccinations are necessary but I don't feel like it will work with our Black communities in wards 7 and 8. We don't trust the people giving us the information. When there's no trust, how can you take something that they're telling you for facts, especially when the world is showing you it ain't always like that? When we look at the history of Black people in medicine and vaccinations, for example the Tuskeegee experiment ... I think those things, the historical part, we're just naturally marginalized. I'm living in a food desert right now. People say you should do this because it's for the betterment of you, but yet you're looking around for better [and it's not there]. It's a contradiction in which how can you establish trust when there's contradiction? I studied biotechnology. One thing I was taught was whenever there are vaccines going around there are normally five to 10 years for it to roll out. In this case it has taken a little under a year. I think we should start there with educating people about the vaccine process. The COVID-19 vaccinations may have been accelerated. Educating people about viruses and vaccines also, having these conversations, incentivizing them to get different perspectives and ideas that can hopefully awaken new ideas instead of it just coming from the government telling you that you have to do something. In theory we don't have to do anything.
I have mixed emotions about the vaccinations. I have no clue on how to feel about it. I've been hearing good and bad things. Right now I'm just not sure. I understand that to get vaccinated it's 12 and up. My daughter is 11, if my daughter had to get it then yes we would [all] have to get it. My daughter and I both haven't been vaccinated as of yet. We get daily COVID-19 tests. The [pause in] the Johnson and Johnson vaccine makes me not sure. I hope they get the tweaks and everything out. I hope that they get the vaccine together. I feel it'll be mandatory.
I feel like people are afraid to get the vaccine because of prior things that happened in history. We were told to trust certain processes and over time it affected us in a different way. I think it's important to get the vaccine to prevent things from happening in the future before things get out of hand. I got vaccinated, I'll do anything to prevent things from getting worse. If I have to be the guinea pig for the people, I'll do it. I feel people should get it instead of trying to take the risk of getting sick.
This story is from DCist.com, the local news website of WAMU.
Questions or comments about the story?
WAMU 88.5 values your feedback.