The Best (And Cutest) Moments From The Giant Panda Cub's First Year At The Zoo
Xiao Qi Ji, the giant panda cub at the Smithsonian's National Zoo, is turning 1 on Saturday, Aug. 21. The Smithsonian will be celebrating his birthday with a live-streamed ice-cake breakfast, a festive decoration of his habitat, and a signature cocktail sold at a bar in the zoo's Panda Plaza.
"This past year has been a challenging one, in many respects, but watching this little cub develop into the smart, observant, inquisitive and goofy bear he is today has brought our giant panda team — and fans around the world — a lot of joy," the zookeepers wrote in a statement.
DCist couldn't help but think back to all the moments— and there's been no shortage — the curious little guy has charmed us with during a rough year.
The panda cub is born
Mei Xiang, already a mother of three surviving cubs, successfully gives birth to a new panda cub at 6:35 p.m. on Aug. 21, 2020. Zoo spokesperson Pamela Baker-Masson told DCist at the time that the mama bear had picked up the cub immediately and was cradling it. At 22, Mei Xiang became the oldest giant panda in the country and the second oldest in the world to give birth. The cub and mother appeared healthy and had a peaceful first night. Sadly, fans were unable to view the actual birth as the panda cam exceeded its bandwidth and crashed.
The panda cub makes its internet debut
Mei Xiang left her den to get water early on the morning of Aug. 27, exposing the new panda cub to the world and leaving the fur-less creature screeching and squirming about on all fours. The zoo said the alone time was actually a sign that things were going smoothly. Still, we had to know, was the baby panda actually cute?
It's a boy!
In October, zookeepers revealed the cub's gender — a boy — with a painting by his father, Tian Tian.
"I know from the feedback we're getting that it's just a really awesome moment of joy, and we can all use more of that in our lives right now," Baker-Masson told DCist after the reveal.
The cub finally becomes cute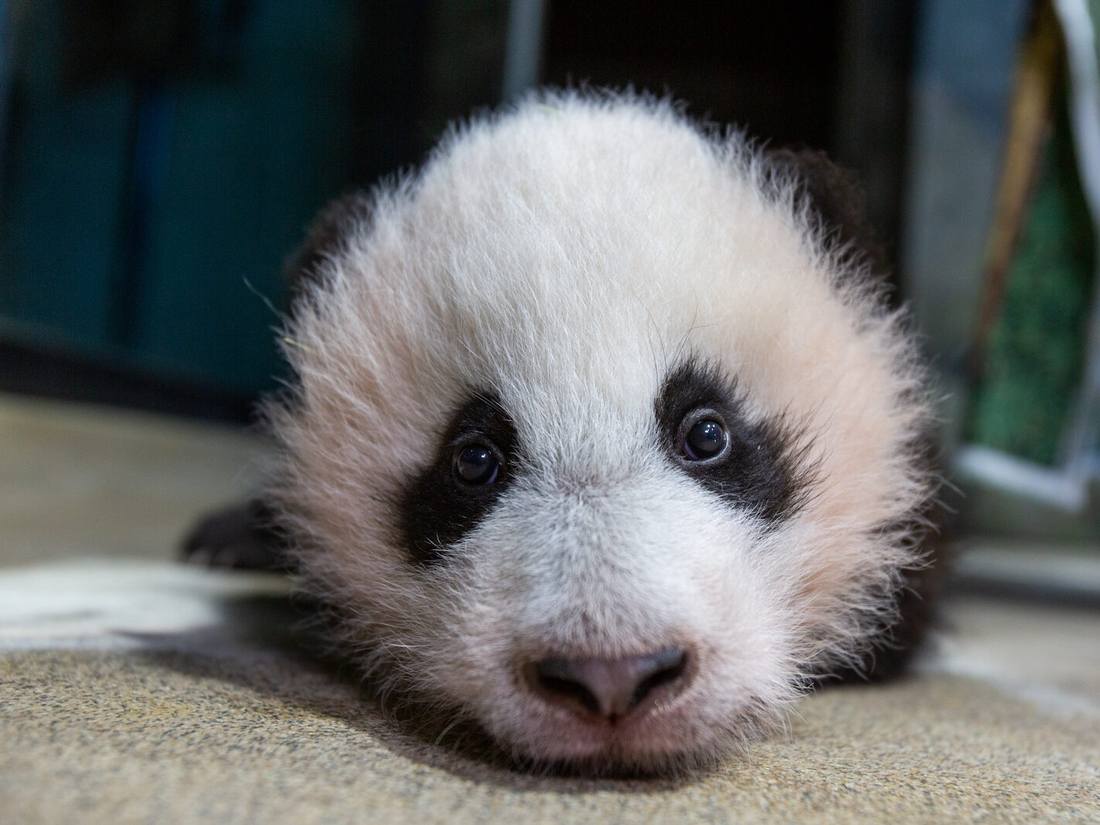 With a little more fur, weighing in at 4.5 pounds and measuring 15 inches, the panda cub was finally, undeniably cute.
And we'll call him...
Over the Thanksgiving holiday, there was a lot to be thankful for: the panda was officially named Xiao Qi Ji (Mandarin Chinese for "little miracle") and he took his first steps. The zoo usually waits 100 days to name pandas, not out of indecision, but to honor Chinese history and culture, according to the Smithsonian. Giant pandas typically aren't named for 100 days due to low survival rates.
First time playing with toys
In early January, at 4 months old, the cub played with a small red egg and an empty PVC puzzle feeder. The adorable activity helps the panda develop mentally and physically.
Nothing like that first sweet potato
Later that month, Xiao Qi Ji enjoyed his first cooked sweet potato. Zookeepers lured him in using a piece of bamboo as a spoon. Taking after both of his parents, he couldn't get enough of the treat:
Xiao Qi Ji goes live
The zookeepers hosted a panda cam event with Xiao Qi Ji, showing off his habitat, answering FAQs, and more. At 5 months old, the cub weighed 20 pounds and was trying new foods. He also received love from local lawmakers — Ward 3 Councilmember Mary Cheh gave him a shoutout on Twitter.
Panda's first snow
On Jan. 31, Xiao Qi Ji experienced the magic of snow for the first time.
"As the flakes were falling, the panda team brought Xiao Qi Ji out of the indoor enclosure to a snow-covered patio behind-the-scenes. He seemed unsure about it at first and stood there for a moment to take it all in," the zoo said on its website. "Although his trip was a short one, he seemed to have a good time."
❄️ As snow blanketed Washington, D.C., our animals woke up to a winter wonderland. With this weather event came another significant milestone—giant panda cub Xiao Qi Ji's first encounter with snow! Keepers say he took a little nip at the fresh powder. 🐾👅#SnowDay #PandaStory pic.twitter.com/8hYfYuoP5f

— National Zoo (@NationalZoo) January 31, 2021
First outdoor venture
After Valentine's Day, Xiao Qi Ji learned to love the outdoors. His mama Mei Xiang led the 6-month-old cub to their outdoor habitat for the first time. The cub pawed at a toy and walked around sniffing doors and trying to climb gates. He even peeked into his dad's yard through what zookeepers call a "howdy window."
A panda for the people
On May 21, the National Zoo welcomed back visitors with timed-entry passes, meaning Xiao Qi Ji made his in-person debut. "He went about his daily routine and never skipped a beat," the zoo wrote in a statement. The 9-month-old napped in his favorite tree, played in the Panda House, and bothered mama bear Mei Xiang while she tried to relax on some rocks.
A stand-up guy
At the start of the summer, at 10 months old, Xiao Qi Ji learned how to stand up on cue. By following panda keeper Mariel Lally's hand as she lifted it skyward, the cub ended up on his hind legs, prompting a ton of "good boys!" and biscuits.
It only took two attempts for Xiao Qi Ji to learn to stand on cue, per the zoo.
"At this age, our team can safely share a space with the cub," the zookeepers said. "As he continues to grow, though, that will not always be the case. Like his parents, one day Xiao Qi Ji will only interact with them through mesh."
It's true, Xiao Qi Ji is growing older right before our eyes — and the Smithsonian says visitors can keep up with all the latest Xiao Qi Ji news on its website.
This story is from DCist.com, the local news website of WAMU.
Questions or comments about the story?
WAMU 88.5 values your feedback.