Friends, Family, And Supporters March For An'Twan Gilmore In D.C.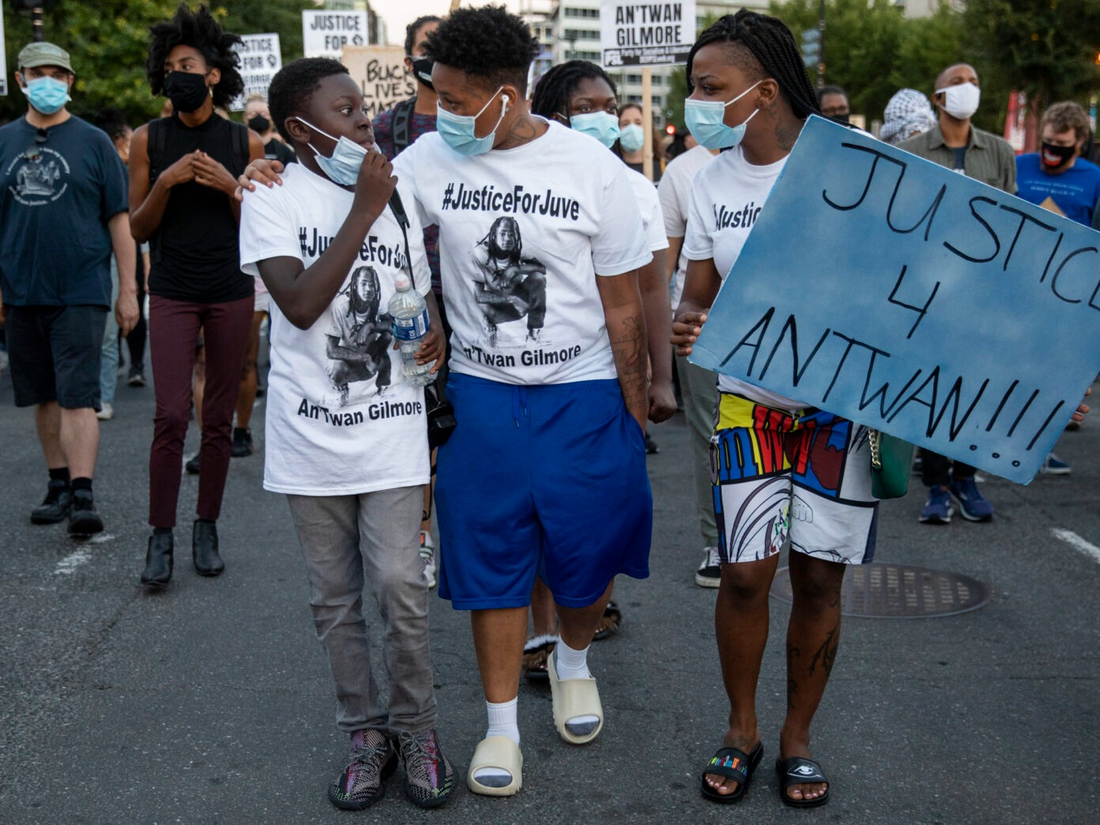 Family and friends of An'Twan Gilmore — the 27-year-old man fatally shot by D.C. police officer Enis Jevric the morning of August 25 — shut down some of D.C.'s busiest streets and intersections on Friday night along with other marchers. It was one of several protests they have held over the past week to demand accountability for their loved one's death. About 150 friends, family and local activists marched.
"I appreciate everybody for coming out to support my brother, my homie," said 25-year-old Mariah Sheffield, who marched at the front of the group. She and other family and friends wore matching "#JusticeForJuve" T-shirts, a reference to Gilmore's nickname. "He wasn't my brother by blood, but he was my brother by loyalty and love ... we hung together every day."
Gilmore died after being shot 10 times by Jevric. Police went the scene because they received a call about a person apparently sleeping or unconscious in a car stopped at the intersection of New York Ave. and Florida Ave. NE. Multiple police officers eventually responded to the scene. They said they saw a gun in Gilmore's waistband, which prompted Jevric to carry a ballistic shield as he approached the car. The shield ultimately blocked parts some of the view of Jevric's body camera footage that police published after the shooting. But what can be seen clearly in the footage — as well as in a bystander video — is that at one point, after police tapped on his window, Gilmore appeared to wake up and his car moved slightly forward. Police yelled at him to stop, and the car stopped. Then, as the car began moving forward again, Jevric fired into the car window. The case has been referred to the U.S. Attorney's Office for D.C.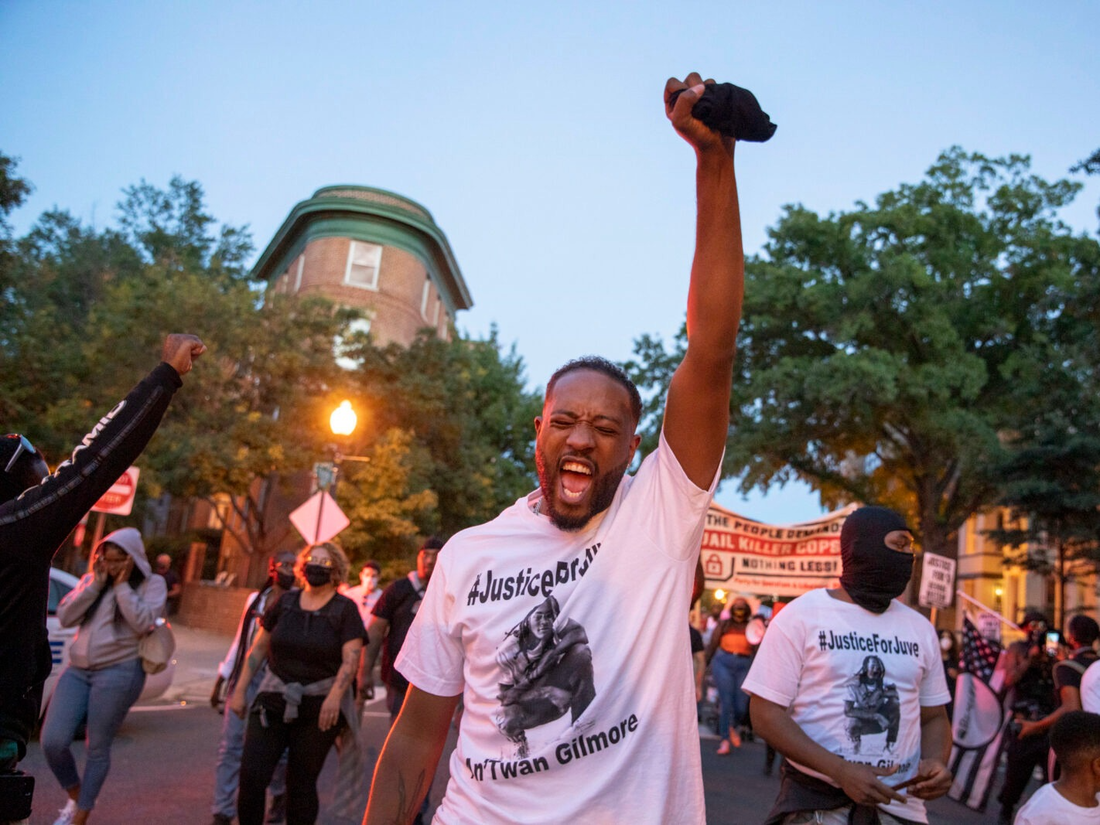 Police said the gun was still on Gilmore's waistband after he died. Those close to him worried that the public narrative about their loved one was too focused on that gun when there was so much more about him worth discussing.
"He was goofy," said Sheffield. "He was a lovable man. He was funny. And he spoke his mind. Whenever he felt down and out, he spoke his mind." He wasn't afraid to share his feelings, she added, because "he was a Sagittarius. You know Sagittarius, they speak their mind."
Mostly, Sheffield says, Gilmore was happy and smiling. He was "the light of the damn room, the block. The light of First and Bates." That's where he would often spend time, with cousins of Sheffield who he grew up around.
A 19-year-old who preferred to be referred to by a nickname, "Big Bro," said he and Gilmore had become close friends over the past few years.
"I don't even clique up, link up with nobody," he said, but "[Gilmore] was my man ... he motivated me to go back to school." He said because of that motivation, he's now working to complete his high school degree.
The march started at New York Ave. and Florida Ave. Northeast, where Gilmore died. As people were gathering, Sean Blackmon, an organizer with the Party for Socialism and Liberation, said protesting is how he deals with grief and anger about deaths at the hands of police, and the multiple other crises that have seemed to converge in the U.S. during the coronavirus pandemic.
"We're in a time when we're dealing with a lot of issues at once: racist police terror, climate change, the coronavirus pandemic ... and what I want people to know is that they don't have to give in to despair, they don't have to give in to that discouraged feeling," said Blackmon. "They can be active. They can do something about this."
As the protesters streamed west down Florida Ave., across North Capitol St., and into the bustling U Street corridor, police cars blocked off the streets and a few officers accompanied the march on bikes. Patrons looked on from rooftop bars and outdoor restaurant setups. Some raised their fists, or raised their glasses, or clapped in support.
"Out of the bars, into the streets," the protesters chanted. "Out of the clubs and into the streets. No justice, no peace."
Organizers emphasized two demands from Gilmore's family: First, that there be an independent, non-police-lead investigation into Gilmore's death. And second, that Jevric be prosecuted and jailed.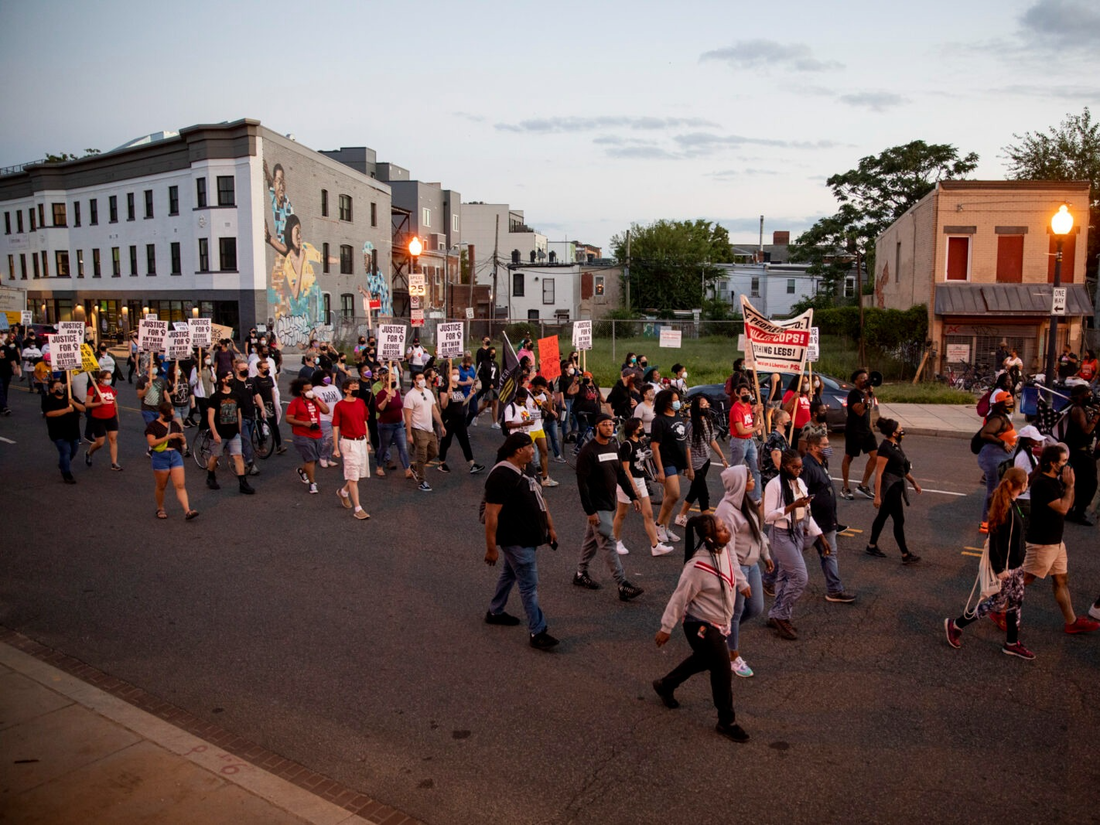 The group halted traffic at several major intersections, including Rhode Island Ave. and Florida Ave., 7th and Florida Ave., and 14th and U Streets NW.
From U Street, the marchers walked a block north to 14th St. and V St. NW, stopping outside the building where 34-year-old George Watson was fatally shot by police on Tuesday. In addition to Gilmore's name, protesters were chanting Watson's name throughout the march. Police said Watson pointed an airsoft rifle at them and it looked like a real firearm. Organizers who spoke at Friday's rally said the police response was inappropriate for a man having an apparent mental health crisis while alone in his apartment.
Gabbi Martinez, a 32-year-old Northeast D.C. resident, said she decided to attend the march to show support for Watson, Gilmore, and other victims of police brutality, as well as the ongoing work that local organizations are doing to protest the issue.
"I think a lot of times the fight loses steam and people are allowed to kind of just rest on the little baby steps they try to make ... but we need to make sure there's a complete shift in the system if not breaking it completely to make sure that there's real ... reclamation for all the lives that have been taken over the years," said Martinez.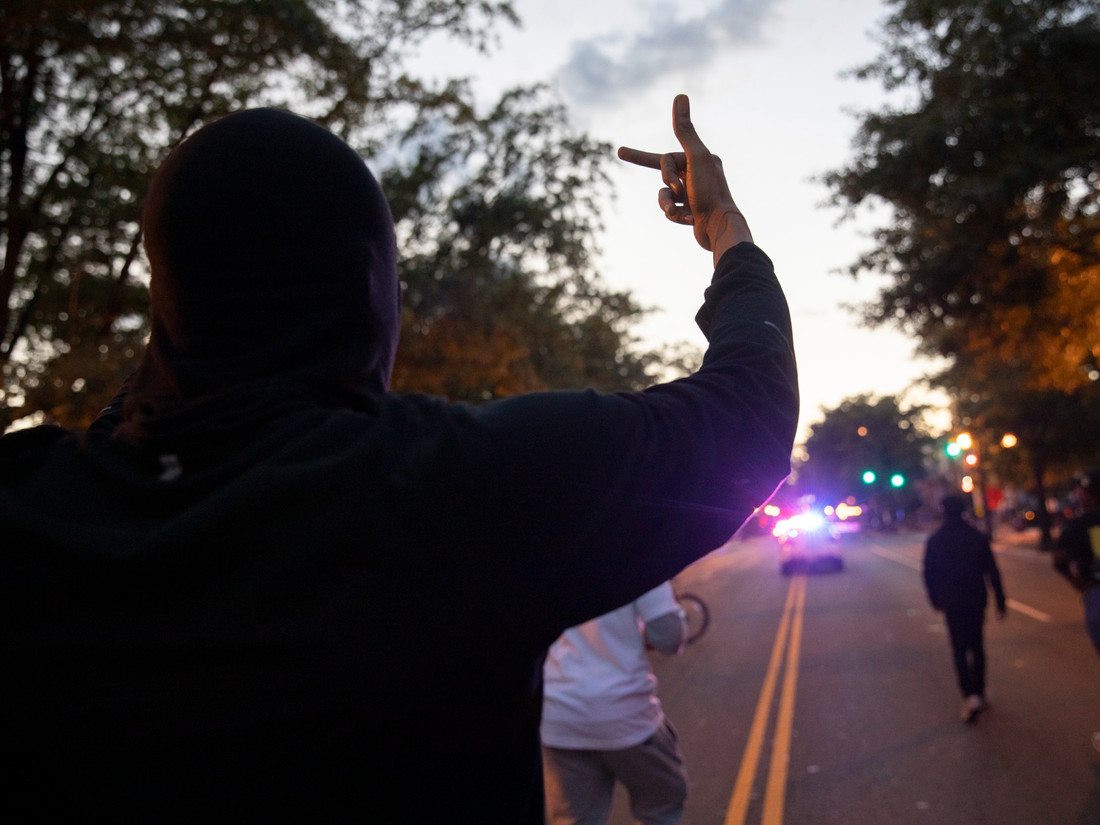 Many of the protesters dispersed after the march ended back where it began at New York Ave. and Florida Ave. NE. A young man who declined to provide his name remained. He said he and Gilmore spent a lot of time together in the neighborhoods surrounding this part of North Capitol St.
The friend said Gilmore was almost comically generous. "I could be stuck at the airport —BWI [Baltimore-Washington International Airport] — he'll come get me, regardless of what he's doing. Drop everything and come." About a week before Gilmore died, the friend said, he jokingly asked Gilmore for $500 dollars, saying he was broke. He said Gilmore didn't realize it was a joke, and started rummaging in his pockets for whatever cash he had.
"Everybody gets in trouble," he said. "I had a past and now I'm a business owner." He doesn't understand why Gilmore's criminal record is relevant to the story of his death. Multiple news outlets have reported that police had a warrant out for Gilmore's arrest, for an assault with a dangerous weapons charge. Police have said that the officers who responded to his car last week did not know about the warrant at that time.
"Everybody — the news, the media, everything, just saying he had a warrant, this and that," the friend said. "All that doesn't even matter now. It's trying to justify police breaking all types of codes as far as within the MPD regulations."
It is a violation of MPD policy for officers to fire at a moving vehicle, a fact that Police Chief Robert Contee publicly acknowledged in the days following Gilmore's death. Contee has said that to fully assess Jevric's decision to shoot Gilmore, investigators would have to determine what exactly he saw through the window. "It is very difficult to see what he saw at the point where he fired his weapon," Contee said.
Gilmore's friend doesn't understand why police shot him. "Why didn't [the police] barricade him so when he did wake up, he couldn't go nowhere?" he asked. "Why did you shoot at a moving car? It just don't seem right, and you can not justify it by his past. You can not justify it by his past."
This story is from DCist.com, the local news website of WAMU.
Questions or comments about the story?
WAMU 88.5 values your feedback.