Langley Park Residents Say New Rezoning Plans Will Push Them Out
Many of the garden apartments near the intersection of 14th Avenue and Kanawha Street in Langley Park are in rough shape. Tenants in the tight-knit suburban Maryland neighborhood have complained for years about mold and decaying ceilings in their homes, and some are suing their corporate landlord over substandard living conditions.
But now, residents say there's an even greater threat facing the largely immigrant community: redevelopment.
Officials in Prince George's County are nearing the end of a seven-year project to overhaul the county's out-of-date zoning rules. The current regulations — which shape how land can be used and developed throughout the jurisdiction — are 75 years old. Planners say they're out of step with current development standards, and changes are needed to welcome the transit-oriented growth that the Purple Line could bring.
The proposed rezoning plan — known officially as the Countywide Sectional Map Amendment, or CMA — would allow denser apartment buildings to be constructed on land that's now occupied by numerous mid-rise apartment communities home to thousands of immigrants from Central America. Two Purple Line stations are being built nearby: one at the intersection of University Boulevard East and Riggs Road, and another at the Takoma/Langley Crossroads transit hub, a short walk from 14th and Kanawha. Planners say the stations will spark much-needed economic development in Langley Park, where the median household income hovers around $63,000, about 60% of the Washington region's median income.
Tenants say they welcome new transit options, but not if they lead to a construction boom that pushes them out.
"I am willing to stop the construction of the train that is coming by, in order to protect our Langley Park." —Digna Ramirez, Langley Park resident for 30 years
On a humid Monday morning, roughly two dozen residents and supporters gathered at 14th and Kanawha to protest what they believe is a plan to gentrify their neighborhood. "Stop racist zoning plans," said a sign held up by Digna Ramirez, who has lived in the neighborhood for 30 years.
"Not all of us have vehicles here. We have the stores that are nearby," Ramirez told residents and reporters, speaking Spanish with the assistance of an English-speaking interpreter. "If I have to go look to rent somewhere else, we have to pay a deposit, do the whole process over again as if we were just moving in. And some of us don't have that type of money."
"I am willing to go on strike and not pay rent. I am willing to stop the construction of the train that is coming by, in order to protect our Langley Park," Ramirez added, drawing applause from her neighbors.
The demonstration was organized by grassroots immigrant advocacy organization CASA, which is also assisting tenants in their legal battle with Arbor Realty Trust, a publicly traded real estate investment firm that owns the troubled Langley Park apartment complexes Bedford Station and Victoria Station.
Organizers with CASA fear that upzoning — which allows higher-density development where it was previously restricted — will increase the value of the land, encouraging Langley Park landlords to sell their property to upscale housing developers. Rezoning itself doesn't automatically trigger development, but it can make it more likely.
Proposed rezoning in Langley Park would convert medium-density neighborhoods into higher-density transit zones to accommodate new development along the Purple Line. Existing zoning is shown on the left; proposed changes are shown on the right.Screenshot from Prince George's County Planning Department website
"Changing the zoning would fast-track gentrification in Langley Park... and would essentially provide a huge payout worth millions and billions for landlords who haven't kept their promises on the housing they currently own," CASA said in a statement.
In 2020, the organization commissioned a study of how proposed zoning changes could impact low-income residents in the area. A report from the Neighborhood Design Center, a Baltimore-based nonprofit, said the current plan offers no provisions to maintain or prioritize affordable housing, and that upzoning is "intended to encourage the development of low- to mid-rise luxury apartment buildings."
Concerned Langley Park tenants have found an unlikely ally in the Coalition for Smarter Growth, a D.C.-based advocacy organization that usually supports building denser housing near transit stations. The nonprofit supported revisions to D.C.'s Comprehensive Plan that allow more housing near Metro stops, and the group has testified in favor of zoning changes in Montgomery County that prioritize transit-oriented development.
But the situation in Langley Park calls for a cautious approach, says Cheryl Cort, the organization's policy director.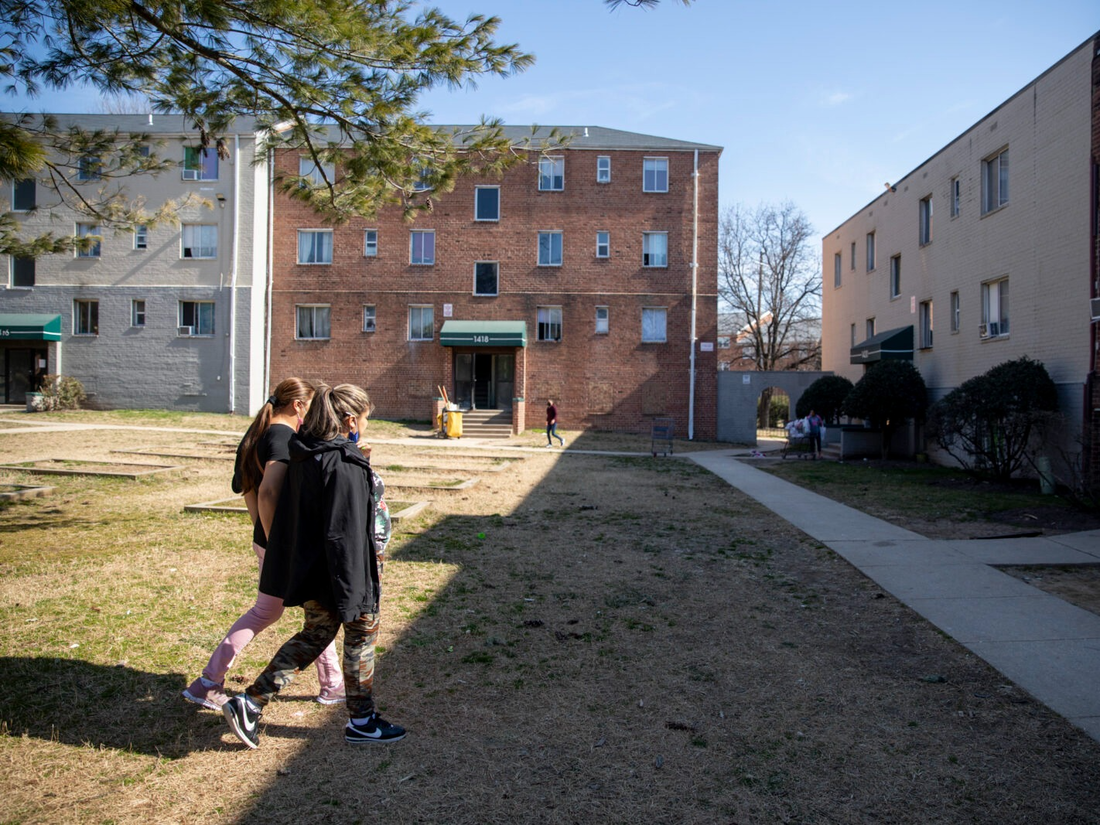 "We need to make sure we have a strategy for not displacing people and helping build mixed-income housing," Cort says. "There's a very simple solution. Maintain the current zone... and then in the future, when there is a housing strategy in place, it can be rezoned."
Cort says keeping Langley Park's garden apartments zoned as-is would also be consistent with how the plan treats nearby single-family neighborhoods, which are largely unaffected by rezoning, even those near Metro stations.
"The county is taking the concerted view that we don't want to be disruptive as to rezone single-family properties, and that's fine. But I think that same logic applies to these multifamily sites that have residents who could displaced through redevelopment," Cort says.
County officials have stressed repeatedly in public communications that single-family neighborhoods will not be affected by the current rezoning process in Prince George's County. But Langley Park's garden apartments are not getting the same treatment, according to Derick Berlage, acting deputy director of the county's planning department.
"We have many established, successful single-family neighborhoods that are close to the District of Columbia, that are close to Metro stations," Berlage says. "Zoning ordinance reforms are not intended to disrupt in any way those quality neighborhoods."
When it comes to Langley Park's low-income apartment communities, however, redevelopment seems like a good option, the planner says. "There are situations where the building is so old... that there really is no alternative other than to create a new apartment complex in its place."
Berlage says the county has policies to ensure that redevelopment — if and when it occurs — does not uproot low-income families from Langley Park. In 2019, the county finalized a new 10-year housing plan intended to meet the needs of county residents across the income spectrum. The plan, called Housing Opportunity for All, recommended that officials "use public policy and resources to help produce new housing options, especially for lower income households that the private market may not serve." It specifically called for policies such as inclusionary zoning and preservation ordinances to create and maintain affordable homes, and the county convened a focus group for the plan to glean insights from Latino residents of Langley Park.
A spokesperson for the Prince George's County Department of Housing and Community Development said in a statement that the county is committed to preserving housing affordability.
"We cannot have quality economic development without affordable housing. Our key economic development goals for growing jobs and the commercial tax base must be anchored by infrastructure that serves a range of household incomes, especially around transit-oriented development opportunities. Our community is growing, and it is up to us to make the right choices now," the statement said.
In 2009, planning officials published a sector plan for the Takoma/Langley Crossroads area that recommended a host of affordable housing preservation strategies in anticipation of the Purple Line, including establishing a moderately priced dwelling unit program similar to those found elsewhere in the D.C. region, adopting a Tenant Opportunity to Purchase Act like that of D.C.'s, and creating an affordable housing trust.
Prince George's has since taken some of those steps; a Right of First Refusal law passed in 2013 requires owners of larger multifamily buildings to give the county an opportunity to purchase the property before selling it to another party. The government exercised that right for the first time this year, according to DHCD.
But Cheryl Cort with the Coalition for Smarter Growth says there's more the jurisdiction can do.
"We need a robust set of tools in place prior to major zoning changes to prevent displacement of residents from sites with aging apartment buildings," says the policy director.
Prince George's County lawmakers and members of the planning board held two hearings this week to gather public feedback on the current rezoning plan. The planning board will hold another public hearing Oct. 28, after which the board may send the zoning plan back to the council with changes. Legislators are scheduled to take up the plan in November.
Renters who gathered Monday in Langley Park say they are determined to protect their neighborhoods from displacement.
"The county shouldn't only be thinking about luxury buildings coming to the area. They need to think about us, who have been living here for years," said Digna Ramirez. "And I declare that we will win — in the name of God. Our community stands strong together."
This story is from DCist.com, the local news website of WAMU.
Questions or comments about the story?
WAMU 88.5 values your feedback.