Bowser Mandates COVID-19 Vaccine For All D.C. School Staff And Child Care Workers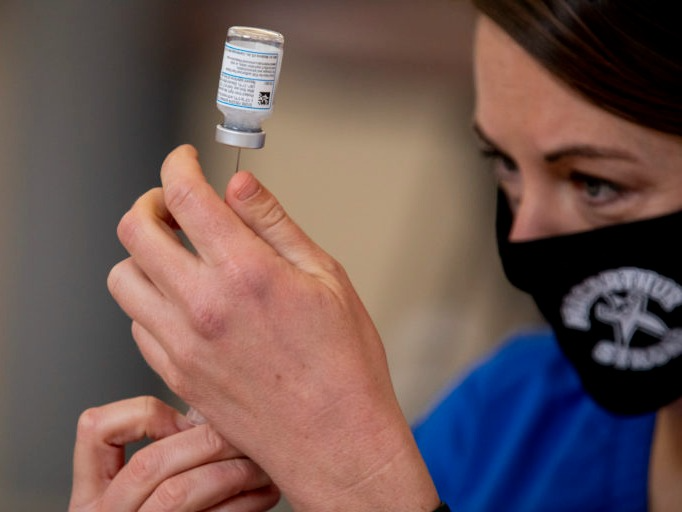 Any adult who is regularly in a D.C. school or childcare facility will need to be vaccinated by November 1, Mayor Muriel Bowser announced at a press conference Monday afternoon.
The mandate applies to all public, charter, private, and parochial schools. Staff and personnel affected by the policy will not be allowed to opt in to weekly COVID-19 testing as an alternative to the mandate, Bowser said.
The mandate covers:
Teachers, student teachers, teaching aides, substitute teachers, and teaching fellows
Technology support personnel who work in schools
Social workers
Librarians and school library-based personnel
Before- and after-school teachers, program leaders, and assistants
Guidance counselors
Principals and other school leaders, program coordinators and administrators
School bus drivers
School security personnel
Aides for children with special needs in schools
Cafeteria, janitorial, and building maintenance staff
Coaches, trainers, athletic directors, referees, meet or game officials, and school-based media specialists filming games and training sessions
Volunteers who are regularly at schools
"It is very clear, especially for our young people who are not eligible for the vaccine yet, that the best way to protect them is to have the adults around them vaccinated," Bowser said, "in addition to all of the other mitigation strategies that we use."
Bowser says the list does not include parents who drop kids off in schools. She says most schools have pick up and drop off outside, which mitigates some of the risk.
About 1,400 students are isolated for either having COVID or close contact with those that did, according to Chancellor Lewis Ferebee.
At-Large Councilmember Christina Henderson praised the mandate, arguing that it will save lives.
"This is a crucial step in the right direction to protect our students and school communities," she said in a statement after Bowser's announcement. Henderson and seven other councilmembers have previously called for this type of mandate in schools.
DC Charter School Alliance Executive Director Shannon Hodge said the vast majority of public charter schools support the mandate and many have already imposed them.
"Others are prepared to do so, but feel strongly that careful coordination with the city is necessary for successful implementation," Hodge said. "Charter school leaders and the DC Charter School Alliance are prepared to work together with Mayor Bowser, DC Public Schools, and DC Health to ensure we provide safe spaces to learn and adequately protect students and staff in the fight against COVID-19."
Bowser also announced a mandate for student-athletes that are 12 and older: They must be vaccinated after November 1 to participate in sports. Students who turn 12 between September 16 and November 1 must be fully vaccinated before December 12 to practice or compete in extracurricular activities. DCPS, the Public Charter School Board, and each private and parochial school must establish systems for ensuring compliance with this rule among their student-athletes,
While negative tests won't get you around the requirements, there are exemptions for religious or medical reasons.
D.C. government instituted a vaccine mandate or weekly testing regiment that went into effect last week. So far, 87% of employees have submitted their vaccination status and of those, 72% are fully vaccinated.
City Administrator Kevin Donahue says 475 people in D.C. government have requested religious exemptions, with 88% of those requests coming from D.C. Fire and EMS. Those people can use a negative weekly test to get around the mandate.
"None have been approved," Donahue said. "They're all going through the due diligence that is required under federal law to see if those requests comport with the requirements to be able to gain eligibility to a deeply held spiritual belief as the basis for an exemption."
Suspensions wouldn't take effect until about October after employees have had a couple of weeks to be reminded of the mandate.
"Our Fire and EMS workers are in very precarious situations," Bowser said. "Obviously, they go into people's homes, they're providing health care in the back of an ambulance, they live together, they sleep in the same rooms, they eat in the same kitchens, they spend a lot of time together.
"we see the extension of this mandate for our health care workers, especially our DC government employees as the way to keep our community safe and get over this virus.
Meanwhile D.C. Health Director LaQuandra Nesbitt says 316 registered healthcare professionals have requested exemptions to the vaccine mandate with 270 religious requests and 39 medical requests. Unlicensed healthcare workers have requested 38 religious exemptions and three medical exemptions. Those requests are pending.
Questions or comments about the story?
WAMU 88.5 values your feedback.