Metro Board Weighs New Fares, Cutting Peak-Hour Pricing With Ridership, Equity In Mind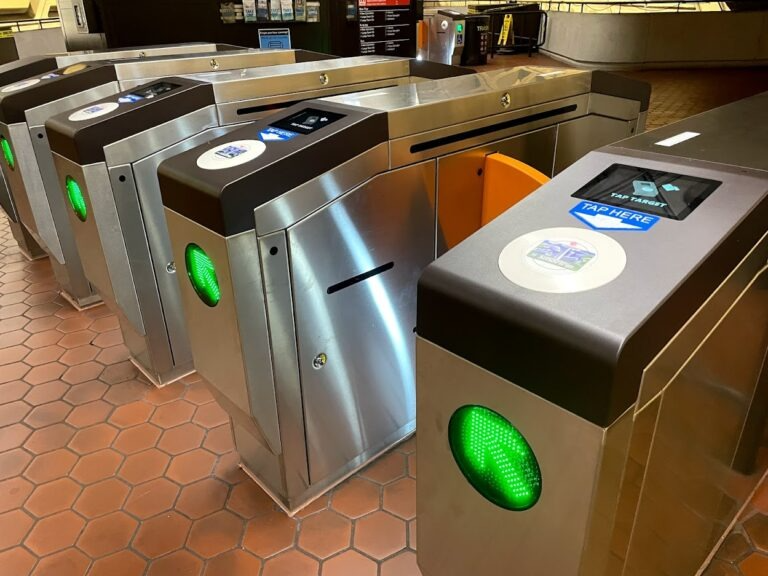 Metro's board will discuss a variety of possible changes to the transit system's fares during its meeting on Thursday, including ideas as simple as reducing bus fares to $1 and as dramatic as getting rid of peak-hour pricing.
The menu of options is part of a larger conversation around increasing ridership and ensuring the system's fare structure is equitable, especially as the system struggles to look beyond the COVID-19 pandemic. Metro recently increased service and decreased certain prices, like reducing a seven-day bus pass cost by $3 and making weekend train trips a $2 flat fare.
On Thursday, members of the board will discuss the pros and cons of the following proposals:
$1 Bus Fare: It would cut the current bus price in half, making buses more affordable.
Consolidating Peak vs. Off-Peak Pricing: Metro charges more to ride during peak hours, and while eliminating that will simplify the fare structure, it could encourage more ridership and potentially lead to overcrowding.
Cheaper Parking: Parking garages and lots remain largely empty and lower prices could encourage higher use and increased ridership on trains and buses.
Discounts for Low-Income Riders: Half-off passes for those that meet certain thresholds, like receiving benefits SNAP or qualifying for Medicaid. Low-income riders are more likely to avoid riding due to cost and less likely to receive tax or employer subsidies.
MetroAccess Flat Fare: A $4 flat fare that is cheaper and simpler for customers. Among the most expensive services to run already, the para-transit service would recover even less revenue.
$2 Late Night Rail Flat Fare: Lower fares would help late-night service workers, but adds another wrinkle to Metro's fare structure.
Monthly Pass Updates: Reduce the number of trips to reach the threshold for savings from 36 trips to 32 trips, the equivalent of a four-day workweek.
The discussion will be part of Metro's budget process, and any possible changes would take several months of deliberation, public input, and a board vote next spring before any of the proposals would go into effect next July.
The board will look at these proposals with an eye toward increasing ridership and equity but also looking at what the changes could do to the bottom line. Metro isn't expecting to get back to pre-pandemic levels of ridership until after 2024. Fare revenue traditionally only pays for about 38% of Metro's operating budget, with Metrorail fares comprising the bulk of the fare revenue. The rest of Metro's budget is made up of local, state, and federal subsidies.
Metro went from a dire financial picture last year to now being able to get through the next couple of years thanks to $2.5 billion in federal aid from three congressional relief packages. While Metro is flush for now, finance chair Matt Letourneau is worried about the future with a $190-250 million deficit looming in 2024.
"I'm very cognizant of that as we discuss all this because the more money that we use now to restore service or improve service, the less we will have down the road," he said in June. "And I agree with the sentiment that we're not likely to see significant federal funding coming in, so I would tend to take a more conservative approach."
Ben Fried of TransitCenter, a research and advocacy group, says Metro is approaching this conversation the right way. Good fare structure starts with values and goals set first, which Metro is doing. Metro says its fares must be customer-focused, simplified, convenient, equitable, seamless, and built to drive ridership.
"If you lack a structure of values and goals, then you could end up making decisions on a one-off basis, which can accumulate over time to create a very confusing and a not rider-friendly fare structure," Fried said. TransitCenter wrote a paper on the topic in 2019.
While fare structure is one important variable in rider decisions, Fried said, frequent service is continually number one for riders. Metro acknowledges that in its presentation. Fare policy is major ingredient to ridership, Fried says: "There are clear flaws in the current fare structure and it can help drive ridership if you fix those flaws."
Metro has already addressed one of the "cardinal sins" of fare policy by eliminating the $1 transfer fees between rail and bus earlier this year. Fried applauds Metro's move, calling it "a big deal."
But Metro's is still violating another sin with its "bewildering array" of distance-based fares that make prices difficult to discern, he adds. Metro still has one of the most confusing distance-based pricing structures in the nation that charges a base price depending on the time of day, then a charge per every mile under six miles and another charge for every mile over six miles. It's fairly uncommon in the U.S. except for commuter rail systems with longer distances, Fried says.
"Complicated fare structures make transit confusing, and when transit is confusing, fewer people ride," TransitCenter said in its report. "Many American transit agencies are now working to reduce fare structure complexity and to communicate pricing to riders with greater clarity."
Fried says it would be best to figure out an average price and stick to one price point.
"It's a barrier to entry," he said. "It might not affect someone who already uses the system, but we're in a moment where travel patterns are up in the air and a good opportunity to get more people to ride transit."
Questions or comments about the story?
WAMU 88.5 values your feedback.