Casa Ruby Is Fighting For Its Survival After The Loss Of A D.C. Government Grant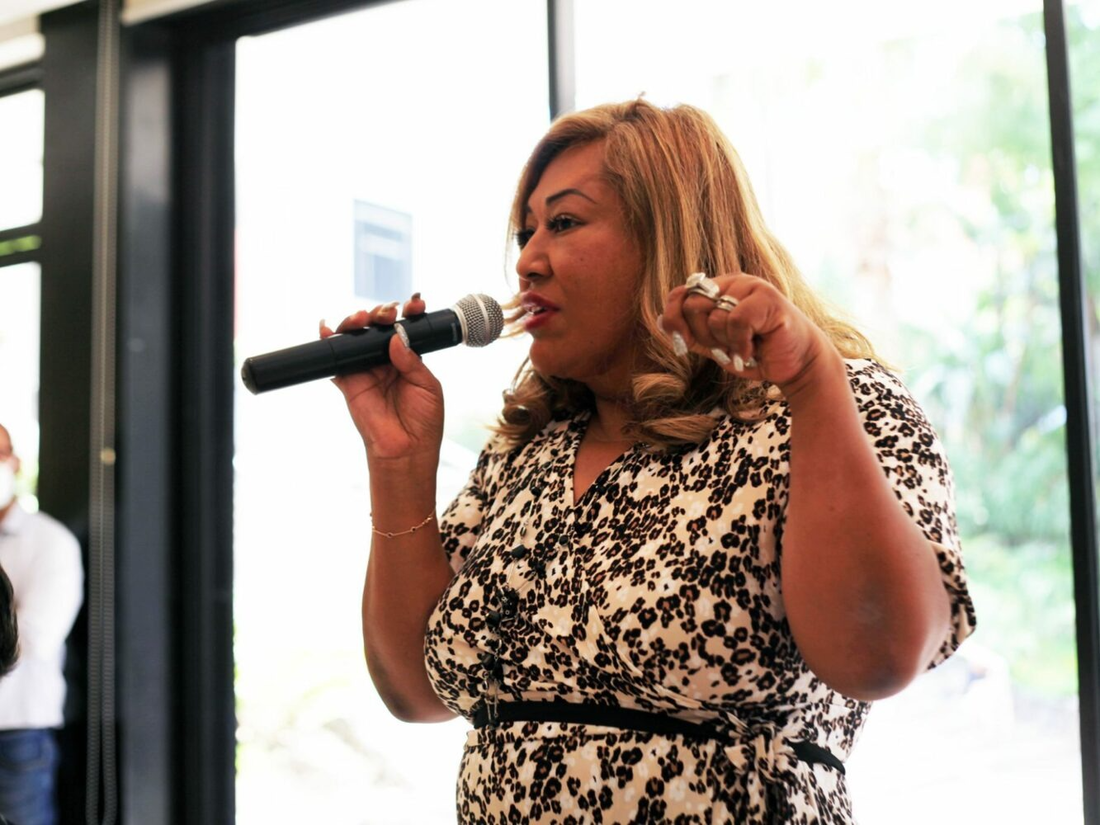 D.C.'s Department of Human Services has decided not to renew a grant for Casa Ruby, a nonprofit dedicated to LGBTQ+ youth, to run an emergency low-barrier shelter for people experiencing homelessness.
Ruby Corado, the group's founder, says the group will have to halt its low-barrier shelter services at the end of the month if it does not raise enough money to continue.
Casa Ruby's grant from the Department of Human Services funds 50 low-barrier shelter beds, but Corado says that rent and staffing costs covered by the grant also assisted with broader operations, including a 24-hour drop-in center that provides mental health services and case management services. The grant is for about $850,000 dollars, a significant amount of Casa Ruby's overall operating expenses, which public filings show were $3.2 million in 2019. Casa Ruby also runs other transitional housing programs, which are independent from the emergency low-barrier shelter grant.
Casa Ruby is currently raising money on a GoFundMe page to try and continue some of its emergency shelter services; as of Monday afternoon, the group had raised almost $35,000 of its $50,000 goal.
Corado says DHS informed her that the grant would not be renewed in a letter on Friday, just days before the next fiscal year begins on Oct. 1.The letter, signed by Interim Deputy Administrator of DHS's Family Services Administration Sheila Strain Clark, says that "at this time, DHS has decided not to extend the Grant Agreement for Fiscal Year (FY) 2022."
A DHS spokesperson did not answer specific questions from DCist/WAMU about its decision not to renew the grant for Casa Ruby, but offered a statement from Director Laura Zeilinger.
"DHS is committed to the safety and well-being of youth, including LGBTQ+ youth, who we know disproportionately experience homelessness," wrote Zeilinger. "We are not decreasing funding for LGBTQ+ youth services, which will continue to be offered through the Continuum of Care. Grant renewal decisions are based on ensuring accountability and continuity of quality services and the safety of our residents. We value the community organizations who deliver these services and honor the contributions of Casa Ruby."
Corado says that in recent months Casa Ruby's relationship with DHS had become increasingly strained. Casa Ruby filed a formal complaint against an employee at the agency in March, alleging that the employee had "open animosity" towards Casa Ruby and its staff. Among other allegations, the complaint said that DHS had failed to reimburse Casa Ruby in a timely manner for COVID-19-related costs, that the employee failed to correct people who misgendered Corado in a meeting, and that the employee had "created a hostile perception" of Casa Ruby's services. A spokesperson for DHS did not answer questions from DCist/WAMU about the complaint.
Corado also says that over the past year, DHS also instituted more onerous documentation requirements.
Alexis Blackmon, Casa Ruby's director of government and public affairs, called the decision not to renew the grant "a disaster for trans women of color in the District of Columbia." The decision affects not only Casa Ruby's clients but also Casa Ruby staff, many of whom are trans women of color.
"I'm very disappointed," says Blackmon. "If [DHS] had any issues dealing with the program, I think they should have tried to foster a better energy to try to fix the problem instead of immediately cutting out the program."
Blackmon said the termination of the grant showed her that "the government wasn't willing to work with the Black and brown people who came from the same struggle that they're trying to prevent."
Corado says she was surprised by the late notice that the grant would not be renewed, but she was not surprised that DHS would terminate their relationship. "As an executive director that came from an activist background, I didn't kiss their ass," she says.
Corado says she felt like D.C. officials have lifted up her work when it was politically convenient, but not when things were more difficult or when there was tension between the goals of her activism and the interests of politicians. "I was good for a photo op," she says. "But when the other issues came, that was it."
In a way, Corado says she's a bit relieved to be decreasing her reliance on DHS funding (As of now, the organization still receives government funding for other housing programs). "I have to figure out ways to continue the work of Casa Ruby, but I think it feels liberating," she says.
In January, Corado announced that she will step down from her director role sometime within the next two years. At the time, she expressed similar frustrations with city bureaucracy and said her focus was on shoring up more grassroots community support for Casa Ruby so that the organization can be less reliant on the D.C. government. Casa Ruby has expanded and diversified its efforts in recent years by opening a center in Southeast D.C., launching a new pharmacy, and expanding internationally with a new El Salvador office.
Corado says she and her collaborators and supporters are thinking through how they can continue the work Casa Ruby does to provide low-barrier shelter to young LGBTQ+ people, especially because she says other shelters do not provide adequate services to them and in some cases expose them to physical harm. She says the survival of the Casa Ruby space is not simply a matter of comfort for the people it serves, but a matter of life and death.
"The clients are not going to go to other shelters," she says. "That's the reason they keep coming to us... I want to thank our supporters, who are truly the people that have kept this program going."
Corado says that even if she was forced to close the Casa Ruby shelter, she would build a large, pink tent city for those clients in a safe space. And she says she would stay there with them. "I'm not leaving them behind," she says.
This story is from DCist.com, the local news website of WAMU.
Questions or comments about the story?
WAMU 88.5 values your feedback.