Brentwood neighbors file suit to stop school bus depot
Brentwood neighbors file suit to stop school bus depot
Residents of Brentwood, in Northeast D.C., filed a suit against the District today over a plan to build a school bus depot on a 4-acre site adjacent to a residential area. Residents say the bus terminal and parking lot would unduly burden a neighborhood that already suffers from poor air quality and noise pollution from numerous light industrial facilities in the area.
"We love our city," said Reggie Donaldson, one of the plaintiffs, during a press conference today. "Only thing we're asking you is that the city show us some love."
Donaldson has lived nearby on W Street NE for 15 years, and raised four kids in the neighborhood. He says sometimes they don't go outside because of poor air quality.
"We've been told that this won't affect pollution — 250 buses won't affect pollution. Well, maybe not for the whole city, but definitely for this neighborhood," Donaldson said. "We've been told that it won't affect traffic. Come on."
The District's analyses of the project found the bus facility will increase air pollution by only .08% above existing conditions, and found that the bus facility "will not overburden the existing traffic patterns."
The proposed terminal, for buses owned by the Office of the State Superintendent of Education, would include parking for at least 236 buses, as well as repair facilities, a bus-washing station and a fuel station.
The lawsuit alleges that the District failed to conduct an environmental impact study, as required by D.C. law, failed to inform the local Advisory Neighborhood Commission, as required by D.C. law, and disregarded the city's comprehensive plan and zoning regulations. "Defendants, who are pushing the ill-conceived W Street Bus Terminal in Brentwood, seem to share the Trump view — laws don't apply to them," reads the lawsuit.
According to the suit, more than half of the industrial facilities in the District are concentrated in Ward 5, where Brentwood is located. Residents say it's a matter of environmental justice: for too long the city has allowed dirty industry to pollute unchecked in this predominantly Black neighborhood.
"Ward 5 can no longer be the dumping ground for the government or anyone else who does not want it in their backyard," said ANC Commissioner Darlene Oliver, who lives near the planned facility. "It would never go to Ward 1, it would never go to Ward 2. They throw it over here."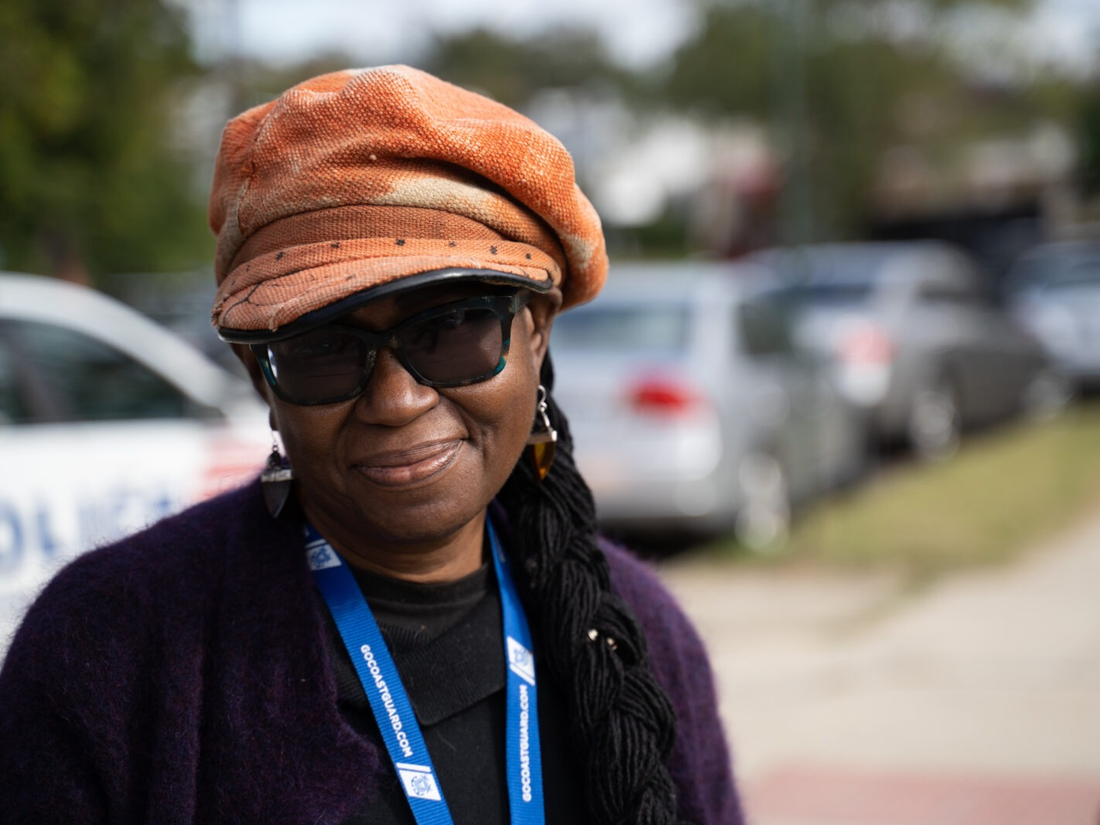 Within just blocks of the planned bus depot, there is a paving company, a private trash transfer station, an Amtrak maintenance facility, and numerous car repair shops.
"We have a street, probably a mile of nothing but industrial polluters. We have residents who cannot sit on their front porch because they cannot breathe," Oliver said.
The bus facility is also opposed by Kenyan McDuffie, who represents Ward 5 on the D.C. Council. "I am here to stand with the residents of Brentwood because we need more people to recognize the environmental injustice right here in this neighborhood," McDuffie said, making an appearance outside the W Street site.
The Brentwood residents teamed up to form a group called Justice for Brentwood, and they're working with the local community organizing group Empower DC, which has fought, and won, similar battles elsewhere in the city, including fighting a bus parking lot in nearby Ivy City.
"We have to stop the way that we are siting industrial facilities in this city," said Parisa Norouzi, executive director of Empower DC. "We have to look at the impact, we have to look at racial equity."
As she spoke, numerous large dump trucks, as well as bulldozers, rumbled down the narrow street, just feet from the front doors of row houses along W Street.
"This is daily life in Brentwood," Norouzi said, pausing her speech to wait for the noise to subside.
This story is from DCist.com, the local news website of WAMU.
Questions or comments about the story?
WAMU 88.5 values your feedback.