A new mobile recording studio aims to amplify overlooked D.C.-area musicians
A team of local professors, students, and music producers will use a recording studio built into a truck to record musicians from across the D.C. region. The group is looking to record a wide range of styles, genres and languages, especially from artists who have had little access to recording equipment and haven't been heard widely. All of it will be free.
From now through Dec. 15, the "Out of Our Shells" project will be accepting demo submissions in the form of digital audio files, videos, sheet music, and even descriptions of the artist's work. The recording studio is a part of American University's Humanities Truck, which allows an interdisciplinary class of fellows to conduct yearlong community projects, funded by the university, the Henry Luce Foundation, and the Andrew W. Mellon Foundation. (Disclaimer: AU holds the license for DCist's parent company, WAMU.)
The "Out of Our Shells" organizers won't just record music — they will also record interviews with the musicians to capture their stories, and the project will culminate with a performance, or a series of performances, in the community.
The project comes from AU's chair of communication studies Aram Sinnreich; his wife and musical partner Dunia Best, who has a background in world music promotion; and AU doctoral student and music producer Neil Perry, who has engineered at legendary studios like The Hit Factory in New York. The project will also be promoted by the D.C.-based global music promotor Multiflora Productions and DCTV, the District's public access television network.
Sinnreich and Best, originally from New York, typically play anywhere from 20 to 40 shows a year. This past year, as their gigs and recording opportunities dried up, they thought of all the musicians who could use a platform to share their music.
"We experienced, like so many other musicians, how devastating the pandemic was to musical culture," Sinnreich says. When he saw the university's call for proposals for the Humanities Truck, he started brainstorming ideas to bring musicians back together.
"It instantly dawned on me that we could use [the truck] as a way to kind of coax people back out of the shells that they'd climbed into during the pandemic," he says. "And maybe instead of things being worse off than before, we could make things better than they were before."
With a collective of musicians and producers, the team will put together a compilation album of 12 to 20 songs. Each artist will own the master recordings of their songs, and each track will be released under a Creative Commons license, meaning the music can be distributed and remixed for free, according to the organizers. The material will be collected in the Humanity's Truck Community Archive.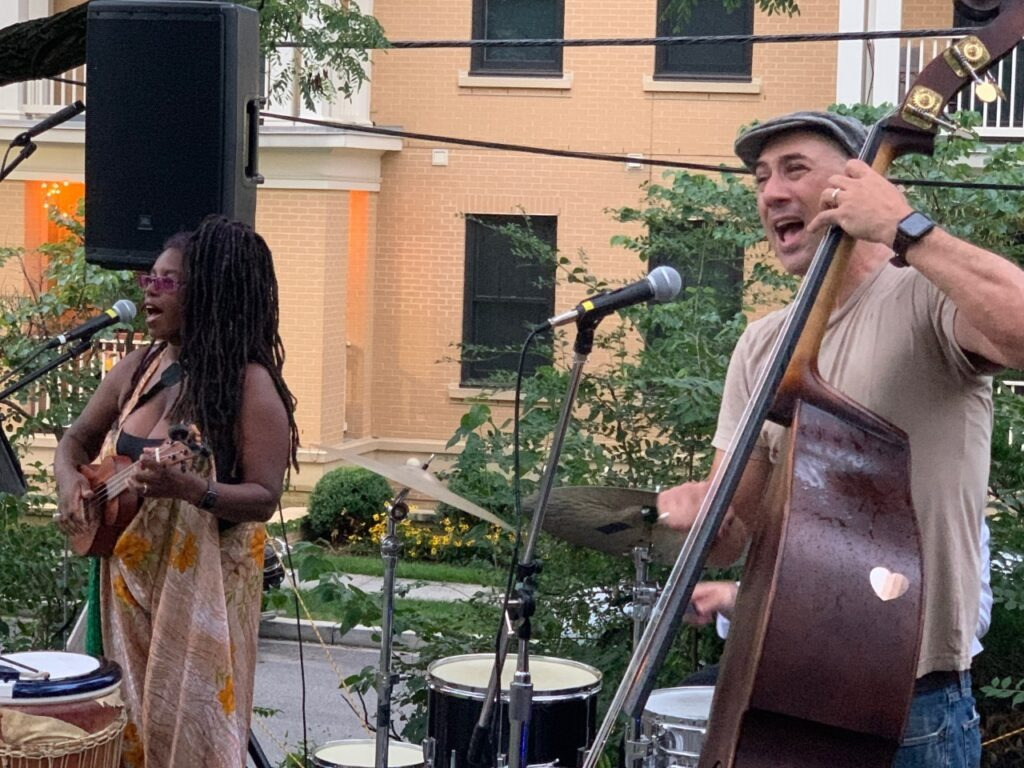 The team adds that while go-go and punk music have gotten well-deserved shine as D.C.'s native sounds, the region is full of immigrant communities with rich music and "bedroom producers" who have yet to be amplified.
"I want people to hear about this and reach into the deepest corners of wherever, and find the musicians and pull them out," Best says. "Maybe there's somebody who's been practicing piano for 20 years and never thought to play that piano music out in public. We're hoping to reach those kinds of people."
Sinnreich and Perry are teaching a class in the spring semester called "Musical Cultures and Industries," and students will assist in recording the songs and interviews.
The goal, they say, is to bring D.C. music to a wider audience and, potentially, to repeat the recording process in D.C. and other cities.
"What we thought we could do is to use the power of this mobile recording studio not only to bring people who had been kind of cooped up back out into the public, but to bring people who had been operating in separate musical spheres into contact with each other, maybe for the first time," says Sinnreich. "The challenge for us is going to be to find the non-low-hanging fruit. The people who would not think to put themselves forward."
The team is accepting submissions to AUmusictruck@gmail.com through Dec. 15.
This story is from DCist.com, the local news website of WAMU.
Questions or comments about the story?
WAMU 88.5 values your feedback.