How North Virginia's history of racial discrimination led to "islands of disadvantage"
Looking at overall statistics, Northern Virginia is a healthy and wealthy place. But within the prosperity of the region are "islands of disadvantage" — communities cut off from the good outcomes of their neighbors. Those neighborhoods are at the heart of a new report that examines the region's 400-year history of racial segregation between Black people and white people, tracing its effects on the health of residents today.
The report, "Deeply Rooted: History's Lessons for Equity in Northern Virginia," authored by Dr. Steven Woolf at Virginia Commonwealth University, is a sequel to a 2017 study that originally identified 15 "islands of disadvantage," census tracts in Northern Virginia experiencing high rates of poverty, unaffordable housing, poor education, and lack of health insurance — measures widely regarded by public health researchers as social determinants of health. Life expectancy for some of the census tracts could be as much as 18 years below neighboring communities.
"Disparities in these living conditions, along with the harmful health effects of chronic exposure to discrimination, are products of the history recounted here and are chiefly responsible for the large gaps in life expectancy that exist today in Northern Virginia."
The new report, which was supported by the Northern Virginia Health Foundation, sets out to delve into the history and the policies that created those dramatic disparities in the first place — and to identify policy proposals that would help end them. The finished product, peppered with archival photos and asides with specific examples, presents the scholarship in an accessible format for the general public.
"The goal of looking at that history is to learn how that can inform our future," says Woolf, who directs VCU's Center on Society and Health. "What we basically show is that past policy has got us to this place, and that makes us optimistic that current policies can create a more inclusive future."
The work pushes back, Woolf says, on ideas that communities living in these "islands of disadvantage" are responsible for their struggles.
"There is a narrative that's far too common that blames the residents of these neighborhoods for the conditions that exist there, and doesn't really think about the backstory of how they came into existence in the first place," Woolf says.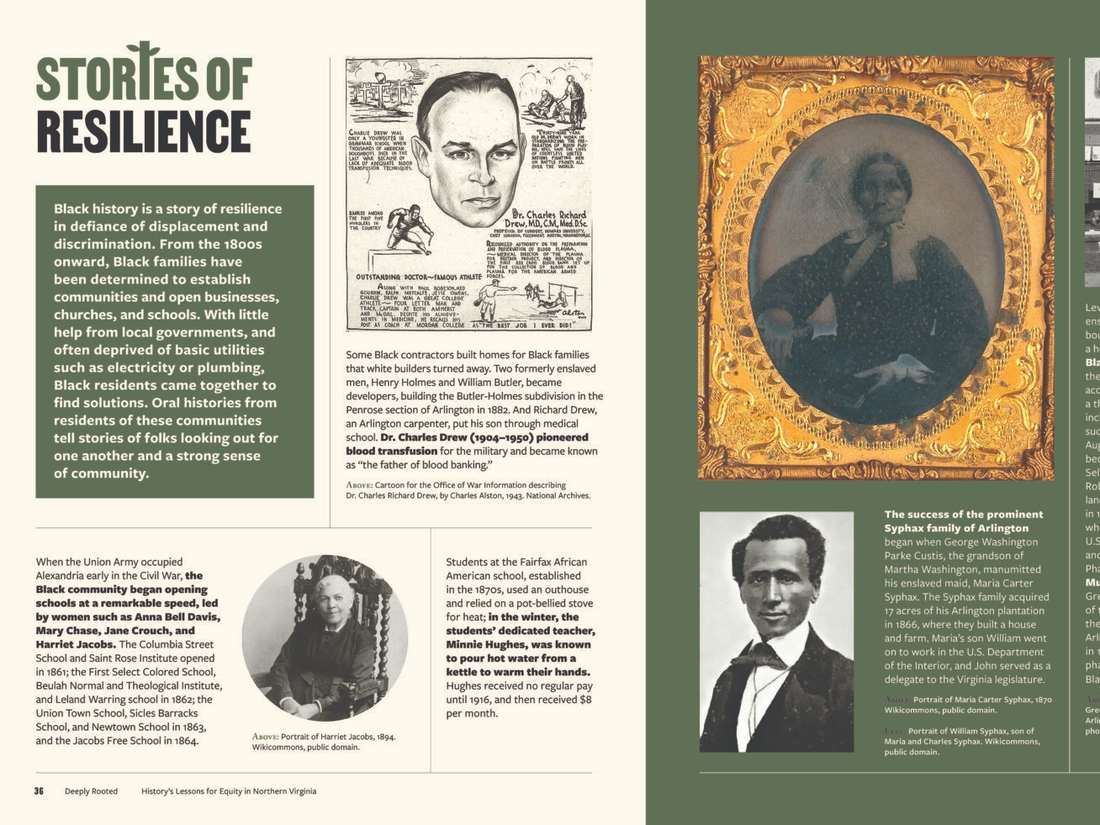 The report highlights a number of different historical threads and examines how they played out in Northern Virginia neighborhoods: the era of slavery; post-Civil War emancipation and reconstruction; mass incarceration; property ownership and policies like redlining that kept Black Virginians from buying in certain neighborhoods; school segregation and other barriers to a quality education; job opportunities; and the fight for civil liberties for Black residents.
It also examines how neighborhood-by-neighborhood patterns of discrimination continue to shape the present. While the research for the project began before the coronavirus hit the region, Woolf, a medical doctor and a Northern Virginia resident himself, says the pandemic provides a particularly clear example.
"The same neighborhoods that we identified in our earlier research for this foundation and that we focused on in this historical work were the hotspots where COVID 19 infections were highest and where the patients who were admitted to ICUs in our region were most likely to be living," Woolf says. "So these kinds of historical stories about how we got to where we are now have great resonance right now with the kinds of challenges we're living with."
One central theme in the report is the history of Black community displacement as Northern Virginia shifted from rural plantations and farms outside D.C. to a collection of bustling, built-up suburbs. That transition started, Woolf says, after the Civil War, when newly-freed African-American residents set up communities in Northern Virginia — only to be pushed aside to make room for railroads, housing for federal workers during World War II, and, ultimately, Northern Virginia's tangle of highways.
In South Arlington, for example, in the mid-19th century Black people settled in Freedmen's Village, on land that is now Arlington National Cemetery and was previously the estate of Confederate commander Robert E. Lee. By the turn of the century, though, the government decided to close the enclave, forcing residents to re-settle and create communities in East Arlington and Queen City. The county provided few utilities and little road service — and in just a few decades, residents were forced out again.
"The Pentagon itself and the cloverleaf right around it are sitting on land that used to be East Arlington and Queen City, two historic African-American neighborhoods. And in 1942, the federal government invoked eminent domain to basically move those people out and build the Pentagon and these highways," Woolf says.
Displaced residents were moved into trailer camps in two nearby Black neighborhoods, in what is now Nauck and Arlington View (areas then known as Johnson's Hill and Green Valley). The trailers were later replaced by public housing after First Lady Eleanor Roosevelt advocated on their behalf.
And when Black communities were displaced, they were frequently subject to racist policies that prevented them from owning homes and building property wealth for their families in nearby white neighborhoods. In Northern Virginia, the use of "restrictive covenants," or clauses in deeds for homes that prevented them from being sold to non-white people, was widespread and persisted for decades.
"Neither the land conveyed, nor any parcel thereof nor let therein, shall ever, at any time, be occupied by, leased to, sold to, devised to, or, in any manner alienated to anyone not a member of the Caucasian race," reads a restrictive covenant from the Arlington neighborhood of Westover.
In Arlington, the effects of that history of displacement and housing discrimination are still playing out. In historically Black neighborhoods like Nauck, Arlington View, and Douglass Park, (which are still around 30% Black), median household income is tens of thousands of dollars below Arlington County's $120,000 average — about $70,000 per year in Arlington View and Nauck, and $50,000 per year in parts of Douglass Park. Home and property values are especially high in neighborhoods that had restrictive covenants. And the life expectancy data for one community off of Columbia Pike in South Arlington is more than a decade less than the county average.
And displacement of Black Northern Virginians continues, though the policies shaping it are less overtly racist than in previous eras. Woolf points to gentrification as a "modern-day corollary" to the historical trends.
"It's still happening today where people who have lived in the same house or their parents' house for years find that they can no longer afford to live in the area because the development has raised property values to the point that they can't manage," he says.
The report also tells stories of Black resilience and resistance in the face of discrimination, particularly the history of Black residents' push for good education for their children. That began with an explosion of schools set up by Black women in Alexandria — as many as four new schools per year — after the Civil War, when teaching Black people to read and write was no longer a crime.
It continued with local efforts to desegregate the local public schools in the 1950s. Legal challenges from local Black parents in Northern Virginia helped prompt the Supreme Court's landmark Brown v. Board of Education decision in 1954. Virginia's state government went so far as to adopt a policy known as "Massive Resistance" in order to block desegregation efforts. Five years later, Arlington's Stratford Junior High School became the first Virginia school to desegregate — breaking the state's long-held resistance to the Brown ruling.
But education remains a factor in today's "islands of disadvantage." White flight to outer suburbs has heightened segregation in Virginia public schools, leaving students of color in schools that are inadequately funded, unable to retain teachers, and offering few advanced courses, according to the report. Just 74% of Black 8th graders in Fairfax County passed Virginia's standardized test in math, compared to 91% of their white peers.
Woolf's work lays out a series of policy ideas — some of which have been proposed or even enacted by local governments and private businesses — to help chip away at the disparities between Black and white residents. They include police and criminal justice reforms designed to remove implicit bias and encourage diversion from jails and prisons; inclusionary zoning policies that would allow for building more dense, mixed-income and affordable housing; efforts to adjust school boundaries to increase the diversity of public schools and to end the school-to-prison pipeline; and evaluating proposed local government policies with an eye to their impact on racial equity, something Fairfax County and Alexandria are already working on.
Beyond the policy recommendations, Woolf hopes residents who read his work will go about their lives in Northern Virginia alive to the history of the ground beneath their feet — something he's already experienced himself. In the course of doing the research for the project, he discovered that the soccer field his daughters played on was the site of an African-American community in the 1800s — a community that was displaced when Fairfax County wanted to build a school there.
The school ultimately wasn't built. But today, those enjoying the soccer field likely aren't aware of what came before.
"So parents like me sat there in our lawn chairs, watching our kids play without knowing the history of what land we were sitting on," says Woolf. "This research reveals stories like that across the region."
This story is from DCist.com, the local news site of WAMU.
Questions or comments about the story?
WAMU 88.5 values your feedback.