D.C. lawmakers urge Bowser to stop clearing homeless encampments during winter months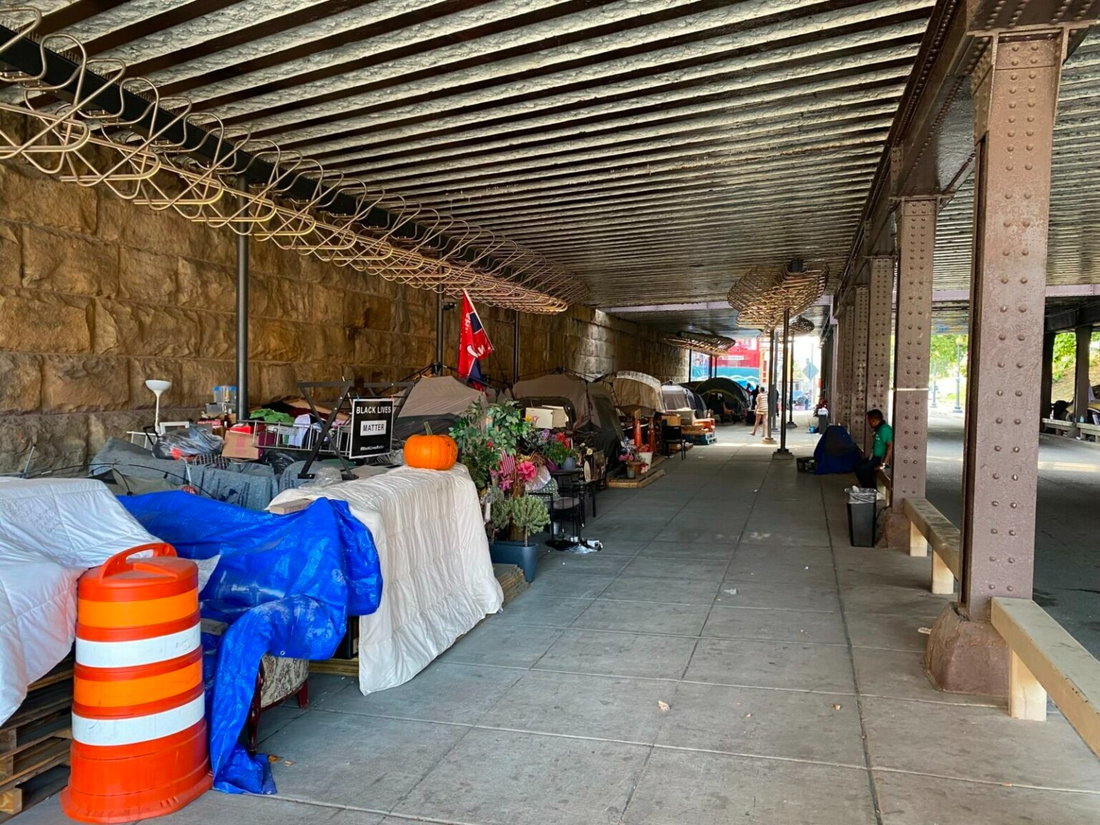 Four members of the D.C. Council are calling on Mayor Muriel Bowser to temporarily stop clearing homeless encampments during the most frigid months of the year.
The city has embarked on an effort to close five large encampments as part of an aggressive push to house people experiencing homelessness. The new program moves people who live in the encampments into housing and prohibits them from returning.
But the councilmembers — Brianne Nadeau (Ward 1), Janeese Lewis George (Ward 4), Robert White (At-large) and Elissa Silverman (At-large) — argue the city should find residents housing without threatening to evict them from encampments. They want Bowser to halt the removal of encampments until at least March 31, the end of hypothermia season.
"A tent can often mean the difference between staying alive and not staying alive in the hypothermia months," Nadeau tells WAMU/DCist. "The encampments themselves create a sense of community and a place where people are supporting each other and looking after each other."
A spokesperson for Bowser did not immediately return a request seeking comment on Friday.
The District launched a pilot program in August aimed at permanently closing several encampments. Two long standing encampments under the L and M street underpasses in NoMa were cleared earlier this year. The city briefly suspended the clearing of the M street underpass after a city worker struck an unhoused person with a skid-steer loader.
An encampment in Truxton Circle and two in Foggy Bottom are also scheduled for removal.
Officials in the mayor's office say the goal is to engage extensively with unhoused residents and offer them housing and other services.
But advocates and people experiencing homelessness have sharply criticized aspects of the program, which is formally called Coordinated Assistance and Resources for Encampments, or CARE.
During a D.C. Council hearing earlier this month, activists and lawmakers argued it is unnecessary to impose strict timelines to close encampments. They also pushed back on no-tent zones established after an encampment is cleared — concrete barriers were placed alongside the sidewalks of the underpasses in NoMa, preventing future encampments.
Critics also believe the the program's true purpose is simply to clear large encampments, many of which have drawn complaints from nearby residents.
"The goal of this program was not to house people, but to move people," Councilmember Robert White said at the November hearing (White is running for mayor).
In the letter to Bowser, the four lawmakers asked the mayor to continue providing support for unhoused residents without evicting them from encampments, which are places where people receive vital support from community organizations.
They added allowing people to stay in the encampments aligns with guidance from the Centers for Disease Control and Prevention, which says driving people apart could increase the possibility of COVID-19 transmission.
"Dispersing encampment residents often severs connections with service providers and ultimately makes it harder to match residents to housing," the letter said, drawing language directly from the CDC.
Mandating people leave encampments creates stress and trauma for residents, Nadeau added.
"They're being asked to pack up all of their belongings and say goodbye to a community that they've formed," she said. "And do it on a timeline that the government sets somewhat arbitrarily, rather than a timeline that works for them."
This story is from DCist.com, the local news website of WAMU.
Questions or comments about the story?
WAMU 88.5 values your feedback.