Holiday football tradition brings Black community back to Arlington neighborhood
The local playground in the Halls Hill-High View Park neighborhood in Arlington was bustling. A DJ spun beats, and people who hadn't seen each other during the pandemic — or even since their high school graduations — hugged and slapped each other on the back. They were there — about a hundred mostly Black residents and former residents, gathered together on this sunny, crisp Thanksgiving morning — for the neighborhood's annual Turkey Bowl.
Soon, everyone was ready to settle in and watch some football.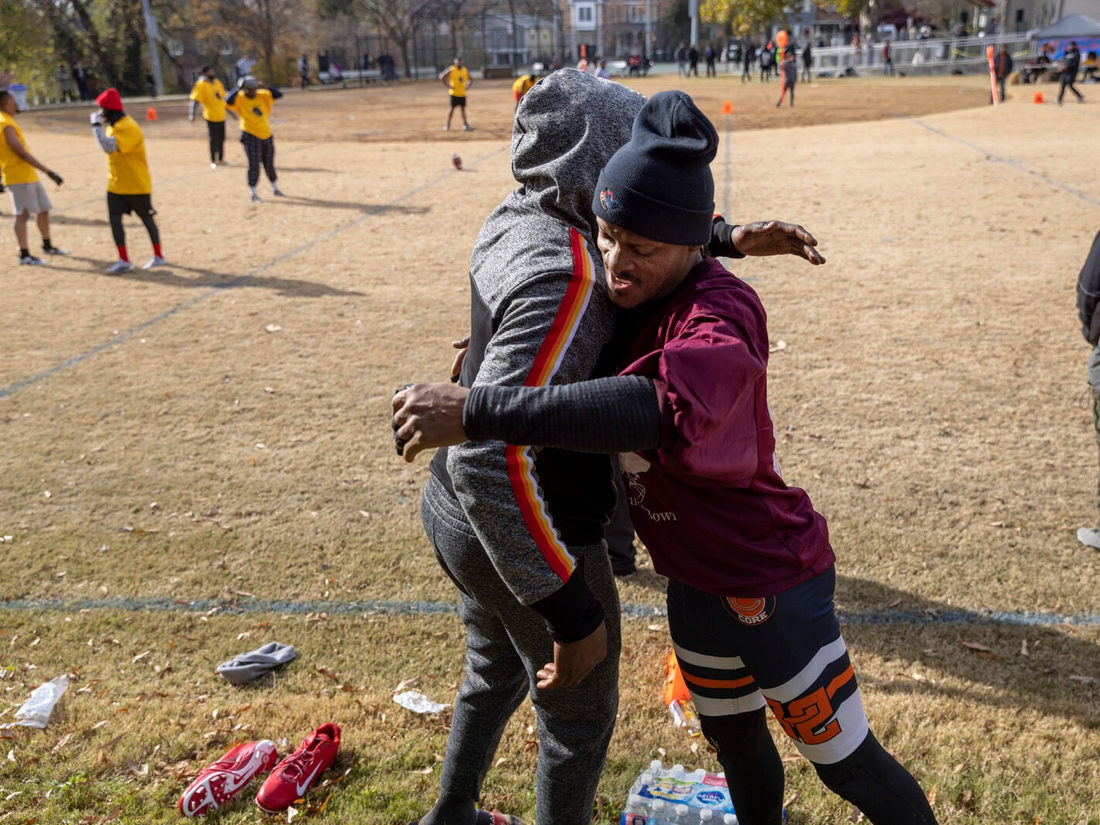 For more than fifty years, so-called "Old Heads" in maroon jerseys and "Young Heads" in yellow have squared off in this Halls Hill tradition — "since before Martin Luther King's birthday was a holiday," says one longtime resident, Paul Terry, who has been living in Halls Hill since 1968. "It's always fun."
But football isn't the only purpose of the gathering. Halls Hill is a historically Black neighborhood, one of just three places in Arlington where African Americans could buy homes before restrictive covenants and other discriminatory housing policies were outlawed in 1968. For decades, the neighborhood was also physically cut off from nearby white neighborhoods by the 7-foot tall brick and cement "segregation wall," which dates to the 1930s. A portion of the wall still stands. But even with that visible reminder of discrimination, older residents remember a self-sufficient, close-knit, socioeconomically diverse Black community that took care of its own, a haven from racism and hate.
The neighborhood has been changing rapidly in recent years, but in fact the changes began decades ago. Starting in the 60s, developers started to buy up land and turn Halls Hill's modest brick and frame houses into bigger, fancier homes, so the hilly, narrow streets are bordered by a strange mix of housing stock. And many Black people have chosen to leave — or have been pushed out by high housing prices. Just 22% of the population is Black, down from 70% in 1991 — although still higher than the 9% Black population average in Arlington.
Against that backdrop, the Turkey Bowl is a homecoming of sorts — an opportunity for families to return, celebrate, and participate in one of the few remaining traditions from the neighborhood's heyday.
Before kickoff, there was neighborhood business to attend to: residents came together to pray, to recognize a longtime Turkey Bowl elder with an award, and to give a scholarship to a young person with family ties in Halls Hill.
For Kellen Blake, a 26-year-old Arlington native, the day is a tribute to how quickly people can fall back into their community rhythms.
"Everybody's still cohesive. Everybody's with one another, you know, and it's like, you haven't skipped a beat," he says.
'We always knew we had our community to go back to'
Saundra Green has been living in Halls Hill for 75 years — nearly her entire life. She remembers being able to look out the front window of her brick house at the end of a cul-de-sac and see woods. Now she just sees her neighbors' much larger, newer brick home.
Green has fond memories of growing up in Halls Hill.
"Even though I grew up in a time of segregation and racism, and a lot of things were going on, and the world wasn't a comfortable place for African-Americans, Halls Hill was," she says.
Fourth-generation resident Wilma Jones, the author of a book on the history of Halls Hill, agrees. Looking back, she's grateful for the opportunity to live in this close-knit community. As the only neighborhood in North Arlington where Black people could buy homes, Halls Hill made Black architects and doctors and federal workers neighbors with Black chauffeurs and domestic workers.
"It helped me to see that it didn't matter how much money you had or where you worked or what you did,' Jones says. "We all played a part."
Green and Jones remember dozens of other traditions beyond the Turkey Bowl from their childhoods. There were joint Christmas concerts put on by Black choirs from across Arlington, Halloween celebrations, and Maypole dances on May Day at the all-Black segregated elementary school, Hoffman-Boston.
"At the forefront of everything was the children," Green remembers. "The adults in the community did everything they did so that we would have a good life."
She also remembers the darker side of growing up in a segregated neighborhood. She couldn't try on clothes in the local department store, and a saleswoman would follow her around while she was shopping. She and other African American kids were also shut out of the rides at a local carnival.
Then, in the late 1950s, Green's mother joined with other parents and civil rights activists in Arlington and listed her daughter as a plaintiff in a lawsuit seeking to desegregate Arlington's public schools. The lawsuit aimed to break Virginia's massive resistance — the refusal of schools across the commonwealth to comply with the Supreme Court's landmark 1954 desegregation decision in Brown v. Board of Education.
In February 1959, four African-American students, all from Halls Hill, desegregated Arlington's Stratford Junior High School, the first public school in Virginia to do so (by just minutes: students desegregated public schools in Norfolk the same day). Green wasn't in the first group, but later the same year she also left Hoffman-Boston and began attending Stratford.
Going from a Black-run segregated school to a mostly white school was hard. Her old school may have been under-resourced, Green recalls, but the teachers — many of them from top historically-Black colleges and universities — made up for it with creativity and caring. At Stratford, Green remembers wondering if her teachers had her best interests at heart. For several years, she wasn't allowed to participate in extracurricular activities at school, and when she finally was allowed to join the school's choir, she was consistently denied solo parts, even though she led the alto section.
"We were always told that the county wasn't ready for that yet," Green says.
Green and the handful of other Black students at Stratford knew they had the hopes and pride of their community to live up to, and so they kept quiet about some of their struggles, except on the walk home together. It made Halls Hill even more of a haven.
"We always knew we had our community to go back to," she says. "I think for a lot of us, just stepping foot back home was a breath of fresh air."
Jones communicates a similar feeling of love and safety in her book, "Halls Hill: More Than A Neighborhood," a careful historical look at the tight-knit Halls Hill community, from its roots immediately after the Civil War to the present. That community feeling described in the book surprises some of the white Arlingtonians Jones grew up with.
"When many of them...thought of our neighborhood, they thought, 'Oh, they're poor,'" she says. "When they read my book now...they say, 'I'm jealous now of seeing the way that you grew up.'"
Jones, who transferred into a mostly white elementary school after the county closed her all-Black school in 1966, learned the reason for Halls Hill's cohesion early on.
"White people were not going to do what was best for us.... we had to fight in order to get whatever we were going to get," she recalls thinking. "We had to bind together because just a few voices in the night were not going to do it, but when everybody worked together, they made things happen. That was something I learned very young."
And Halls Hill did get things done as a community. Since nearby white firehouses wouldn't serve Halls Hill, residents formed and staffed a volunteer fire department, Station 8, in 1918, one of the oldest all-Black firehouses south of the Mason-Dixon line. The community also invested time and energy in its all-Black schools; Jones remembers many community members working at the schools.
As Jones and Green recall, school integration began to change Halls Hill. The county had a policy of splitting up Black children and sending them to schools across the county, rather than to the nearest schools. Diluting the Black student population this way denied kids and their families the cohesion and focal point of a neighborhood school.
"You're not all together for what you used to be together for," Green explains.
Green went away to college at a historically Black university in Ohio in the 1960s, and then returned to Halls Hill to begin her career, first as a community organizer with the federal War on Poverty program, and as a supervisor at the Arlington Parks and Recreation Department, where she spent several decades. She married another Arlington native, and they bought a house in Halls Hill, just down the street from one of the recreation centers she oversaw.
But Green says not all of her peers did the same. Housing prices in the area started going up in the 1960s, making it difficult for the next generation to return. Some chose to buy houses and start families in other Black enclaves in Maryland where housing prices were more reasonable. The trend became more and more noticeable — and it was exacerbated, Green says, by the arrival of developers, who started buying up land and building larger houses.
"People who may have wanted to come back here to live could not afford it because housing prices were just very, very high," she remembers.
The pressure on housing prices has only accelerated in recent years. For Halls Hill — and many other Black neighborhoods in Northern Virginia — impossibly high housing costs and skyrocketing property taxes have replaced more overt forms of discrimination as the main force behind residents' displacement.
Halls Hill today
Paul Terry, the former Turkey Bowl player, lives in a small frame house shaded by an enormous tree. From his yard, he can see up and down his street, a mix of the original smaller homes and newer, bigger homes, and he can even catch a glimpse of the high-rises in Ballston. Construction noise — on a home renovation down the block, and also from Virginia Hospital Center, which is nearby — is ever-present.
Terry can tell you exactly how the finances work out for knocking down old homes and building new ones in Halls Hill.
"Prices are high. Shoot, every house they tearing down and building now — people are buying a house for $600,000 taking them down, putting $300,000 into them, which means they got nine tied up in it — and they sell them for $1.2 [million]," he rattles off.
And real estate is even more desirable in Halls Hill because of its easy access to public transit.
"That's why everybody wanted to move in this area, because basically you're in the middle of everything," he says. "You can walk from here right now over to George Mason Drive, catch the bus to the Metro and go anywhere you want to go, get off work, come back home, catch the bus back."
Meanwhile, Terry says, older residents may be attracted by selling and retiring somewhere cheaper — with a nice nest egg from selling their Arlington home.
Terry is his street's unofficial mayor, the neighbor who watches your house when you go on vacation and says 'hi' to you as you walk your dog past his home. He says his new neighbors, many of them white, appear to have changed the policing patterns in the community.
"When it was basically just segregated, police used to come and mess with people sometimes," Terry remembers. Now that there are more white residents, "they don't do it as much no more," says Terry.
These days, Terry has an almost collegial relationship with police in the neighborhood. He says one officer asked him once if he could keep an eye on a neighboring street as well as his own.
For her part, Saundra Green misses the cohesion of the old Halls Hill (the neighborhood is now called Halls Hill - High View Park). And she feels that some of the new residents could use a history lesson or two about their new home.
"Sometimes people come into communities, and they come in with the mindset that what was here was not 'as good as,'" she says. "But what some people need to understand is, yes, it was 'as good as,' because community is as much of how you feel when you're living in the place as it is the sidewalk curbs and gutters and the homes. It's about a sense of community and sense of being together."
Gentrification and displacement are problems that are increasingly on Arlington County's radar. The county conducted a study looking at ways to preserve and ultimately expand the shrinking supply of 'missing middle' housing — housing types that fall between large single-family homes and an apartment complex. That can mean duplexes, row houses, or townhomes. Missing middle housing — including the remaining small brick homes in Halls Hill — can help young adults and families with modest means become homeowners, a critical step towards wealth-building.
Green would like to see the county continue that work, and to be more aggressive on affordable housing ('missing middle' homes may be cheaper than larger freestanding houses, but the definition is more about size than price).
"Most people in Halls Hill now would probably shudder at the thought of somebody saying, 'I'd like to see more affordable housing,' and I would," she says. "I grew up in a community where we had subsidized housing and it wasn't any nightmare. Those people were as productive in this community as anyone else. I'm not afraid of affordable housing."
For now, Green and Jones are doing their best to preserve the history of the Halls Hill community as it used to be. Green tells her grandchildren, who live in a different part of Arlington, about her experiences growing up on the hill.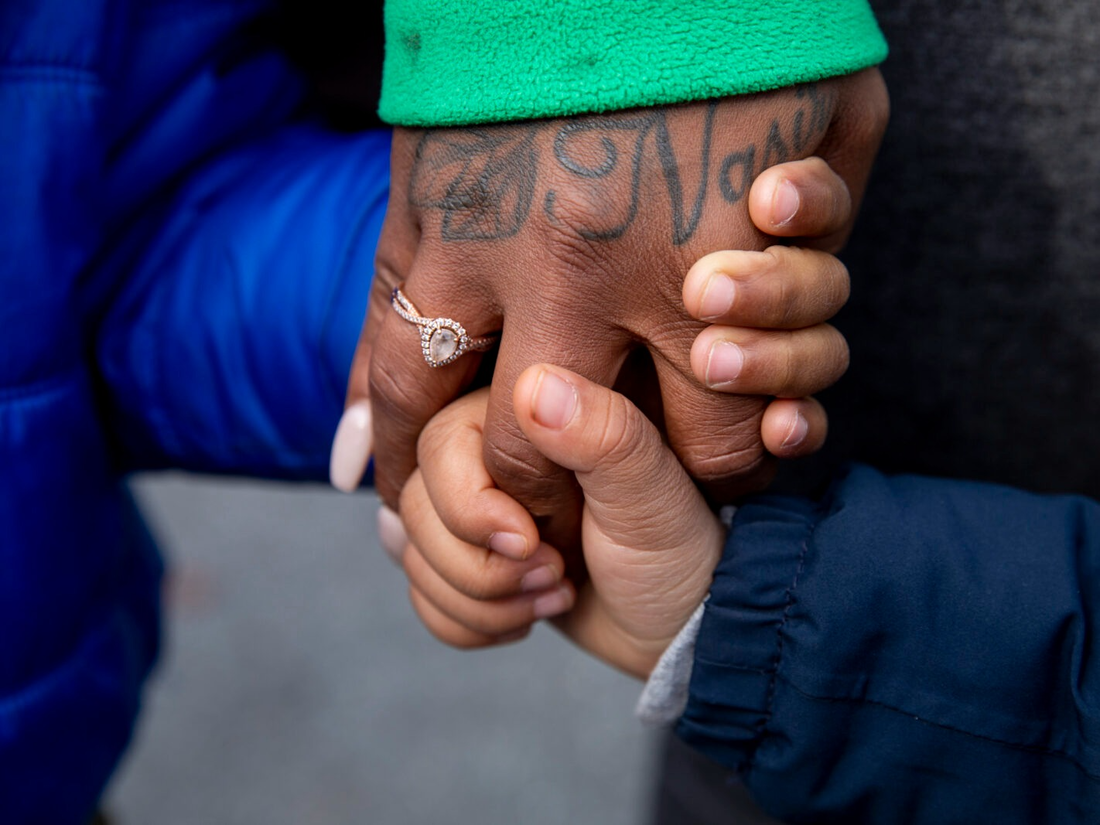 "My hope is that the Black history of Halls Hill is preserved in some way in the community, and celebrated in some way," Green says.
Jones' book is now available in county libraries, and she continues to participate in the community's civic association.
"If there's anything that I can do to help kind of put the Iwo Jima flag on Halls Hill and say, 'We were here,' I want to do it," she says.
This story is from DCist.com, the local news site of WAMU.
Questions or comments about the story?
WAMU values your feedback.