Norton decries 'shocking' threat from Republicans to repeal D.C. home rule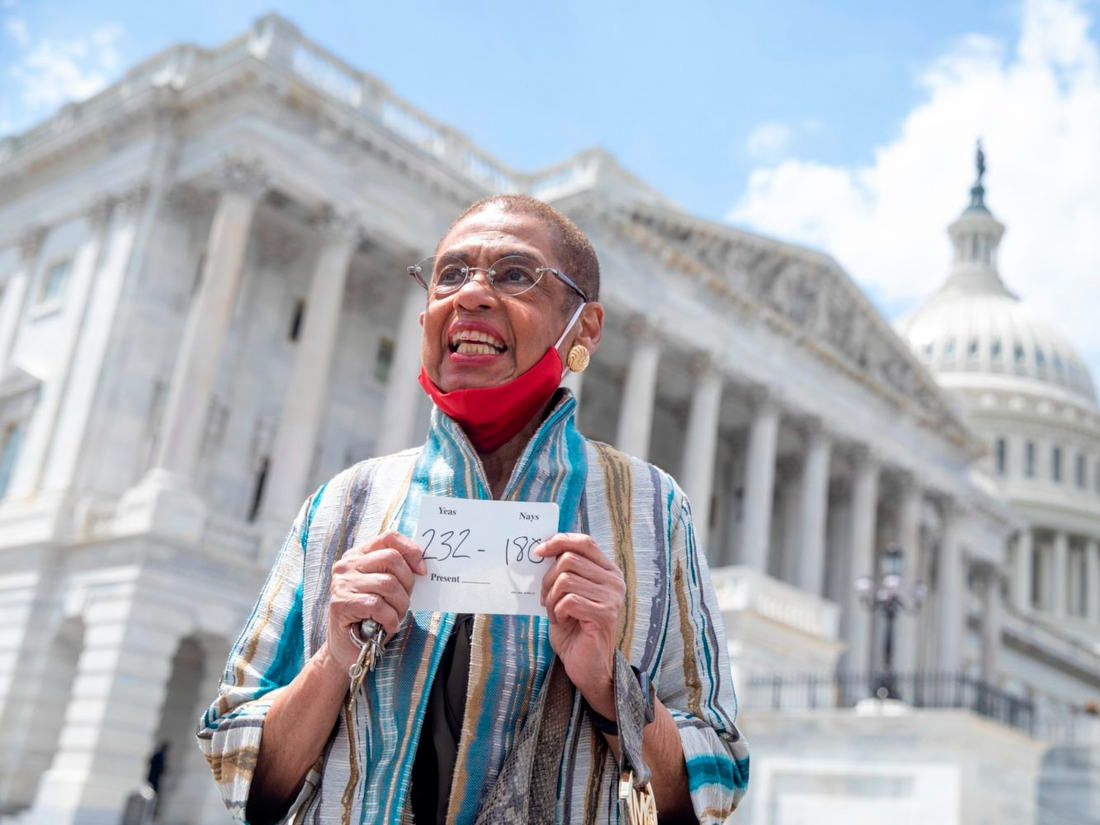 In her three decades on Capitol Hill, D.C. Del. Eleanor Holmes Norton has dealt with all manner of congressional challenges to the District's autonomy and local government. But she is now raising the alarm over what she says are new threats to D.C.'s authority to govern itself, especially if Republicans manage to win back the House of Representatives in midterm elections later this year.
Norton's warnings follow a story published last week in the conservative Daily Caller that laid out plans by senior Republicans — including current House Minority Leader Kevin McCarthy — to significantly ramp up congressional oversight over D.C. if they win the majority, possibly even attempting to abolish the District's elected government and return it to complete congressional control.
At least one Republican, Georgia Rep. Andrew Clyde, says he is drafting legislation that would repeal home rule, effectively wiping out the democratically elected mayor and legislature that D.C. residents gained in 1973 under a congressional bill signed by President Richard Nixon. Clyde — who last year compared the Jan. 6 insurrection to a "normal tourist visit" — told the Daily Caller that "D.C.'s unseemly and declining status proves its leaders are unfit to properly maintain our nation's capital."
The District currently doesn't have full control over its legislation, and anything passed in D.C. is subject to review by Congress. Republicans have long interfered in D.C. affairs, including budget provisions that prohibit the city from spending money on specific programs or causes (marijuana legalization, clean needles, and abortions for low-income women among them); ordering the city to hold a referendum on reinstating the death penalty (it failed); and not counting the votes for a ballot initiative that legalized medical marijuana (the initiative passed). But Norton says there has never been as direct an attack on the city's ability to govern itself as Clyde's bill would be.
"I have not seen a threat like this since I became a member of Congress," said Norton in an interview with DCist/WAMU. "Every single Congress, I have had to beat back their efforts to overturn the legislation that the District passes. That's become fun and games for them. But I can't remember having to beat back an attack on home rule itself. They will not prevail."
The new threats are a dose of cold water for D.C. leaders and residents who have otherwise seen their fight for statehood advance further over the last two years than it had in decades before that. The House has twice passed a bill to make D.C. the 51st state since 2020, and last year the Senate held its first hearing on a statehood bill since 2014 (The bill has since stalled in the Senate.)
The city has also seen continued fiscal stability and growth over the last two decades, with yearly budget surpluses and more than $1.5 billion set aside in a rainy day fund. Congress, in the meantime, regularly fails to pass annual federal budgets, leading to periodic government shutdowns.
But the number of moderate Republicans in Congress who once supported the city's right to govern itself has dwindled, just as a rising corps of more conservative members have stepped in to criticize D.C.'s Democratic leaders for their management of the city, especially since the pandemic hit two years ago. Those criticisms ramped up significantly over the last month, after D.C. Mayor Muriel Bowser implemented a vaccine mandate for businesses — prompting Republicans in the House and Senate to threaten to overturn it. (On Monday, citing a large drop in COVID-19 cases, Bowser lifted the mandate.)
"D.C. is in crisis because of Democrats' reckless policies," said Rep. James Comer (R-Kentucky), the top Republican on the House Committee on Oversight and Reform, in a statement. "Oversight Committee Republicans have called on the D.C. mayor repeatedly to address the surge of homelessness and violent crime and to withdraw her unfair vaccine passport. When Republicans are back in power in 2023, we will hold the D.C. mayor accountable for implementing policies that are destroying Americans' capital city."
But Norton rejects those characterizations of the challenges D.C. faces, noting that many cities — including those run by Republicans — are dealing with similar issues. "They cite issues that are endemic in large cities like homelessness and drug use and reasons like that," she said. "If that was the case, no big city would have the right to govern itself."
Locally, some D.C. Republicans also say they are uncomfortable with the idea of repealing the city's ability to govern itself.
"I'm opposed to doing away with home rule," said Nelson Rimensnyder, a former congressional staffer who worked on the Home Rule Act in the 1970s, this week on a podcast. "[Republicans] have been the leaders of this historically," he added on home rule, referencing the role the GOP played in giving D.C. residents an elected mayor and legislature.
Patrick Mara, the chairman of the D.C. Republican Party, says the local GOP has long maintained close ties to Republicans in Congress, and used those to argue that the city should be left to make its own decisions. But he does chalk up the current talk from Capitol Hill — especially on repealing home rule — to partisan bluster.
"When you look at back at some of these House members' districts, they're able to point at D.C., 'Look at what these crazy people are doing.' And so they look great in their district when they say or do something like this. And then on the other side of the coin, Congresswoman Norton looks fantastic when he pushes back on that. So this is something that will probably continue for a little while just because, frankly, it makes both sides look great with their own respective constituencies," said Mara.
He also points out that even if a Republican House did do anything dramatic to D.C., the Senate would like stop it from going any further. "This filibuster that progressives are obsessed with overturning is useful at times," he said.
Norton says she generally agrees with that assessment, but is still going to take the possibility that a bill could even clear the House seriously.
"I don't think they'll get this through two houses and signed by the president," she said. "But I have got to take it very seriously. It is shocking that [after 40 years] Republicans would be talking about essentially repealing home rule."
On Wednesday, Clyde doubled down on that threat.
"Make no mistake, this was not an empty threat," he said in a statement. "In the near future, we will free Washington D.C. from the failed experiment of so-called 'Home Rule,' and we will return our nation's capital to the American people after the Democrats' almost 50-year reign of terror and failed leadership."
This story is from DCist.com, the local news site of WAMU.
Questions or comments about the story?
WAMU 88.5 values your feedback.