Police detain man said to be linked to attacks on unhoused people in D.C., New York
D.C. police say they have taken a person into custody who they say may be linked to five attacks on people experiencing homelessness in D.C. and New York City over the last two weeks. Two of those attacks were fatal.
Police sources say a man was stopped and taken into custody early Tuesday morning on Pennsylvania Avenue SE and brought to the homicide branch for questioning.
The development comes less than 12 hours after elected leaders and police officials from both cities intensified the search for the man, increasing the reward for for information leading to his capture to $70,000 and widely sharing images from surveillance cameras that clearly show the man's face.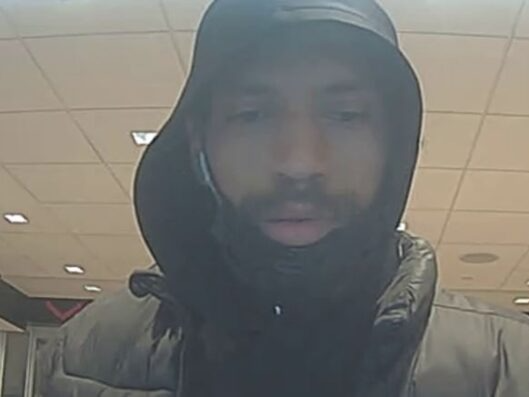 "Turn yourself in," said D.C. Police Chief Robert J. Contee III had said during a press conference Monday evening, alongside D.C. Mayor Muriel Bowser, New York City Mayor Eric Adams, and NYPD Commissioner Keechant Sewell. "We're coming for you. That's the bottom line. Our reach is far and wide. This person has unnecessarily taken the lives of two innocent people, and that did not have to be."
The attacks have stretched over a two-week period in both cities, involving unprompted shootings of unhoused people sleeping outside. Three attacks have been reported in D.C., including a fatal incident on March 9 where police responded to tent fire only to find its occupant with stab and gunshot wounds. Two attacks occurred in New York over the weekend, including a chilling murder of a man in his sleeping bag that was caught on video.
"This person is carrying out a premeditated act of shooting innocent people," said Adams. "The shooting in New York, he looked around. He made sure no one was there and he intentionally took the life of an innocent person. He must be brought to justice. We will bring him to justice. And if he's watching, we are telling him to turn himself in."
The widening investigation and coordinated manhunt almost didn't happen; Contee disclosed that it was only because D.C. Police Captain Kevin Kentish saw images on social media of the killing in New York that the two police departments realized they had a possible killer in common. And even though police have matched the gun used in the two killings, they conceded that they know very little else about the man they are seeking — including where he lives and how he got from one city to the next.
Contee said MPD had already started receiving tips, and at the press conference had said "the knot is tightening in on the person who's responsible for this." Officials in both cities urged unhoused residents to go to a shelter for safety; outreach crews had fanned out across D.C. on Monday to warn people experiencing homelessness of the attacks and distribute a flyer offering details on the suspect.
"We're working with our clients not only to distribute the flyer, but also make sure that we're encouraging them to seek shelter and or have a safety plan," said Ceymone Dyce, director of homeless services with Pathways to Housing, one of three outreach teams in the city. "In D.C. we do have a high number of shelters. Many individuals choose not to go into shelters because of safety, rules, [or] COVID. So we're saying if you choose to be outside, we're encouraging them to be extra vigilant and on heightened alert to stay in well-lit areas, to stay near others and to be aware of their surroundings and anyone who might be unfamiliar to them."
The attacks have also focused renewed attentions on homeless policies in both D.C. and New York City, where both mayors have been criticized for recent actions — Adams for banning unhoused people from sleeping in the subway, and Bowser for pushing to close certain large homeless encampments. Homeless advocates say those policies have pushed some people experiencing homelessness further to the margins, where they are less safe. But both Adams and Bowser defended their records on Monday.
"There's nothing dignified in living on the subway tracks, there's nothing dignified in treating homeless people in an undignified manner, by not giving them the services that they deserve," said Adams.
"We're looking at encampments across the District," added Bowser. "We think we have a couple dozen. And the conditions at some of them are horrible — people living with rats, people in unsafe conditions, people who are already scared for their lives in those encampments. And we know that we can offer people permanent housing and we can offer them shelter. And that is what our home in homeless encampment situation is."
Still, homeless advocates in D.C. say the attacks should serve to sharpen people's focus and understanding about what it's like to live on the street — any why finding permanent housing is important.
"We need to provide better services and we need to make sure that people do have a place to live because ultimately that is where they're going to be the safe," said Reginald Black, advocacy director for the People For Fairness Coalition. "I don't want that message to get lost that, you know, everybody experiences violence. In all sorts of communities. It's more acute when you're unhoused because you have nowhere to really run from it. You have no refuge from it."
While the number of people experiencing homelessness who died went down in D.C. last year after a multi-year rise, advocates say that unhoused people living on the street have faced increasing threats and acts of violence in recent years. In a 2020 report, the National Coalition for the Homeless said there is "a clear correlation between the growing visible presence of homelessness...and the number and severity of attacks from housed persons."
In that same report, the National Coalition for the Homeless catalogued 1,852 nationwide incidents of violence against people experiencing homelessness from 1999 to 2019, 515 of them resulting in deaths. D.C. recorded 14 incidents in that time period. In 2019, a violent attack in New York City left four unhoused people dead.
Homeless advocates are now amplifying their request to Bowser to allocate $26 million in her upcoming budget — which will be unveiled Wednesday — to permanently housing 500 individuals and 260 families. That would come on top of the already increasing funding for housing that came from a tax increase on wealthy households passed by the D.C. Council last year.
This story is from DCist.com, the local news site of WAMU.
Questions or comments about the story?
WAMU 88.5 values your feedback.