Bowser uses budget to repeal law on police in schools, defund child welfare watchdog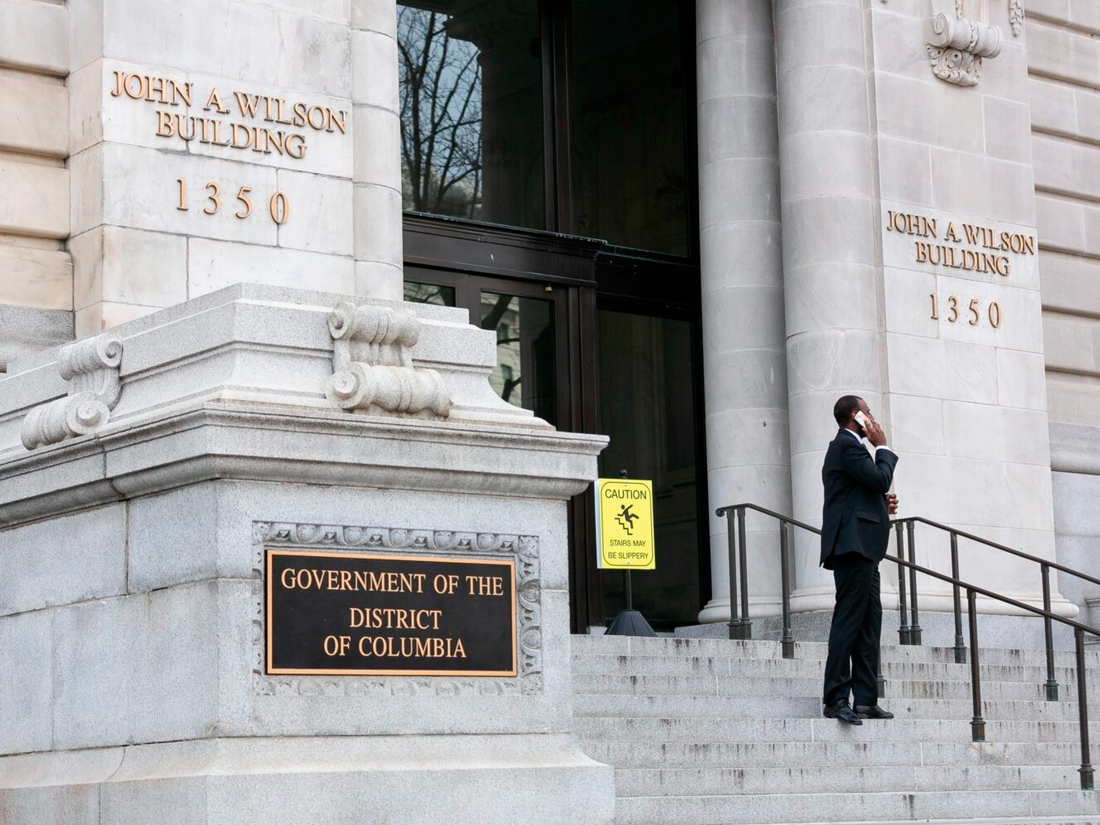 The devil is always in the details — and D.C. lawmakers are starting to find some of those devils lurking deep in the budget that Mayor Muriel Bowser unveiled last Wednesday.
Amidst the proposed increases for affordable housing and pledges to build a new indoor athletic facility on the campus of RFK stadium in her $19.5 billion spending plan, Bowser is also pushing to repeal a D.C. Council-passed law that gradually pulls police officers out of public schools, and aiming to defund a newly created independent ombudsperson to oversee the city's child welfare agency.
The two moves revive policy battles that Bowser lost last year, and in the case of keeping police in schools, come as the mayor has put an emphasis on public safety in her new budget proposal. But it remains in doubt whether she will win those battles this time around; both were initially approved by the D.C. Council with little opposition.
On police, it was last year that the council approved a provision of the 2022 budget that would pull D.C. police officers — known as school resources officers — out of public and charter schools over four years, reducing them from a force of 80 officers currently to zero by 2025. In making the move — which has happened in a number of jurisdictions across the country since the racial justice protests of 2020 — lawmakers cited a recommendation from the D.C. Police Reform Commission, which advocated replacing police with social workers and mental health professionals.
"The daily presence of police officers in schools is antithetical to environments meant to foster learning and positive development. Youth of color in particular often do not feel comfortable, valued, or safe in educational spaces where they are interacting with representatives of a system that generally views Black and brown people as a threat. Indeed, a panel of youth told this commission that instead of fostering safety in school, officers often escalate altercations, create a hostile atmosphere, and cause anxiety among young people by their mere presence, especially since they carry guns," said the commission.
Bowser and D.C. Police Chief Robert Contee opposed the move at the time, and Bowser has now proposed repealing the provision altogether. Speaking to the council on Friday, City Administrator Kevin Donahue said the decision to start pulling police out of D.C. schools was "a national issue that has manifested locally without thinking of the implications of it." And in an interview with DCist/WAMU, D.C. Public Schools Chancellor Lewis Ferebee said a consistent police presence inside schools helps develop relationships with students that can promote safety.
"When we start to enter into discussions around whether or not their presence is needed now or not, I think we have clear indications across the nation that they're needed, and this has been a year where we welcomed students back to our schools and there have been challenges in the schools. Resource officers have been a part of the solution," he said.
Support for similar efforts in the region to pull police out of schools has softened recently, so much so that only six months after Montgomery County opted to make such a move, officials are considering walking it back. Elected leaders in Alexandria also voted late last year to return police to schools after having pulled them out. Officials in Arlington County also voted to remove police from schools; the same happened in Prince George's County.
Bowser is also proposing a more immediate move to defund a new independent watchdog's office the council voted to create for the city's child welfare agency. Bowser fiercely opposed the new office when lawmakers voted on it in late 2020, calling it duplicative and a violation of the separation of powers. In early 2021 she vetoed the bill, but the council easily voted to override it.
"We're shocked and saddened to see the erasure of the Office of the Ombudsperson for Children not only in the mayor's proposed budget but in the current year's budget as well. The funding needed is pennies compared to D.C.'s $19.5 billion budget – but its impact would be huge for the thousands of D.C. children and families involved in the foster care system," said Judith Sandalow, the director of the Children's Law Center, in a statement.
In her own statement, Nadeau said the council will not be "deterred" and would work to "refund this office."
Another possible flashpoint involves D.C.'s paid family leave program for private-sector workers. The amount of paid leave that workers receive is set to increase later this summer, and at the same time employers will see a cut in the tax they pay to fund the leave, thanks to a budget surplus. Bowser is proposing delaying those changes until the fall and repurposing those surplus funds for other uses.
"I want to understand the need for the three-month delay," said Councilmember Elissa Silverman (I-At Large) last Friday on "The Politics Hour" on WAMU. "Three months more means that employers in our city are paying a higher tax rate for three more months. It means that their workers will not be getting the higher benefits. And it also means that the mayor is grabbing that money in the budget and using it for her priorities."
Lawmakers start the budget review process this week, and will be casting a final vote on the spending plan for the 2023 fiscal year in late May. They will also soon vote on a supplemental budget for the current fiscal year to address how to spend a budget surplus.
This story is from DCist.com, the local news site of WAMU.
Questions or comments about the story?
WAMU values your feedback.