How local abortion funds have been getting ready for the end of Roe
How local abortion funds have been getting ready for the end of Roe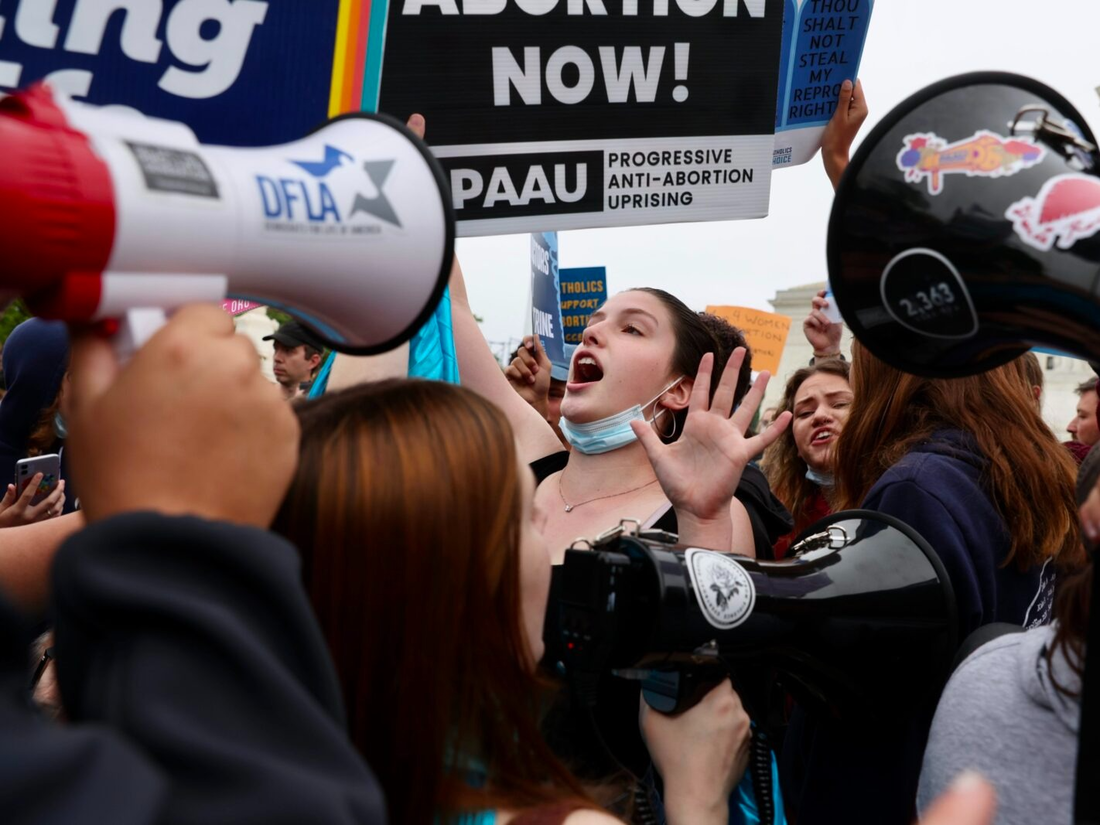 Local abortion funds have been preparing for a post-Roe world for years, in part because their work puts them in constant touch with people who can't get an abortion, even if the law doesn't prevent them, because they can't afford it.
That's when abortion funds step in to help — whether it's to assist with the cost of the procedure itself or logistical concerns like transportation and childcare.
"The reason abortion funds came into existence was because access is not achieved by Roe v. Wade," says Devin Simpson, the communications direct for the D.C. Abortion Fund. "It provides legality, but it does not provide access for all."
The leak of a draft Supreme Court decision on Monday evening showed that a majority of justices intend to overturn Roe v. Wade, the 1973 decision that guarantees constitutional protections of abortion rights.
For abortion rights advocates, the news was not a surprise, because "this is something that we have been preparing for for a long time, but it still really hurts to see some of our worst fears coming to pass," says Lynn McCann, director of development and communications for the Baltimore Abortion Fund.
Local funds are bracing for increases in patients traveling to the D.C. region for care, all while dealing with existing needs. Even though Maryland is frequently seen as a safe haven for abortion compared to other jurisdictions, McCann says it's "notable that about half of the people who call us are actually Maryland residents who have a state-protected legal right to an abortion but are still facing barriers to actually getting an abortion."
"We're doing the thing that we did Monday before we knew," says Tannis Fuller, the executive director of the Blue Ridge Abortion Fund, which is based in Charlottesville and serves patients in or traveling to Virginia. "We're waking up and funding abortion."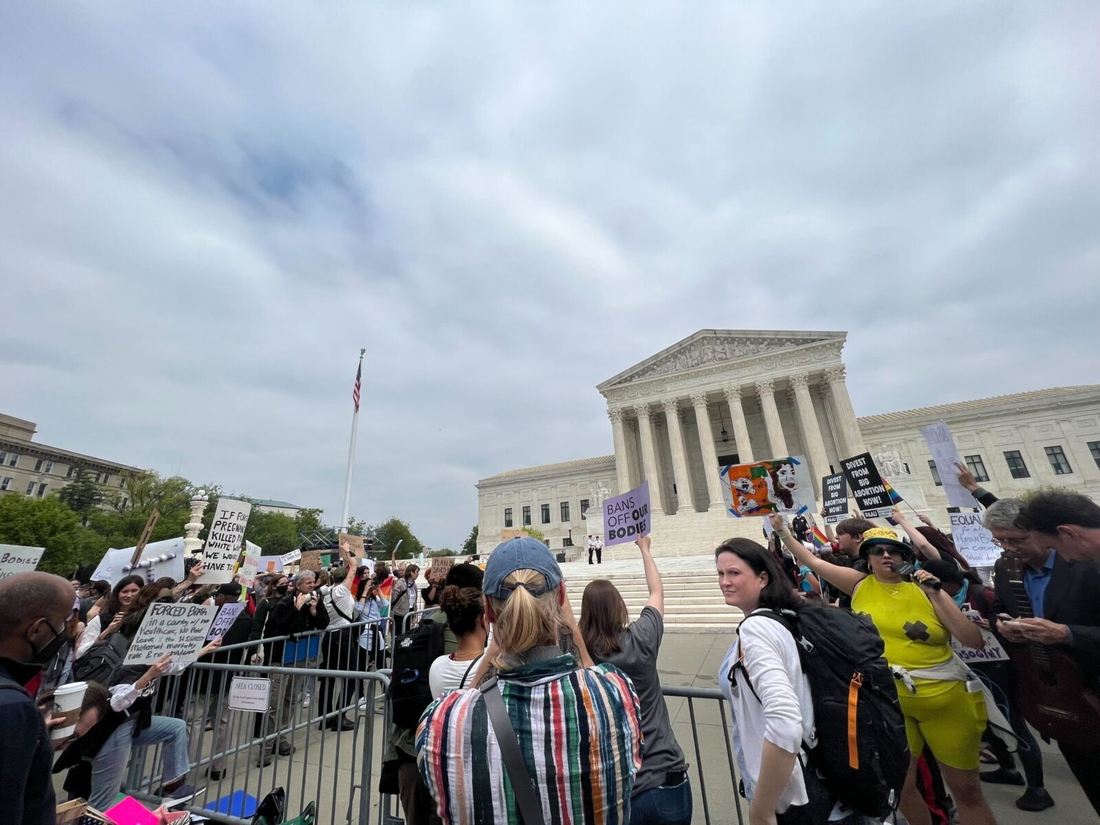 An uptick in donations – and demand
The leaked decision led to urgent calls on social media for people to donate to local abortion funds. And many people heeded the call. From Monday night through Wednesday at 11 a.m., the D.C. Abortion Fund raised more than $105,000, which could help fund more than 440 abortions.
To get a sense of just how much money that is for the largely volunteer organization, during all of fiscal year 2021, the organization gave out a little under $800,000 to more than 3,400 recipients. And that amount was historic — more than double the amount of funds given out in the prior year, to almost 30 percent more people who called in for assistance.
Simpson attributes the increase in demand and callers to the D.C. Abortion Fund in 2021 to the economic hardship associated with the pandemic. "The pandemic hit marginalized communities the hardest, and those are the communities who also struggle with abortion access the most," she says.
The cost of an abortion can vary widely, depending on when in the pregnancy a patient seeks one, plus travel, childcare, meals and other expenses. Restrictions can add cost too: there are no waiting periods or ultrasound requirements in D.C., Maryland or Virginia, but those can also up the price tag. The Blue Ridge Abortion Fund estimates that the cost of the procedure alone in Virginia can range from just under $400 to close to $2,000.
(Some states, including Maryland, fund abortions through Medicaid in certain circumstances. Virginia isn't among those states, and Congress prevents D.C. from using its locally raised funds to pay for abortions for low-income people. Some private insurance policies will support it, leaving many patients to pay for it all on their own.)
Fuller says the Blue Ridge Abortion Fund is also seeing an uptick in donations, as the social media outpouring continues — in much the same way that the fund has seen increases in public support when other abortion-related news has broken (she cites the confirmation of Justice Brett Kavanaugh and the death of Justice Ruth Bader Ginsburg as two other examples).
"We joke a lot about being people who can do a lot with the change that we pulled out of our couch cushions," Fuller says. "So I really appreciate seeing this work uplifted in such a way, across communities and geography."
The D.C. Abortion Fund has been able to keep up with the increase in need for financial support so far, per Simpson. "We have not run into that situation where we had to turn folks away or not pledge the full amount that someone needed yet," she says, despite a "precarious" time last year.
That's not true for the Blue Ridge fund, however.
"Even with the increase in support that we have been able to offer, we estimate that we're only able to support about a third of the people that would reach out to us for support," Fuller says.
She expects the demand to only increase after the Supreme Court's decision is finalized.
Patients from out of state
The region is already seeing modest increases in the number of out-of-state patients coming for abortion care, though area funds are still mostly helping locals. For the D.C. Abortion Fund, about half of the callers in 2021 came from Virginia, 24 percent came from D.C., 16 percent came from Maryland, and about 10 percent were traveling to the region from other states. While those figures are on par with the prior year, per Simpson, they mark a rise in callers from states outside the region compared to 2019.
For the Baltimore Abortion Fund, the number of requests for support from people traveling to Maryland from out of state grew from about 40 percent last year to upwards of 50 percent in 2022.
"That really speaks to the increasing pressure and restrictions that are harming people, especially in nearby states and even in places as far away as Florida and Texas," says McCann.
Blue Ridge Abortion Fund has also been preparing for a possible — though as of yet unpredictable — influx in patients from out of state, particularly given Virginia's proximity to southern states now poised to ban the procedure.
Vicki Brown traveled to D.C. from New Orleans for an abortion in 2019. Given the waiting times at the crowded clinic in New Orleans, the cost of the mandatory ultrasound, and other difficulties, she spoke to a friend in the Washington region who helped her fly here for the procedure instead.
"I was able to go to D.C., fly there, stay with her and fly back and have my abortion for less than the price of an abortion in Louisiana at six weeks, which I think just tells you how cost prohibitive it is," Brown says, noting that state regulations for abortion have only gotten more onerous since then.
The experience prompted her to get involved with the New Orleans Abortion Fund, because she wanted to help other people get the access to abortion she received. Brown took on a leadership position with the group this week, after the draft decision leaked.
The main emotion she remembers feeling during her trip to D.C. was anger. "I was really, really, really angry that I needed to literally fly across the country to have a very simple medical procedure done," she says. "People shouldn't have to raise money to get the medical care that they need. And people all over the country now have to raise money and travel to get medical care, and we'll have to travel further."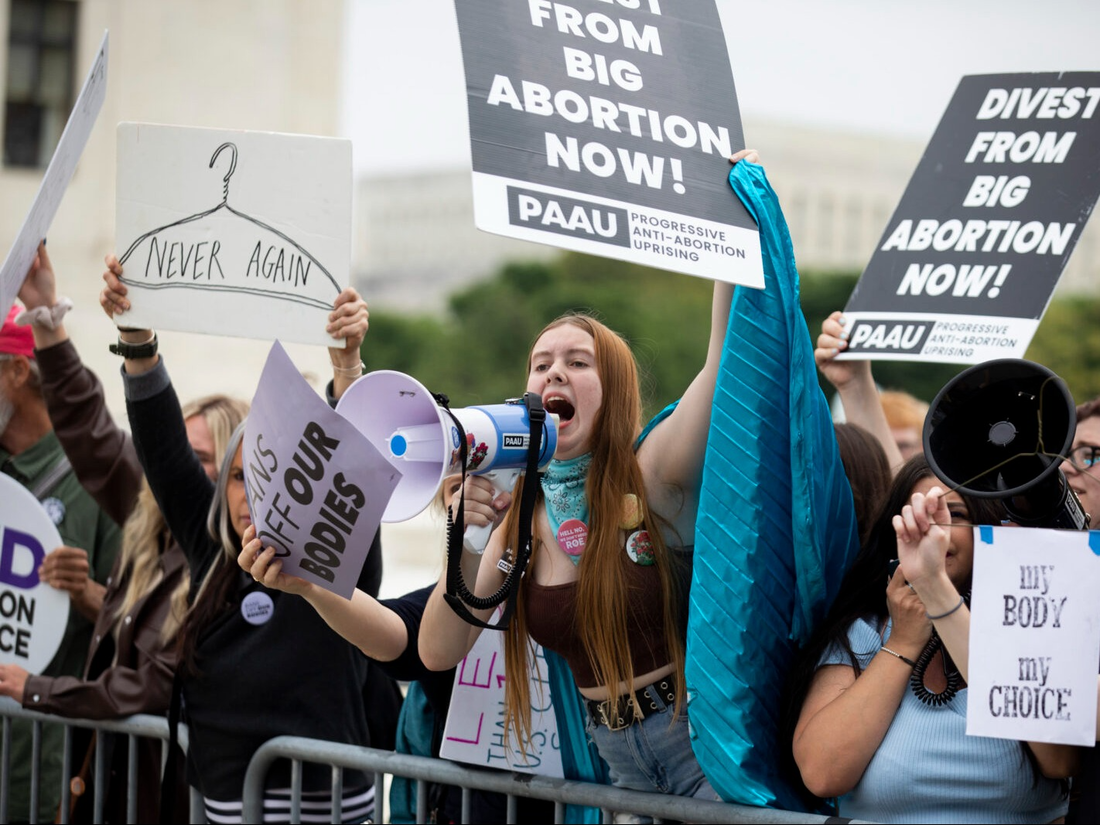 A 'practical support network'
Given the shared belief among local abortion funds that more people will be forced to travel to the region from elsewhere to access the procedure, five local organizations have spent the past two years participating in a collaborative pilot program called Operation Scale Up. It includes the Baltimore Abortion Fund, the Blue Ridge Abortion Fund, the Carolina Abortion Fund, the D.C. Abortion Fund, and the Richmond Reproductive Freedom Project.
"It includes building out practical support networks to help with rides, translation, childcare, all of those more practical or logistical needs," says McCann. "It's really being forward-looking and proactive instead of reactive."
Fuller was hired as executive director of the Blue Ridge Abortion Fund in 2020, and she's hired multiple other full-time staff, including someone who is a native Spanish speaker. She isalso expanding the fund's relationships with out-of-state clinics in Pennsylvania, New York, New Jersey, and even as far north as Maine, and out-of-state abortion funds in the most restrictive states, including Texas.
"The depth and strength of community and relationships is what gets us through challenging times," she says.
And as the fight over abortion access shifts focus from the courts to local and state politics — particularly in Virginia, where divided government in Richmond makes the future of access uncertain — that message about belonging and community is one Fuller believes abortion funds can send, not just to patients, but to the voting public.
"I see the role of abortion funds just really reminding folks that: Your kid's teacher had an abortion. Your babysitter maybe had an abortion. Your mom maybe had an abortion. Your sister, your partner. There is no 'type' of person who gets an abortion. Everyone gets an abortion," Fuller says.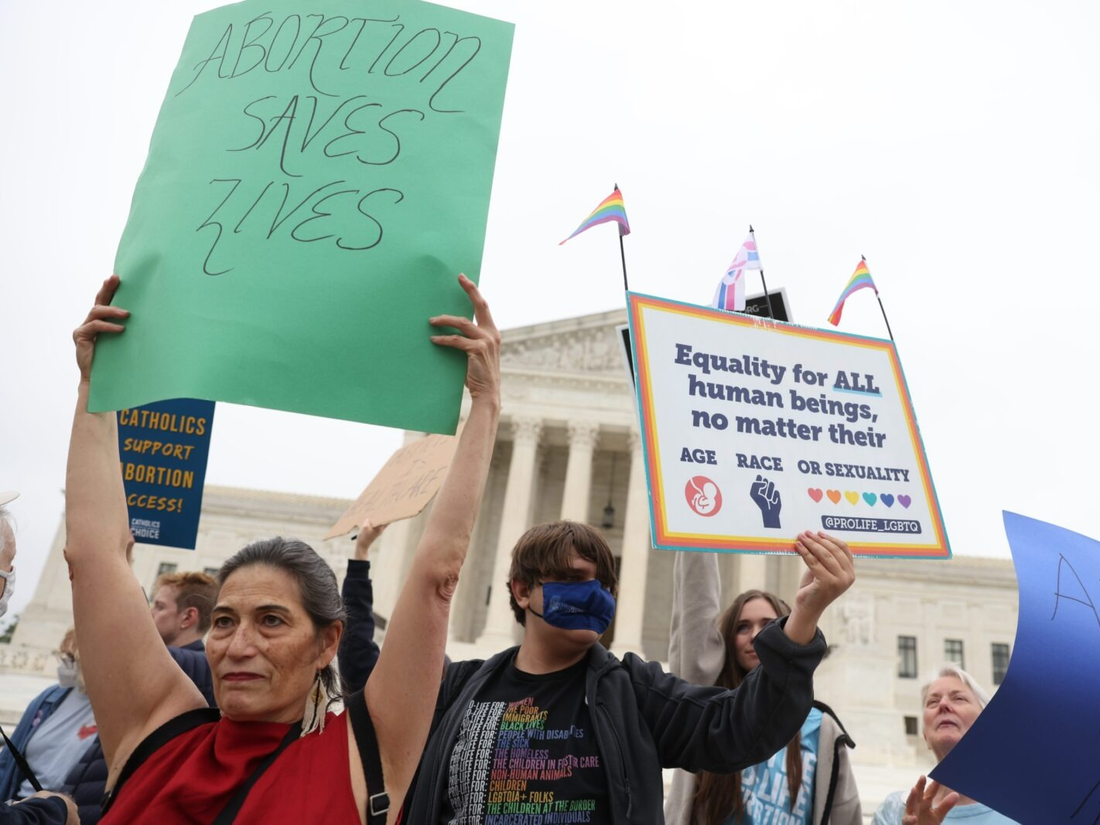 Ties between abortion funds and providers
Area healthcare providers in D.C., Maryland, and Virginia who offer the procedure work closely with funds in all three jurisdictions. They, too, say they've been expecting the end of federal abortion rights for a long time.
"This is something which is coming down the pike anyway," says Mike Scheinberg, the development director at Falls Church Healthcare Center, one of the three abortion providers in Northern Virginia.
Scheinberg had two primary messages in the wake of the Supreme Court leak. First: abortion is still legal, and patients can still get care. And second: supporters of abortion should consider donating to the local funds — advice he says the center has been giving out frequently.
"I think there are many people out there who really feel like, 'Well, everybody's been elected. The Supreme Court justices are there for life. What can I do?'" he told DCist/WAMU. "And I think that what really can be done is making sure that the resources are out there."
Dr. Diane Horvath, a local ob/gyn physician and abortion provider, says that one major development since pre-Roe is the development of medication abortion, a combination of drugs that can terminate a pregnancy up to the first 10 weeks.
"Getting abortion pills into the hands of as many people as possible who need them is going to be one of the steps of the strategy going forward," says Horvath, while acknowledging that the medication abortion won't be a solution for everyone, and that abortion care providers and advocates will need to use a bunch of different strategies.
Falls Church Healthcare Center already works with abortion funds in D.C., Maryland, and Virginia, but Scheinberg says that in the future they may need to "think a little bit more globally," working with patients and funds from places where the procedure is restricted or banned altogether.
A majority of the center's patients are still locals, who come from within a 20-mile radius for abortions. Other patients come from different parts of Virginia — in 2017, 93% of counties in the commonwealth did not have a clinic that offered the procedure — and neighboring West Virginia, which has a current state law banning abortion after 20 weeks and is poised to further restrict access pending the final Supreme Court outcome.
Scheinberg says the center usually directs patients to the National Abortion Federation's Justice Fund, which can assess financial eligibility and will often provide some funding. Then, the center connects patients with one of the local funds to try to make up the difference.
"It's interesting to see how hopeless they feel right beforehand when they feel like they're out of options, and then when they realize that there may be those options in place," he says. "It lets them know that there are people out there who care. There are people out there who want to make sure that they have the dignity and the health care and the bodily autonomy they deserve."
Horvath co-founded a clinic, Partners in Abortion Care, slated to open in College Park, MD in the fall. The draft decision doesn't change that plan.
"We knew that this was coming and that was part of the reason we decided to open a clinic," she says. "We need to move forward as if we will be one of the places where people can come from other places, and so we're trying to get open as fast as possible to be able to meet that need."
Reporting contributed by Jenny Gathright and Amanda Michelle Gomez.
This story is from DCist.com, the local news site of WAMU.
Questions or comments about the story?
WAMU values your feedback.