Immigrants don't feel safe walking along Leesburg Pike, according to pedestrian survey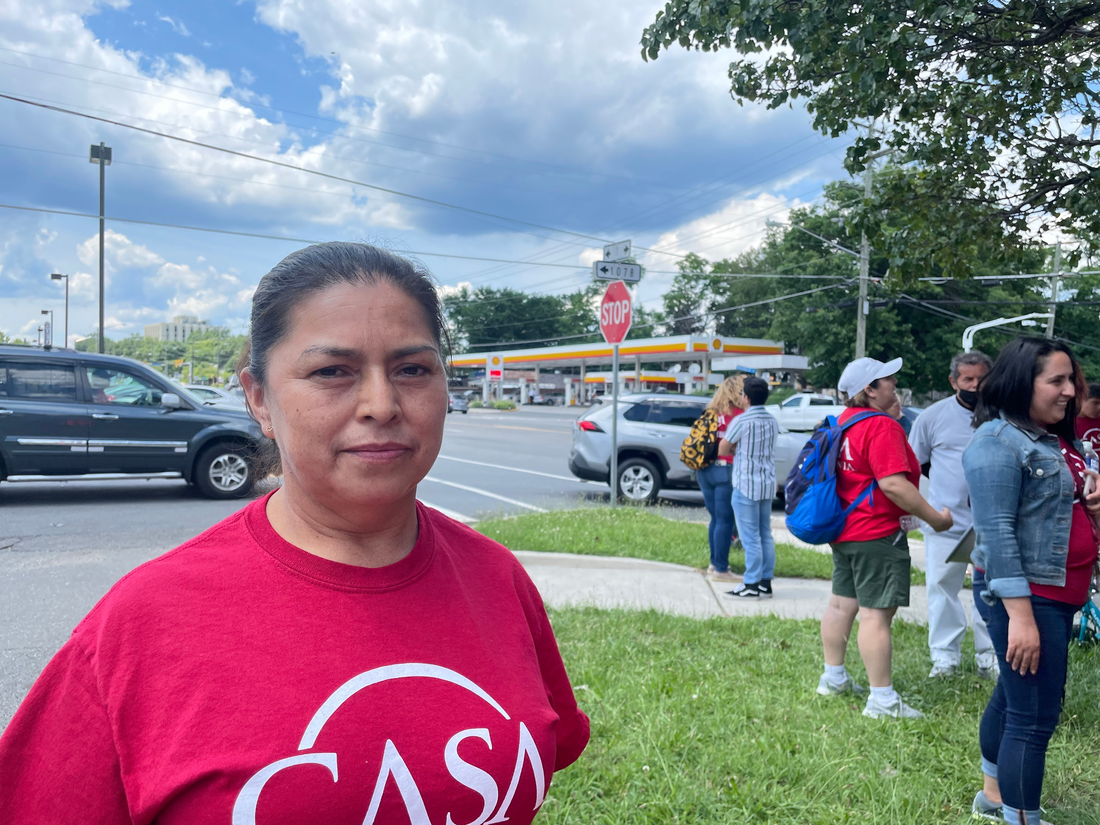 A survey taken in the Culmore neighborhood of Falls Church found that the majority of the community – which has a high immigrant population – does not feel safe walking or biking along Leesburg Pike. As a result of report issued on the survey, community members and advocacy groups are urging Fairfax County and the Virginia Department of Transportation to improve pedestrian safety along portions of the busy corridor.
"We feel that because we're immigrants, we're being discriminated against," says Aurora Gamez, who has lived in the community for nearly two decades. "This is one of the areas that they care about the least when it comes to traffic signals and lighting."
The survey was conducted earlier this year by the Coalition for Smarter Growth, a traffic safety organization, and CASA, an immigrant advocacy group, as concerns over the conditions of the corridor reached a boiling point.
In 2021 there were 8 pedestrian related crashes on Leesburg Pike, including one in December where a driver struck and killed a 68 year-old woman. At the time, police reported that she was walking near the shoulder of the road due to the lack of sidewalks. Sonya Breehey, the Northern Virginia advocacy manager for the CSG, says according to the report, immigrant community members can face similar risks in their day-to-day lives.
"This community walks, bikes, and uses the bus at a significantly higher rate than the rest of Fairfax County. They need these improvements for their quality of life, for their safety, for their families," says Breehey.
The report also found that women walk at higher rates on a daily basis in comparison to men, and that they feel less safe traversing the neighborhood.
"Seventy-three percent of the women said they don't feel safe, which is very unsettling to me," says Breehey. "They cite poor lighting, the lack of connected sidewalks and minimal safe crossing options."
Gamez is among those women. She works at a laundromat across the street from where the woman was struck and killed in December.
"Every day I walk through this area to buy food, to go to my job, to go shopping. I know the problems that exist in this area," says Gamez.
Fairfax County is in talks with the advocacy groups and community members to offer some short-term solutions that would improve nighttime safety for pedestrians, such as upgrading street lights and offering outreach events within the community.
"Such an event could offer reflective tape/stickers/decals to participants for their shoes and cold weather jackets. Easy, low-cost, and effective as the more expensive, and longer-term, infrastructure improvements are considered," says Fairfax County Supervisor for the Mason District Penelope A. Gross in an email to DCist/WAMU.
Despite the release of the new report and the ongoing work being done at the county level, it ultimately falls on the Virginia Department of Transportation to reduce speeds and increase sidewalks and pedestrian crosswalks. According to Gross, VDOT plans to conduct studies of segments on Leesburg Pike to address some of the community's concerns.
Still, Breehey says it's not enough and that Fairfax County should push harder on VDOT to at least implement jersey barriers as a temporary fix to block drivers from hitting pedestrians.
"We continue to talk to them and they are looking at some solutions," says Breehey. "But they keep telling us, 'Oh, we can't do this. There's too much traffic. Oh, that'll slow traffic. The driver might hit a jersey barrier if we put it up.' Well, that driver might hit a pedestrian if that jersey barrier isn't there. So let's think about what our priorities are. Are we worried about keeping cars safe or are we worried about keeping people safe?"
This story is from DCist.com, the local news site of WAMU.
Questions or comments about the story?
WAMU 88.5 values your feedback.