Incumbents Win Their D.C. Primaries, Progressives Clinch Open Races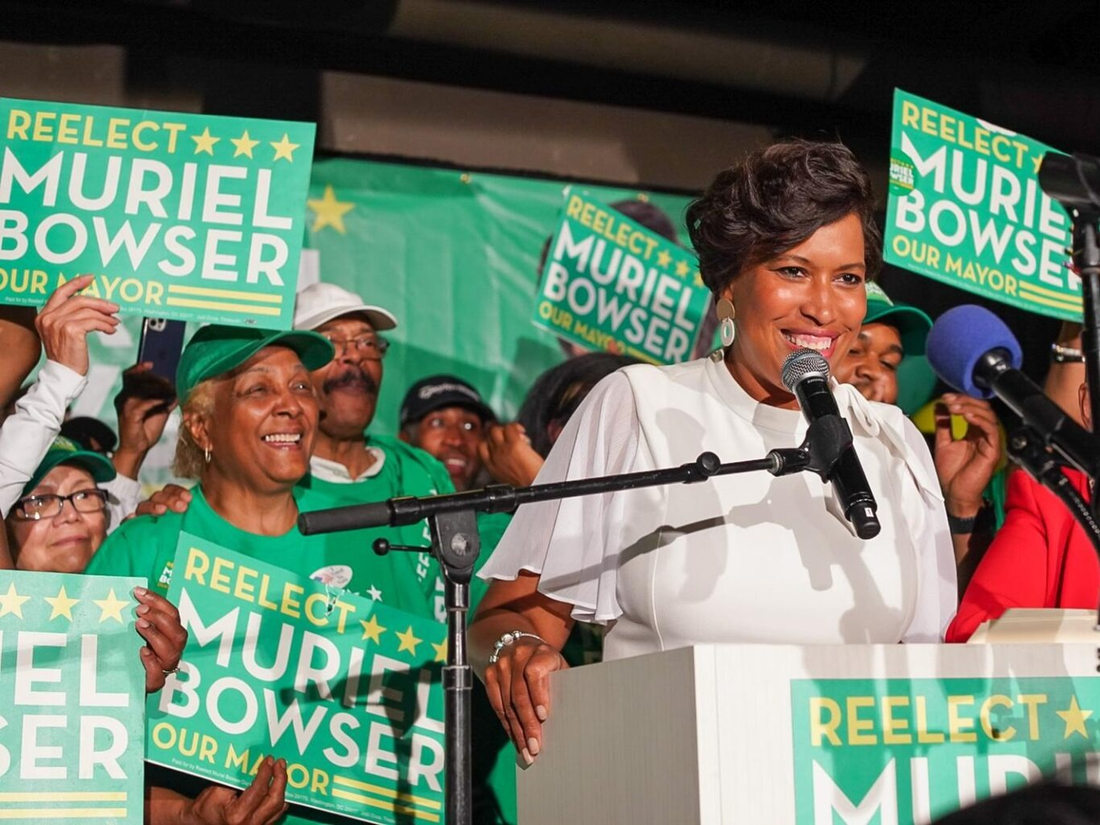 D.C. Mayor Muriel Bowser emerged as the apparent winner of the city's Democratic primary on Tuesday, holding off three challengers in a bruising campaign and coming one step closer to winning a third consecutive term in office — a feat only ever achieved by the late Marion Barry. (In heavily-Democratic D.C., winning the June primary is all but assurance of victory in November.)
"I stand before you humbled and grateful that you have chosen me to be your Democratic nominee," Bowser said in her victory speech Tuesday night. "Today I stand in the footsteps of Marion Barry."
And Bowser wasn't alone: It was a good night for incumbents across several races. D.C. Council Chairman Phil Mendelson also clinched victory over progressive challenger Erin Palmer with roughly 92,000 votes counted, winning 55% to Palmer's 45%. D.C. Del. Eleanor Holmes Norton also cruised to victory over two challengers in her primary, and Councilmember Charles Allen (D-Ward 6) — who faced no challenger — won his primary.
Ward 1's Brianne Nadeau won her primary against two relatively unknown challengers, winning 47% of the vote over Salah Czapary, a former cop and political newcomer who got a surprising endorsement from the Washington Post Editorial Board. Shortly after, though, Czapary generated headlines for his ties to Republican and right-wing figures. Czapary tweeted a concession shortly before 11 p.m. Tuesday, pledging to unite Democrats and stating he had called Nadeau to congratulate her. ANC Commissioner Sabel Harris finished third, with 20.26% percent of the vote.
Anita Bonds is also expected to hold onto her At-Large seat, despite facing three credible candidates who criticized her record on housing and oversight as the chair of the Housing and Executive Administration Committee. She won her primary with 39% of the vote.
Meanwhile, in the ward races left open by departures, progressive candidates won the night.
In Ward 5, State Board of Education Member Zachary Parker easily won the seat vacated by Kenyan McDuffie (who led an unsuccessful, cut-short campaign for attorney general). Parker pulled in 42% percent of the vote, far beyond Faith Gibson Hubbard's 23% percent in second place, and more than double that of Vincent Orange, a longtime D.C. politico who held the seat from 1999-2007. Parker now adds a left-leaning voice in Ward 5 in place of often business-friendly McDuffie. He is a favorite among progressive advocates for his housing and public safety platforms (among others), while his supporters criticized Hubbards' ties to Bowser. Parker also came out as a member of the LGBTQ+ community on the campaign trail, making him the only openly LGBTQ+ member of the council.
In Ward 3, it appears that several progressive candidates' choice to drop out of the race in its final weeks gave Matthew Frumin the boost needed to secure a win. As of late Tuesday night, Frumin — current Ward 3 Councilmember Mary Cheh's former treasurer— had won 38% of the vote, with more conservative liberal Eric Goulet (a longtime staffer in Ward 7 Councilmember Vincent Gray's office) in second place at 31%. Goulet conceded around midnight, with about 92,000 votes counted, writing on Twitter that he was "disappointed in the result," but proud of the campaign. Last week, Tricia Duncan, Henry Cohen, and Ben Bergmann all dropped out of the race and coalesced behind Frumin, hoping to prevent Goulet from taking the seat. But the strategic decision was made late enough in the game that some Ward 3 voters had already sent in their ballots, and voted for defunct campaigns. While Goulet was in the lead at the beginning of the night, Frumin pulled ahead as in-person votes were counted. (More mail-in ballots are expected to be counted tomorrow.)
In the attorney general primary, Brian Schwalb is poised to succeed D.C. Attorney General Karl Racine, defeating runner up Bruce Spiva by about 10 percent of the vote. Spiva conceded around 10:30 p.m Tuesday, congratulating Schwalb on his "apparent victory." Schwalb is currently the partner-in-charge of the D.C. office at Venable — where Racine also worked before taking office. Racine had endorsed Schwalb in the contest.
The Associated Press called the race for Bowser, 49, at around 8:30 p.m. when she jumped to an early lead with about 48,000 votes counted. By the end of the night, she'd won with 49.86% of the vote over Councilmember Robert White (D-At Large) at 38.51% and Councilmember Trayon White (D-Ward 8) at 9.8%. James Butler, a fourth and lesser-known challenger, recorded 1.47% of the vote.
Bowser's win shows the staying power of her political brand, one that has shirked any semblance of internal drama or infighting while carefully balancing moderate and progressive tendencies in her policymaking. And it deals a setback to the hopes of many of the city's progressives, who argued that the fiscal and physical growth Bowser had overseen in the city was not equally benefitting all residents.
Pro-Bowser voters at the polls and at the mayor's election watch party on Tuesday night touted her record during the pandemic and her more moderate approach to governance.
"She has done everything she was supposed to do during the pandemic," Ward 8 resident Jackie Ward told DCist/WAMU at the watch party. "As I tell people in Ward 8, their rent was paid. And I have associates in other states where the services weren't as good."
"I voted for Muriel Bowser because I think she did a lot of good work on Black Lives Matter and she really stood out for that. For me I'm progressive but middle of the road. I want sound economic management but I also care about pushing the progressive issues that are important to the District," said Staci Warden, a 56-year-old foundation CEO, outside a voting center on Tuesday.
Bowser had argued throughout the campaign that the impacts of the pandemic on the city's future trajectory required a seasoned leader, and that her two challengers may have had big ideas but no experience to actually implement them. She also hammered Robert White for his stances on hiring more police (he expressed skepticism, preferring instead to invest in violence interrupters and a jobs program) and schools (he said he opposed the existing system of mayoral control).
In the end, her arguments appeared to hold water with voters.
"[Voters] chose a future where every D.C. resident deserves to feel safe in their homes, and a future where the mayor can hire the best and the brightest police officers to help keep us safe," Bowser said in her impassioned victory speech. "Tonight we choose a future that represents our D.C. values ... Tonight we choose a future where we won't lose our Chocolate City, but we will invest in it, and we will continue to be a city for Black Washingtonians. "
Still, voters who opted for Robert White said they had concerns with Bowser's track record, especially after eight years.
"We have a current mayor now who claimed to be for 'old D.C.' as well as 'new D.C.', and the results speak for themselves," said A.J. Springer at Robert White's election night watch party. "A lot of folks that have lived here for a long time have found themselves pushed out of the city."
After conceding to Bowser, Robert White pledged to continue the "work," and build off the hope he says residents found in his campaign.
"The people who voted, they didn't vote for me, they voted for themselves, they voted for the future of this city," Robert White said. "They believe that we need to build a base of hope to build on, so what I say to them is: keep hoping. Because the work is still in front of us, regardless of what positions we're in, regardless of the outcome of this race."
Ward 8 Councilmember Trayon White conceded on Instagram Tuesday, thanking those who supported his campaign.
"This was one of the hardest things I ever did in my life," reads a post on Trayon White's Instagram. "I put my whole life on hold, but I am blessed and grateful. I really did this for The People."
A similar dynamic played out in the council chairperson's race, where Palmer, an Advisory Neighborhood Commissioner in Ward 4, argued that Mendelson's well-known incremental approach to legislating wasn't keeping pace with the challenges the city is facing. Some voters agreed with her.
"I think we just need a change. I heard a lot of complaints that the council is not moving quick enough on some things but also being too quick on other things, and I think it's time for an overhaul of the D.C. government," said Sarah, a Ward 4 voter who spoke with DCist/WAMU at a voting center but declined to share her last name.
But other residents said that Mendelson was a necessary check on the council's more progressive members, who voted last year to raise taxes on wealthy households and have been at odds with Mendelson over schools and homeless encampments.
"I think he's done a good job, very good at keeping the city's fiscal affairs in order," said Stan Veuger, a 40-year-old economist who lives in Ward 1. "I think he should be re-elected especially now that the council has gotten more lefty with multiple councilmembers who want to have permanent homeless encampments downtown, and that's not what I am looking for."
There were a number of Republicans who also won their primary races, and will square off against Democrats in November. They include Stacia Hall for mayor, Nate Derenge for D.C. Council Chair, Giuseppe Niosi for At-Large, David Krucoff for Ward 3, Clarence Lee for Ward 5, and Nelson Rimensnyder for D.C. delegate.
This story is from DCist.com, the local news site of WAMU.
Questions or comments about the story?
WAMU 88.5 values your feedback.