D.C. could take a piece of the criminal justice system back from feds
D.C. could take a piece of the criminal justice system back from feds
For decades now, the District of Columbia has been unable to make its own decisions around parole — that is, who gets released from prison on parole, and who gets put back in for violating it.
Instead, these calls are made by an opaque federal agency with no substantive connection to D.C. whose two commissioners hail from Maryland and Kentucky. They listen to arguments from parole hearings, and – often without attending the hearing themselves – they make their choice. Residents can't appeal their decisions.
The U.S. Parole Commission has wrought decades of harm on D.C. residents, especially Black D.C. residents, advocates contend. More than 10% of D.C. Jail residents are there for violations of parole or supervised release — and they often stay there for months as they await decisions from the U.S. Parole Commission about whether their sentences will be extended. Its commissioners aren't beholden to the District, whose elected officials endorse a more liberal approach to criminal justice that's increasingly open to second chances, especially for those convicted of crimes as young people.
Incarcerated and formerly incarcerated D.C. residents, lawyers and activists, the D.C. government, and even the U.S. Parole Commission itself have criticized this system of federal control. It's a rare instance where everyone involved seems to agree on a path forward: D.C. should regain local control over parole.
And yet, year after year, the city's government has been unable to make it happen, despite assurances that a solution was imminent. In 2020, D.C. Mayor Muriel Bowser said publicly that the city needed two more years to plan and prepare for the transition, setting the stage for a local parole system to appear by the end of 2022.
But in March of this year, city officials conceded that they would need Congress to extend its own control over the District's parole process until at least 2023 — the second time they requested an extension in two years. Deputy Mayor for Public Safety and Justice Chris Geldart said at a D.C. Council hearing that in order to "not be rushed," Bowser's administration would be asking for another year.
"The mayor wants to make sure if we do this, when we do this, it's done appropriately, and it's something that can be sustained and trusted," Geldart tells WAMU/DCist.
The repeated delays have frustrated advocates, who say they accelerated calls for the city to take action on replacing parole back in 2018, and spoke up about problems with the Parole Commission for decades before that.
"It just wasn't made a priority," says Olinda Moyd, who led the Public Defenders Service of D.C.'s parole division for decades and was part of a group of advocates who spent years asking D.C. officials to prioritize replacing the U.S. Parole Commission. Last year, Moyd was hired to advise Geldart on parole and start putting together the legislation and logistics necessary to move forward with a local replacement.
Internal emails obtained by DCist/WAMU show that around the time Moyd was brought on board, the Boswer administration was indeed ratcheting up its work, drafting legislation and scrambling to find office space.
But progress was too slow. And now, the city faces the prospect of instituting a local parole board at the exact time Congress could switch back into Republican hands, clouding the future even more: D.C. is not a state, so a GOP majority could hypothetically choose to reject any local parole solution the city puts forth.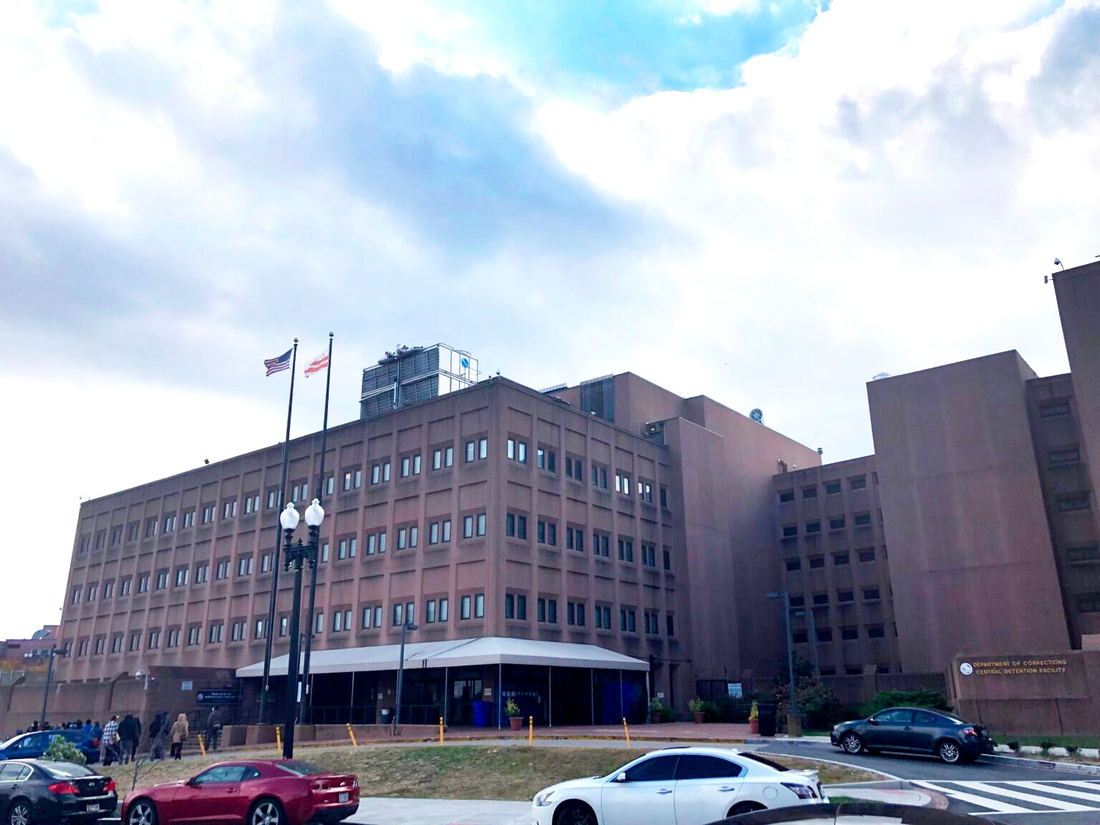 'I figured I was going to die in prison'
The U.S. Parole Commission took over responsibility for D.C. code offenders following a 1997 federal law that drastically altered D.C.'s criminal justice system. The Revitalization Act, a response to D.C.'s financial troubles at the time, gave the federal government vast authority over the District's incarcerated population: D.C. was obliged to close the prison it was running in Lorton, Virginia, and people convicted of crimes in the city started getting sent to federal prisons all over the country.
The law also abolished the D.C. Board of Parole, a local entity that once made decisions about residents' supervised release. The U.S. Parole Commission, which had been set to sunset its operations, was suddenly handed a large caseload of D.C. residents – today, the vast majority of the commission's cases are from the District.
The commission has the power to decide which D.C. residents are granted parole, which are denied, who has their parole revoked, and how long people released from prison on parole or supervised release should stay under supervision. Its decisions affect thousands of D.C. residents — including approximately 500 people who are currently serving parole-eligible sentences in the Bureau of Prisons, along with the nearly 2,000 residents who have been released on parole or are under supervision. (Since 2000, D.C. no longer hands out parole-eligible sentences, switching to a similar system called supervised release). According to the Department of Corrections, about 13% of people booked into the D.C. Jail last quarter were there because of alleged parole violations.
Community members, as well as the Public Defender Service, have resisted the Parole Commission's authority over the District from the start, Moyd says. But for many years, bureaucratic inertia has kept D.C. in limbo as residents are imprisoned by a federal entity.
Today, the bulk of the U.S. Parole Commission's work is making decisions about whether people who have been released from prison should be sent back to jail for violating the conditions of their release. Public defenders and other advocates say it's a pernicious system that jails people for things like missing a phone call from a probation officer or using marijuana — issues that would never land someone in jail if they weren't under supervision. Sometimes, they say, D.C. residents on supervision who are arrested for new crimes are left to languish in the D.C. Jail for months (or longer, during the pandemic) waiting on a hearing, even after their charges have been dropped.
"[The Public Defender Service] has seen revocations and detention for alleged violations such as fare evasion, marijuana use, and in instances where the USPC determines that an individual is not successful in mental and behavioral health treatment, thereby relegating people with mental illness to prison," the service wrote in an email to WAMU/DCist. "In most cases, rather than diverting people away from the criminal legal system, the USPC pulls them back in, prolonging sentences decades beyond the date of the offense."
A spokesperson for the U.S. Parole Commission pushed back against these claims, arguing that the agency has "worked diligently" to reduce the number of people it sends back to prison for violations of parole and supervised release — particularly for technical violations. In 2011, 750 people were in jail for alleged supervision violations, but as of June 15, 2022, the D.C. Department of Corrections had 96 people in custody for violations of parole and supervised release, the spokesperson says.
The USPC attributes that reduction over the past decade to its use of more "robust evidence based practices, especially for administrative violations ... especially for persons with substance abuse and/or mental health concerns."
But the incarcerated D.C. citizens seeking freedom through the U.S. Parole Commission criticize the agency's approach — and say they often don't understand the reasoning behind its parole decisions. Angelo Daniels, a D.C. resident who's been incarcerated for nearly three decades, was denied parole at his last hearing in 2020 and given a five-year "setoff," which means he won't be eligible to go before the parole commission again until 2025. Both of the co-defendants in his case (including the principal defendant, or the person the government determined most responsible for the crime) have already been paroled and released from prison.
"D.C. should be in control of its citizen[s] and not the federal government," Daniels told DCist/WAMU from a U.S. penitentiary in Pollock, La. "D.C. code offenders are getting a bad hand served to them under the USPC and doing more time than expected and what the guidelines called for."
Robert Davis, the principal defendant in Daniels' case and a reentry advocate at University Legal Services, says the decision-making system feels arbitrary – he doesn't understand, for example, why he was released on parole while Daniels remains imprisoned.
"I'll scream it from the mountaintops: I was the principal [defendant]," Davis says.
James Dunn, who now works with the D.C. Office of the Attorney General on violence interruption and restorative justice programs, shares Daniels' critiques of its methods. He was incarcerated for 29 years and faced the U.S. Parole Commission three times.
After his first parole hearing, a hearing examiner with the USPC noted Dunn's clean disciplinary record and participation in educational programs and recommended him for parole, he says. Dunn thought that meant he was going home.
"My family was excited, especially my mom," Dunn says. "They started making preparations."
But even though the person who conducted his hearing recommended him for parole, the USPC decided in the end to deny him. And instead of the typical one-year setoff – which allows a person to have another parole hearing a year later – Dunn was given a three-year setoff.
"It was just devastating," Dunn says. "I was on the brink of insanity."
And then it happened again – twice. The parole commission cited the nature of his crime as the reason for these denials, an action Dunn says he couldn't undo, but was trying to atone for through his conduct during decades of incarceration.
"I figured I was going to die in prison," Dunn says.
The U.S. Parole Commission says it deviates from the hearing examiner's recommendations no more than 15% of the time, which it calls "industry standard."
Eventually, Dunn was released through the Incarceration Reduction Amendment Act, a law passed by the D.C. Council that allows people who were convicted of serious crimes when they were teenagers a chance to be released early.
A series of steps forward – and a series of delays
Advocates have been pushing the city government for change for years. In 2017, Moyd and Tammy Seltzer, who directs the DC Jail and Prisoner Advocacy Project at Disability Rights DC at University Legal Services, helped form a committee with the goal of pushing the D.C. Council and the mayor to take back local control over parole. They held several town hall-style meetings in neighborhoods across the city to hear from residents about their experiences with parole.
"We went to different quadrants of the city and had opportunities for folks to talk about parole, what it should look like," Moyd says. "People got up and told their stories of how they were impacted by the U.S. Parole Commission ... Mothers were trying to contact the parole commission to find out the status of their loved one's case and couldn't get through to anybody. People who had been through the process ... just didn't understand what had happened to them and why they needed to serve more time in prison."
In 2018, the group briefed the D.C. Council on local control of parole, and urged the body to get moving on replacing the parole commission with a local entity by a looming 2020 deadline. They even met with then-Deputy Mayor for Public Safety and Justice Kevin Donahue in 2019, according to Seltzer and Moyd. (A spokesperson for the Deputy Mayor's office did not respond to a request from DCist/WAMU to confirm that this meeting occurred.)
"The administration has had a long time to think about this and work on this issue," Seltzer says.
Meanwhile, the chairperson of the U.S. Parole Commission herself also wrote about the need to wind down the agency's operations. "It is seemingly inappropriate to have a federal agency with a national focus exerting control over local Washington, DC cases," wrote Patricia K. Cushwa in a letter to Congress in 2019.
That same year, the District also funded and commissioned a report from the Justice Policy Institute on the path forward for parole. It laid out several options for replacing the parole board, including standing up a new local parole entity, transferring parole decisions to D.C. Superior Court, or instituting a hybrid model where the courts handled some decision-making around early release and a parole board handled other decisions. But the report's authors wrote that no matter which path the District chose, it needed to begin gathering community input soon.
"This public conversation should begin immediately, given that the USPC's authorization is set to expire on October 31, 2020. Regardless of which option is selected, significant work lies ahead," they wrote.
D.C. did not meet the 2020 deadline, and the U.S. Parole Commission's authority was extended another two years, to 2022. In a letter to D.C.'s congressional delegate, Eleanor Homes Norton, Bowser said the city would use those two years to stand up a new local parole system.
Marc Schindler, the Executive Director of the Justice Policy Institute, says it's understandable that efforts to retake local control may have been put on the back burner in 2020.
"I think it was understandable that when COVID hit in March 2020 that this process was not the most pressing concern at that moment," Schindler says. "Based on my understanding and conversations at that time with city leaders just prior to COVID, there was a very strong interest and intention to move forward."
But, Schindler says, "there needed to be a returned sense of urgency sooner than what occurred."
It wasn't until last year that the Bowser administration started taking concrete steps towards local control of parole. Geldart told DCist/WAMU in an interview that he began putting together a team to come up with the city's plan for taking back control over parole shortly after he assumed his current position in January 2021. At that time, the Parole Commission was still scheduled to have its authority expire in the fall of 2022.
Internal emails obtained by DCist/WAMU indicate that Geldart's office was eager to get the task accomplished.
"We believe that returning parole authority to local control is the right thing for DC residents and we're eager to make that happen," Lindsey Appiah, Geldart's chief of staff, wrote in an emailed dated September 13, 2021 and addressed to Mannone Butler, who led the city's Criminal Justice Coordinating Council. "It's a heavy lift and we don't have much time but we'll make it happen (you know me, Mannone, I'm about that get things done life)."
Still, standing up an entire local agency in a year's time was an enormous task. Geldart didn't answer questions about what the Bowser administration accomplished on parole before he assumed his position, or why the city didn't appear to make much concrete progress before 2021. He said he "couldn't speculate as to folks that have done the job before me, all of which I've worked for and respect very highly."
In internal documents leading up to his testimony at a D.C. Council roundtable on the future of parole last May, Geldart's staff prepared him for certain tough questions from lawmakers. One of those anticipated questions was, "Why has the mayor not made any movements since writing Rep. Norton in July 2020?"
In addition to noting that the city had been dealing with "two public health emergencies," Geldart's staffers advised him to say that "The Executive has never wavered in its support for the Parole Board; we are being thoughtful in how we approach it. There may only be one bite at this apple, and we want to make sure we present a strong plan moving forward, to our residents, and to our federal partners."
By August 2021, it seemed clear that D.C. hadn't made significant progress on the project.
"Consistent with my own push for statehood, of course I was gung ho about giving this authority back to the District," D.C. Delegate Eleanor Holmes Norton told the Washington Post last summer. "But the District has taken no action to prepare for this reversion."
Still, a senior Bowser advisor told the outlet at the time that D.C. wouldn't need an extension past the 2022 deadline.
Moyd and Michelle Bonner, another experienced attorney, joined the city's efforts in late summer, and internal notes and emails show that progress accelerated after their arrival. After a kickoff meeting with members of Geldart's team and Bowser's office in October, Moyd and Bonner helped draft potential legislation and memos for Bowser's office. The work got quite detailed: Geldart's staffers sought advice from other agencies about how to set up the parole authority's human resources apparatus and what types of benefits its employees should receive. They even made a plan for securing temporary office space.
But the emails obtained by DCist/WAMU indicate that by February, the city's Executive Branch still had not made key decisions about how the parole board would be structured. Some advocates and experts have proposed creating a new parole board with representation from formerly incarcerated people, while others – including, notably, the Public Defender Service – have argued that the city should leave parole decisions to judges in D.C. Superior Court. (The court, for its part, has opposed this model, arguing it doesn't have the capacity for more responsibility).
Ahead of a February 16 meeting of the city's Criminal Justice Coordinating Council — which includes local law enforcement leaders, D.C. government agency heads, councilmembers, representatives from the courts, and the Public Defender Service — representatives from Geldart and Bowser's offices made a plan not to reveal that Bowser was still making key decisions about how local parole would work, according to meeting notes obtained by DCist/WAMU.
"I don't think we are going to say this specific decision is in the mayor's inbox," the notes read. Then, according to the notes, Betsy Cavendish with Bowser's office of general counsel said, "agree, be vague about which decisions are on whose desks when we communicate with the public."
"Can say we are excited, but don't get out in front of your skis with the mayor," the notes go on.
By April of this year, hope seemed to be fading within Geldart's office that the city could meet its November 2022 deadline, especially after negotiations for an office space fell through in the absence of concrete legislation on local parole, per internal documents.
"I would like to think we can hold out some hope to get the agency into its permanent space by August 2023 even if we don't start until November 2022 (really hoping we could get this passed by then but no guarantee), but that would be a very aggressive timeline," Geldart's senior policy advisor Meagan Reed wrote in an April email.
But Reed also acknowledged in an email sent that same day that the timeline for setting up the parole board would "likely get extended."
Progress in Geldart's office was also derailed in part by disagreements regarding a consulting agency Geldart hired last year called the Center for Naval Analyses, or CNA, which was meant to handle project management tasks related to setting up a new, local system for parole. Moyd and Bonner halted their work with the city after they couldn't come to terms on how to work with CNA. Geldart also drew criticism about the consulting firm from advocates, who said they couldn't understand the decision to hire a national firm with no ties to D.C. Echoing the concerns of advocates, Ward 6 Councilmember Charles Allen, who chairs the committee on judiciary and public safety, sent Geldart a letter earlier this week asking for more information about CNA's work on parole.
Geldart, for his part, argues CNA was hired for purely administrative and project management tasks.
In a recent interview with DCist/WAMU, Geldart said that "even though we were making very good progress throughout the year," it became clear that they needed to push the deadline back "to be responsible and to do this appropriately, and to make sure we have a good process."
As for the U.S. Parole Commission's preparations to transfer authority, a spokesperson says the agency is not currently planning the transfer to the District because it hasn't seen enough legislative movement yet.
"With no active legislation under consideration for the transfer of authority, the Commission is not in the planning process at this time," they wrote.
The agency says it has, however, been receiving and responding to inquiries from the D.C. government.
"The Commission has fielded several requests from the D.C. Government for information about its population, systems and practices for District of Columbia residents in prison and on supervision. It has been cooperative with answering these questions," wrote the spokesperson. And, they added, "The U.S. Parole Commission will cooperate with implementing any transition if legislation is passed that requires a transfer of authority."
Councilmember Allen told DCist/WAMU he's been frustrated that the Bowser administration "[has] yet to put forward the funding necessary and the vision to be able to take these [parole] activities back."
"As the Executive Branch, they have to run the thing. They have to be able to operationalize this. [And] they have yet to put forward a plan," Allen added. In the interim, Allen said, the Council has passed legislation like the Incarceration Reduction Amendment Act, Second Look Act, and alterations to compassionate release laws to act as "workarounds" that have allowed incarcerated D.C. residents to seek release outside of the parole commission, by petitioning for their release through the courts.
"We need more urgency," said Allen. "We're talking about people's lives."
Asked how confident he is that D.C. could replace the parole commission by the end of next year, Geldart said, "you know, I am always optimistic on it ... my goal is to do the best I can to get this done in the time frame, realizing that I am not the only one in this and there are a lot of folks that own this as well."
But Seltzer says her trust in the process has waned — and she says "it's just devastating to returning citizens and their loved ones to have to wait yet another year."
"I have less confidence now than I did four years ago when we started this process," she says. "They've had years to do this. They're only rushed because they weren't preparing or committed to parole reform until now. Maybe they are committed now, but I'll believe it when I see it."
This story is from DCist.com, the local news site of WAMU.
Questions or comments about the story?
WAMU 88.5 values your feedback.