D.C. Council creates office to support migrants bused from border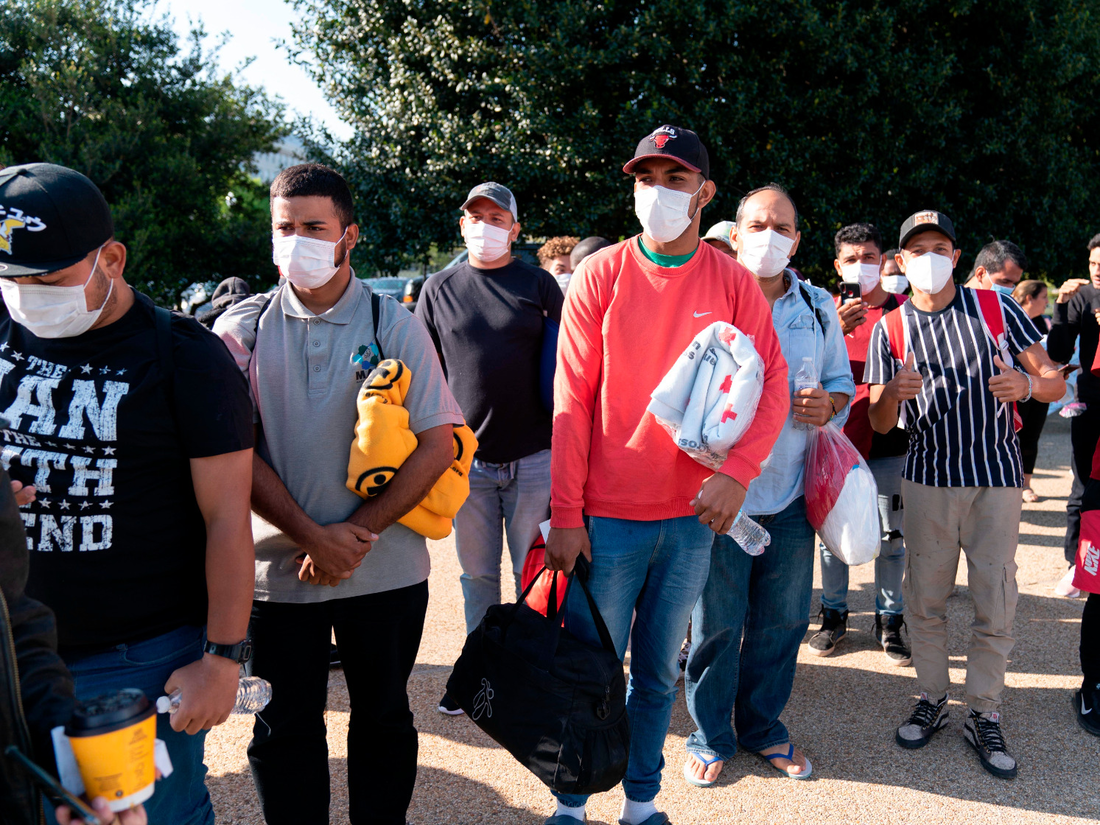 The D.C. Council passed emergency legislation on Tuesday that creates a new government office to provide temporary services to migrants who crossed the U.S.-Mexico border and were then bused to the nation's capital. The vote was near unanimous, but only after contentious debate.
Advocates for both migrants and unhoused residents say the bill segments services and ultimately restricts migrants from accessing D.C.'s homeless services system, while lawmakers argue the division is necessary because the needs among the populations are distinct and the system could easily become overwhelmed. An amendment to include protections for migrants that are guaranteed to other unhoused residents failed.
The bill now goes to Mayor Muriel Bowser, whose office drafted the legislation. "D.C. is not a border town, but we will not stand by and let the actions of those trying to create instability for people seeking a better way of life," Bowser said in a statement. "With the establishment of the Office of Migrant Services, we stay true to our D.C. values by creating a framework for providing support to individuals and families while ensuring our homeless services systems continue to support our D.C. residents."
D.C. has struggled to receive the thousands of migrants who've been sent to the nation's capital since the spring by Republican governors protesting President Joe Biden's immigration policies. Bowser and other local leaders have condemned Texas Gov. Greg Abbott and Arizona Gov. Doug Ducey for using migrants as pawns in their political messaging. But some local groups welcoming migrants have criticized the D.C. government for initially punting responsibility to the federal government and not adequately supporting migrants here to seek asylum, particularly if they decide to stay local. Groups warned their infrastructure of welcoming people was unsustainable.
The bill marks the first legislative response to the busing, which started in April. Nearly 11,000 people, largely from Venezuela, have been bused to D.C. over the last five to six months, according to multiple reports. Bowser has called the influx of migrants to the city a "humanitarian crisis." While lawmakers and advocates agree migrants need tailored services, the bill to create the Office of Migrant Services has not been without controversy. Introduced by Chairman Phil Mendelson at the request of the mayor, the bill creates a new office within the Department of Human Services that would streamline temporary services to migrants.
But the bill also made migrants ineligible for traditional homeless services and protections afforded under the Homeless Services Reform Act. The Act ensures residents experiencing homelessness have protections, including the ability to appeal a denial or termination of service, for example. While D.C. has no legal right to shelter like New York City (other than during severe weather), the law provides residents some rights in homeless shelters, including requiring written notice to vacate.
The bill effectively makes the following groups ineligible, because they will no longer be considered D.C. residents: People who are en route to meet a family member of sponsor outside of D.C.; people waiting to report to an immigration office, interview, or proceeding outside of D.C.; and people paroled into the U.S. after Jan. 2022 with limited exceptions. Already, the D.C. government has treated unhoused migrants differently than other unhoused groups, placing families in hotels instead of the city's seven family shelters when they visit the central intake center for enrollment.
The mayor's bill seemed poised to pass ahead of the Tuesday vote, garnering the support of Mendelson and Councilmember Brianne Nadeau (D-Ward 1), who oversees DHS. On WAMU's The Politics Hour last week, Nadeau explained her support: "Really what we are trying to do is set up services that work for the people coming, rather than try to push them into a system that's not designed for them. Think about it this way: If you are a case worker at DHS, your job is to serve homeless families, you probably know nothing about the humanitarian parole system or asylum."
Nadeau did introduce an amendment that would give the Council more oversight into the executive's actions. She also said at the legislative meeting on Tuesday that she plans to shepherd permanent legislation through her committee, with a hearing scheduled for late October.
More than three dozen local immigrant and homeless advocacy groups — including Ayuda, Washington Legal Clinic for the Homeless, and Bread For the City — called on the Council to vote No on the bill, because it would restrict migrants from accessing the city's homeless continuum of care programs, which includes long-term services.
"We understand that this humanitarian crisis before us was created to make a political point in a progressive city — that immigrants are a drain on resources and are somehow taking away jobs or assistance from U.S. citizens," the letter says. "We reject this and ask that you not pass legislation that feeds into this narrative by excluding recent immigrants from D.C. resources and services."
In an interview with DCist/WAMU ahead of the vote, DHS Director Laura Green Zeilinger emphasized that the bill "is not about keeping people out of the homeless system. It is about creating a set of services to meet the distinct needs of people." She went on to explain the existing system is not equipped to adequately respond to the needs of migrants, who are not legally allowed to work and are navigating complex federal immigration law.
Zeilinger also said the city's homeless shelters would not start asking about immigration status if the bill passed. "But what we do hope is that fewer people will default to the homeless services system because there are not adequate services to meet them."
Amber Harding of the Washington Legal Clinic for the Homeless pushed back on that, tweeting "there is intent and there is what the law says." The bill as drafted indicates that migrants who are eligible to receive services from the Migrant Office will be ineligible for shelter, implying that immigration status is a factor in assessing whether someone can receive protections under the Homeless Services Reform Act.
Those advocacy groups ultimately found an ally in Councilmember Brooke Pinto (D-Ward 2), who introduced an amendment to strike language that says those awaiting an immigration hearing are ineligible for Homeless Services Reform Act services and protections. The amendment noted that D.C. has no immigration courts, therefore any immigrant residing in D.C. would technically be ineligible for benefits. The amendment clarified that those en route to a destination outside D.C. are not protected by Homeless Services Reform Act, but would receive services from the new office. Her amendment also offered migrants served by the new office some protections, including prioritizing families for non-congregate shelter.
"This office will allow our city to get folks connected to services," Pinto said at the meeting. "However, [the way the] emergency bill is currently structured does not meet our standards for dignity and safety."
CM Pinto is introducing an amendment that would remove the provisions barring migrants from accessing services.

We urge every member of @councilofdc to vote in favor of the amendment to make sure this bill better supports migrants and asylum seekers in DChttps://t.co/F1FDFxYqPn

— Metro DC DSA (@mdc_dsa) September 20, 2022
Pinto's amendment ultimately failed, with only councilmembers Elissa Silverman (I-At Large), Janeese Lewis George (D-Ward 4), and Vince Gray (D-Ward 7) supporting it. Nadeau encouraged her colleagues to vote against the amendment because it was added at the last minute. She also said she would consider the amendments for the permanent legislation.
"I just want to clarify, because I know people here are very caring and want to ensure that we are creating services for everybody who needs them," Nadeau said right before the vote. "We are very much trying to stand up a humane response here. So I just want to clarify that because having having a specialized set of services is not the same thing as excluding people."
Some lawmakers stressed the importance of immediately passing legislation, given the delay in government response, and said they wanted to present a united front in the face of GOP stunts. Lawmakers thanked groups including The Migrant Solidarity Mutual Aid Network for welcoming migrants over the summer, and near unanimously passed the mayor's bill as amended by Nadeau. Lewis George voted present because she believed the bill didn't strike the right balance.
Bowser announced her intention to create an Office of Migrant Services earlier this month when she declared an emergency over the influx of migrants. Groups who had been welcoming and supporting migrants at Union Station for months welcomed the news. The Migrant Solidarity Mutual Aid Network was among the groups cautiously optimistic, but emphasized the need for the D.C. government to service the 10% to 15% of migrants looking to resettle here. The emergency legislation that the mayor's team circulated last week and requested the Council pass, instead, focuses on addressing immediate needs. The network ultimately called on lawmakers to vote No on the version of the bill that passed.
The new office will administer "time-limited" services including "welcome and other reception services," "food, clothing, and other necessities," "temporary shelter," "medical services," "relocation services," "cash assistance," and "social and legal services and referrals." The office would mirror the response of SAMU, a nonprofit that receives federal dollars to offer temporary services to migrants.
This story originally appeared on DCist.com.
Questions or comments about the story?
WAMU 88.5 values your feedback.