How To Avoid Plastic Grocery Bags During Illinois' Reusable Bag Ban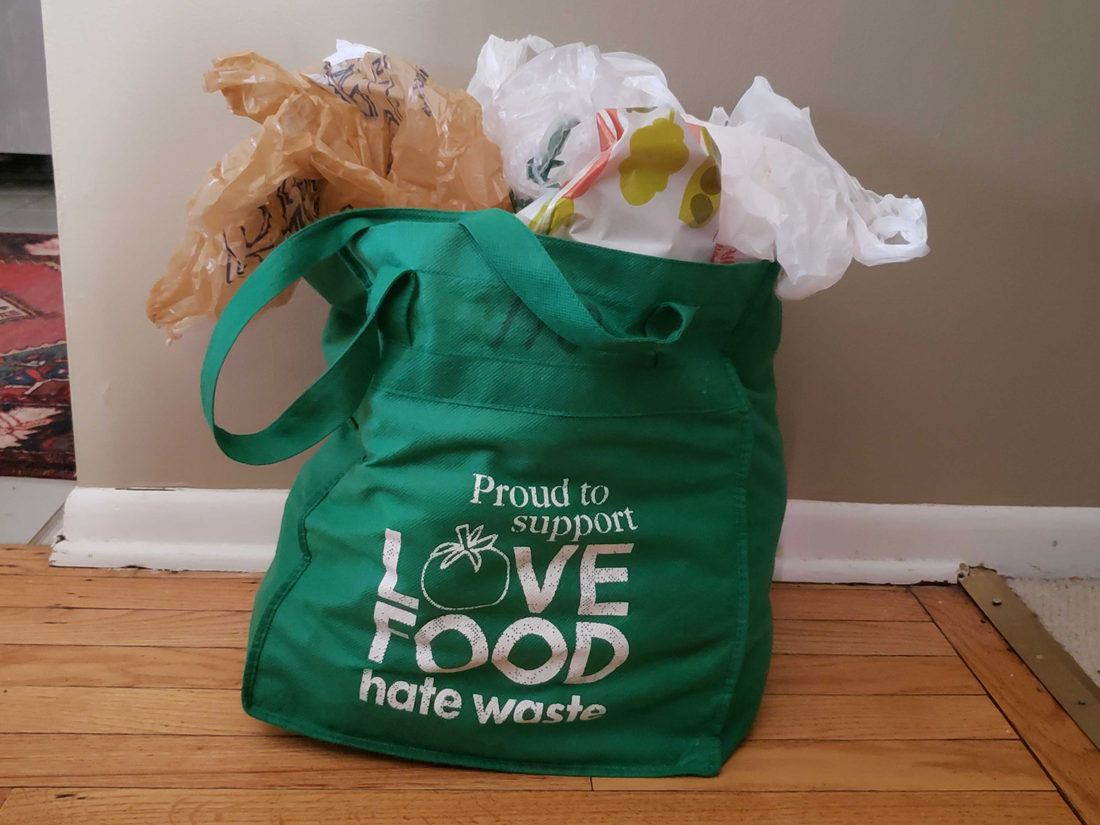 Illinois shoppers have been accumulating piles of plastic grocery bags — and paying more in bag taxes — following Gov. JB Pritizker's executive order that requires stores to "discontinue the use of reusable bags" during the COVID-19 pandemic.
But WBEZ has learned the order may not be as restrictive as it appears, and there are some easy strategies that environmentally conscious shoppers can use to avoid the plastic and keep packing their groceries in reusables.
The quasi-ban started in March as a suggestion to stores to keep staffers and customers safe from potential coronavirus contamination, which some feared could be easily transmitted on surfaces. But by late April, the suggestion became a requirement in a state executive order.
Pritzker extended the ban last week in a new executive order, which disappointed some environmental advocates because of the added plastic waste. They also cited growing science, which downplays the role surfaces play in coronavirus transmission.
"It saddens me that there have been these sweeping restrictions on reusable bags because it doesn't have to be that way," said Jordan Parker, executive director of Bring Your Bag Chicago, an environmental group that helped spearhead the plastic bag tax in Chicago. "You can absolutely use them safely."
Jennifer Walling, executive director of the Illinois Environmental Council, concurs.
"The Governor's approach to safely reopening has been wisely based on the wisdom of scientists and public health officials, and his policy regarding reusable bags should be no different," she said in a statement. "Repeated scientific studies have shown that clean, reusable containers do not spread the virus. Worker safety is of the utmost importance and the Department of Public Health should focus on giving both workers and consumers safe, sustainable options, like self-bagging with reusable bags at a distance or outside of stores."
When asked about the aims of the ban, Pritzker's office sent a statement noting the requirements have been in place more than two months, during which time the state has seen improvements in COVID-19 cases.
"As the state has moved through the Restore Illinois phases the medical experts have guided the reopening procedures and it's working. Illinois is leading the nation in flattening the curve and is an example for other states in how to balance reopening with health and safety at the forefront. While other states are seeing increasing cases and new outbreaks that's not the case in Illinois."
Both Parker and Walling applaud Pritzker's response to the coronavirus pandemic and believe grocery workers deserve protection. But they wonder if the executive order's vague wording is confusing some retailers and shoppers who still don't understand their options.
This confusion is reflected in the various executions of the executive order at stores across the city. Some display signs warning shoppers not to bring in reusable bags. Others let customers use the bags at self-checkout stations or when they pack their own groceries. And still others allow customers to return their items to their cart after purchase and pack their bags outside the store in the parking lot.
The debate over packing your own bags
The biggest difference in interpretations appears to be whether or not customers should be allowed to pack their own bags inside or outside the store.
But, when asked by WBEZ, both Pritzker's office and the Department of Commerce and Economic Opportunity agreed that the executive order was never meant to prevent shoppers from packing their own bags in the store.
Still, Pritzker spokeswoman Jordan Abudayyeh added, "Stores are able to make their own rules based on what they feel is best for their workers and customers."
It was concern for grocery staffers, represented by United Food and Commercial Workers at local Jewel and Mariano's, that originally triggered the reusable bag restrictions. The UFCW Local 881 pushed the measure to protect cashiers and baggers from having to touch reusable bags, said Zach Koutsky, spokesman for Local 881.
But Koutsky said Local 881 also wants to prohibit customers from bagging their own groceries in the store because it puts the customer "into closer contact with our [union] members and puts them in danger."
When asked when the union might support relaxing the ban, he said, "The ban of reusable bags in our stores still stands. The hazard of COVID-19 hasn't abated and therefore our approach to member safety hasn't either."
However, the UFCW national headquarters has a different view on reusable bags expressed in this statement to WBEZ.
"UFCW has not called for a ban on reusable bags. The union is encouraging customers to bag their own groceries and follow all CDC-recommended guidelines, including wearing a mask and maintaining social distancing in stores, to keep themselves and their fellow shoppers safe."
Still, most stores appear to be allowing folks to bag their own groceries in the store — even when their official policies technically forbid it.
The best workarounds
Despite the varied patchwork of opinions and interpretations of the executive order, the fact remains that shoppers may have more options than they thought. Those who don't want to pay for and accumulate more piles of plastic in their homes can try these workarounds developed by Parker and Walling.
Use self-checkout where customers are expected to bag their own groceries anyway. Just make sure your bag is nice and clean.
At stores that don't allow customers to bag their own groceries, like Jewel, Trader Joe's and Mariano's, customers can ask that all groceries be placed back in their cart, then leave the store and bag them with reusables outside.
Don't assume you can't bring your own bags. Instead, ask by phone or at customer service if they allow self-packing at the register (many do). And if they do, try to be as quick as possible to avoid slowing the line.
Bag policies at Chicago's biggest chains
Pete's Fresh Market: Customers can pack their own bags in the checkout line.
Pete's Fresh Market spokesman Kristopher Murdock said, "At this time, we are allowing the use of reusable shopping bags in our stores, we are just asking that the customers bag their own groceries. We posted this on our Facebook and Instagram pages on May 21. We also have size restrictions on reusable bags in three stores because of high theft."
Murdock said customers are welcome to bag inside the store.
"They can do it in the store, just like the bagger would do at the end of the register bay. I've gotten quite good at it myself. Lol."
Whole Foods: Customers can pack their own bags in the checkout line.
A Whole Foods spokesman told WBEZ, "In municipalities that allow them, we are requiring that customers who choose to use reusable bags to handle bagging their own groceries — and they can do it at the checkout station."
Mariano's: Customers can pack their own bags outside the store.
"It is our understanding that reusable bags are still prohibited," said Mariano's spokeswoman Amanda Puck. "So customers can pack them outside the store if they wish."
Jewel-Osco: Customers can pack their own bags outside the store.
Jewel-Osco spokeswoman Mary Frances Trucco said, "Customers may bag their own groceries outside of the store but not inside."
Trader Joe's: Customers can pack their own bags outside the store.
Trader Joe's spokeswoman Kenya Friend-Daniel said, "We will gladly pack [customers'] groceries back in their basket [or cart], but we ask that customers repack them in their reusable bags outside."
Aldi: Customers can pack their own reusable bags outside the store.
"The state of Illinois has not specifically exempted ALDI from this executive order. As such, ALDI customers are welcome to purchase bags at checkout, repurpose empty cardboard display boxes from inside the store or take their groceries directly to their car and put them in their own containers there," according to ALDI Batavia division Vice President Laura Branneman.
Tony's Fresh Market: Policy unclear.
Tony's corporate office did not respond to repeated requests for an official policy, but customer service agents at individual stores said shoppers have been allowed to pack their own reusable bags.
Monica Eng is a WBEZ reporter. Contact her at meng@wbez.org.
Questions or comments about the story?
WBEZ values your feedback.