The Paleo-Diet: Not The Way To A Healthy Future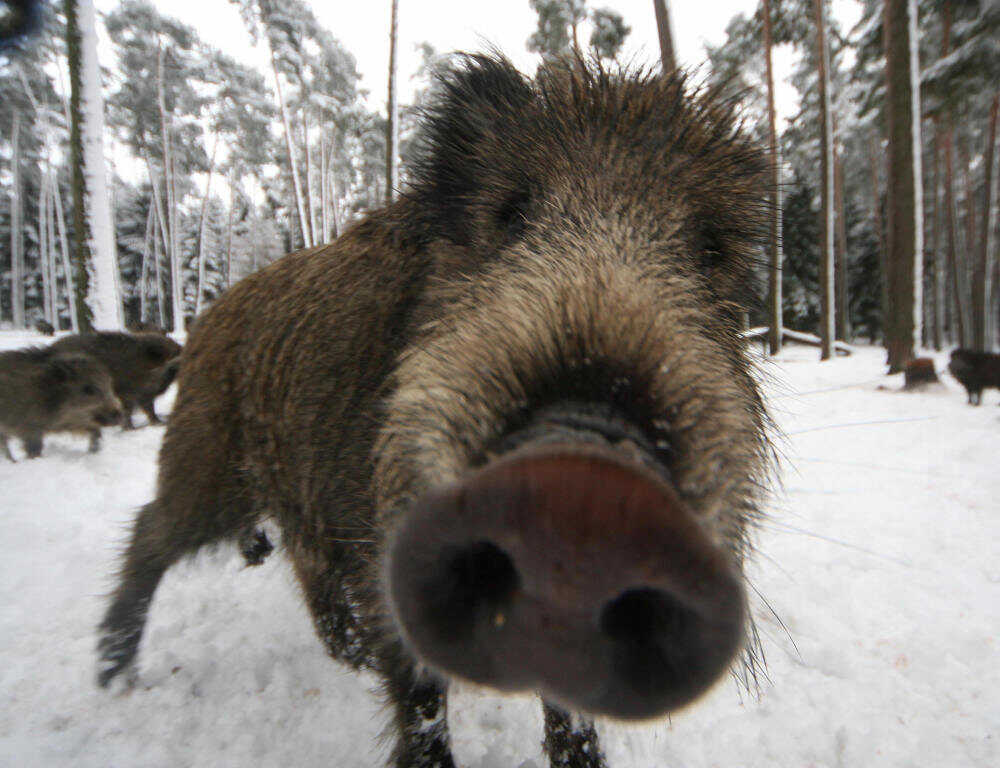 A wild boar near Allersberg, Bavaria.
Timm Schamberger/AFP/Getty Images
In a few days, the world's population will reach 7 billion. Only a tiny fraction of this number still makes a living by hunting and gathering, the way all our ancestors did before about 12,000 years ago.
According to a set of claims relentlessly pushed in some books and blogs, as many modern humans as possible should adopt a hunter-gatherer diet. That is, we should eat lean meat and vegetables because our Paleolithic hunting-and-gathering ancestors did. At the same time, we should refuse dairy, grains and sugars because our hunting-and-gathering ancestors didn't eat these items.
You might think that, as an anthropologist, I'd greet this embrace of the human prehistoric past with unalloyed delight, especially in a country where a high percentage of our population is evolution-averse. Like most anthropologists, though, I don't think there's good science behind these claims
It's best to clarify right off that leaders of the paleo-diet movement don't think monolithically. Lean meat and veggies take center stage, but the emphasis may vary in details such as how much seafood to eat. A look at the current issue of Paleo — a magazine devoted to "modern primal living" — indicates that, in addition to food, paleo-faddists think hard about exercise and lifestyle choices.
Some of them, in fact, take a paleo-lifestyle to startling lengths. In profiling this "modern-day Stone Age subculture" and its leaders, Arthur de Vany and Loren Cordain, the German magazine Der Spiegel interviews disciples who run through the undergrowth and eat wild boar in explicit emulation of their Paleolithic forebears.
When I've interacted online with paleo-diet fans, though, I've found the great majority to be measured and thoughtful. With them, I worried aloud about the consequences of urging even more carnivory than we've already got. Largely, but not 100 percent, a vegetarian, I don't tell others what to eat. But the paleo-movement seems to doom (even if unintentionally) more animals to life and death in factory farms. A greater percentage of grain crops would also be diverted to rich countries' animals and away from poor countries' people.
What I learned is that some paleo-dieters reject the eating of animals from factory farms. Some don't eat much meat at all, focusing instead on avoiding grains and sugary foods. So no one should dismiss these people as blind fanatics. But do their core beliefs accord with good science?
Many nutrition scientists give the paleo-diet a thumbs-down. They worry about its dearth of carbohydrates, its cost, its impracticality, and the fact that its boasts for good health are medically unproven. For my part, I'll focus on the paleo-anthropology.
Our ancestors began to eat meat in large quantities around 2 million years ago, when the first Homo forms began regular use of stone tool technology. Before that, the diet of australopithecines and their relatives was overwhelmingly plant-based, judging from clues in teeth and bones. I could argue that the more genuine "paleo" diet was vegetarian.
More worrisome are persistent attempts to match a modern diet to an "average" Paleolithic one, or Loren Cordain's insistence that "we were genetically designed to eat lean meat and fish and other foods that made up the diet of our Paleolithic ancestors."
Here's where science most forcefully speaks back. First, ancient hunter-gatherer groups adapted to local environments that were regionally and seasonally variable — for instance, coastal or inland, game-saturated or grain-abundant (eating grains was not necessarily incompatible with hunter-gatherer living). Second, genes were not in control. People learned what worked in local context for survival and reproduction, and surely, just as in other primates, cultural traditions began to play a role in who ate what.
In short, there was no single hunter-gatherer foraging strategy, and genes no more "designed" our eating behavior than they designed our language or our ways of relating between the genders.
I'm left wondering what's the payoff to be had for pushing a popular diet as rooted in a mythically homogeneous, predictable human past. The lure of a good story may play a role. It's a mighty powerful image: our ancestors roaming over the landscape, perfectly in tune with their bodies and the environment. Some of my anthropologist colleagues refer to this pining for a pristine past as a paleo-fantasy.
It's not paleo-fantasy that's going to help us negotiate a healthy future, the 7 billion of us together, on this environmentally-endangered planet.
---
Barbara J. King is a biological anthropologist at the College of William and Mary in Virginia, the writer of non-fiction science books, most recently Being With Animals, a contributor to 13.7 and a Twitter addict.