Merging Career And Motherhood, In Simultaneous Practice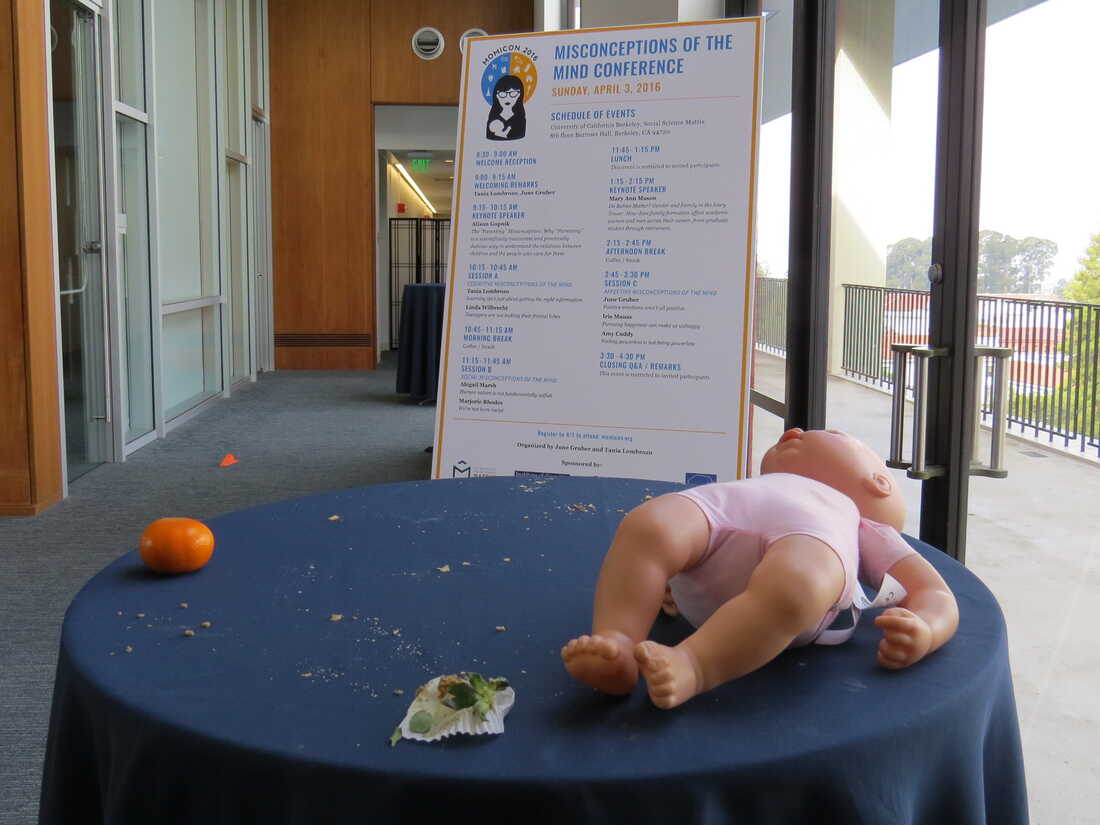 A few years ago, I received an early career award at the annual meeting of a professional society.
Before the awards ceremony, the other recipients and I were herded together, placed in adjacent seats, and told to wait for the event to begin. The five or six of us had a lot in common. Though we worked in different areas of psychology, we were at similar career stages and had overlapping interests.
But we didn't spend our time together talking about science or ideas — the work that had won us the awards we were there to receive. What we talked about was childcare.
One woman was away from her young twins for the first time. The twins were at home in Europe, and arranging for their care while she was away had been a major ordeal. Another had a complicated arrangement with a nanny that allowed him to travel for a few days at a time. In my own case, I'd managed to attend the conference by bringing along my nursing 18-month-old, and also my parents to watch her while I attended the events.
These stories aren't unusual for parents trying to juggle the competing demands of caregiving and professional advancement. For academics, traveling to conferences or to other universities is an opportunity to disseminate one's research, to catch up on the latest developments, and to establish or maintain collaborations. A lot of this travel is optional in the sense that one can skip conferences or decline speaking invitations, but these decisions come with professional costs.
The upshot is that those involved in caregiving — mothers, fathers, and others — face some serious challenges participating in important aspects of academic life. Yet, some of the hurdles are pretty easy to fix. Space for lactation doesn't need to be fancy — it just needs to be private and clean. Attending a talk with a sleeping newborn needn't be regarded as "unprofessional." And offering on-site childcare could be the norm, not the exception.
To see how far we could get with small fixes — improving the aspects of academic conferences that are pretty easy to change — I organized an experimental conference along with June Gruber, an assistant professor of psychology at the University of Colorado Boulder (and a fellow academic mom). The conference, held at the University of California Berkeley earlier this month, brought together an outstanding group of speakers using the latest psychological work to challenge misconceptions about the mind — from the idea that pursuing happiness is a good way to achieve it, to the idea that babies are born racist. We called the conference the Misconceptions of the Mind Conference: MoMiCon 2016. And we didn't just invite the mommies: We invited the babies.
Saray Ayala and Nadya Vasilyeva/MoMiCon
The vision for the conference was simple. What would it take to make a conference easier for mothers with young children to attend?
We didn't start too early (9 a.m.), and we didn't end too late (4:30 p.m.). We built in breaks for nursing or pumping. We chose a stroller-accessible location, and — with a little creativity and some temporary curtains — we were able to turn a glass-walled office into a comfortable lactation space. We showed lactating mothers where they could find the fridge in the kitchen to store pumped milk. We cleared some nearby office space so caregivers and children would have somewhere to play, and we populated it with puzzles and building blocks and crafts supplies. Our opening reception and the lunch break were open to children and their caregivers. While mothers attended the opening keynote address, their children could participate in a music class we offered down the hall. And we filmed all the presentations for those unable to attend; they are available to the public at MoMiCon.org.
The event was a success.
Yes, there was a moment when you could hear a baby crying down the hall during the first keynote presentation. And there was a moment, a couple of hours later, when my own 5-year-old escaped from her father and plastered her face against the glass door to the conference room, curious to see what so occupied her mother's attention. But these distractions while attempting to achieving the conference's dual aims — accommodating mothers, on the one hand, and engaging in cutting-edge scientific dialogue, on the other — were minor compared to the conflict most women feel in reconciling the two corresponding parts of their identities: as mothers and as academics. The responses to these episodes were smiles.
Saray Ayala and Nadya Vasilyeva/MoMiCon
In an ideal world, we also would have provided high-quality, on-site childcare, not only for speakers, but also for attendees. We would have covered the travel costs not only for our speakers, but also for children or caregivers they needed to bring along. And more remarkably still, we would have found ways for parents to decline to travel without suffering the associated professional costs.
We didn't do these things, but our goal was much more modest: to model what's possible for most conferences most of the time — some small changes with potentially big payoffs.
June Gruber and I organized MoMiCon because we wanted to start a broader conversation about how to make professional life more inclusive, not only for academic mothers with young children, but for all those juggling multiple identities as caregivers, scientists, scholars and more. Now that the conversation has started, we can turn to the question of how to implement what we've learned — and how to start tackling the larger challenges.
---
Tania Lombrozo is a psychology professor at the University of California, Berkeley. She writes about psychology, cognitive science and philosophy, with occasional forays into parenting and veganism. You can keep up with more of what she is thinking on Twitter: @TaniaLombrozo