Giving Thanks For Animals — And Those Who Help Them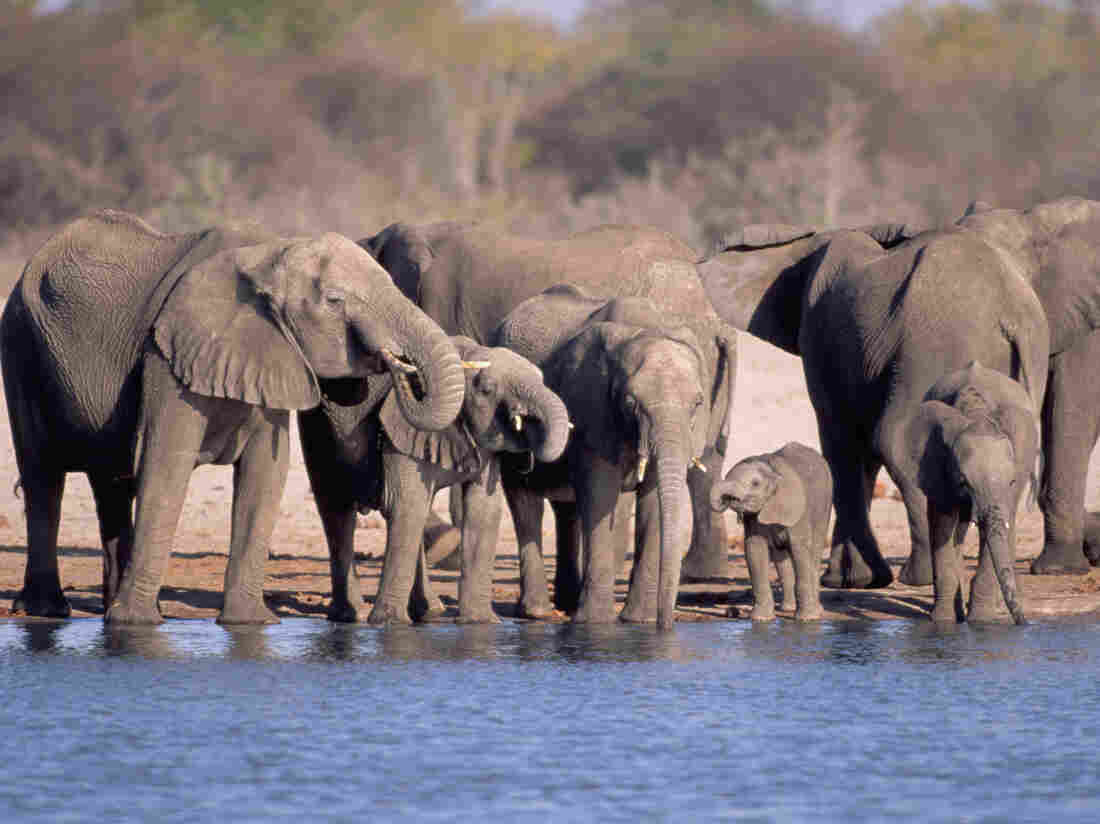 Winfred Wisniewski/Getty Images
On this day of giving thanks, I've put together a list of animal-related things for which I'm grateful. Here they are in no particular order:
10. This half-minute duck-chases-dog video. It brings a smile every time I watch. Don't miss the moment when the chase reverses direction!
9. Elephant compassion caught on film. Just look at how these wild elephants in China, through their nearness and their touch, comfort their companions who are trapped in a human-made pond. A happy ending ensues, thanks to the local forestry police.
8. Human compassion for elephants. Kudos also to the Air Shepherds team for this rescue of a drowning elephant caught in a water trough in Hwange National Park, Zimbabwe.
7. The voters of Massachusetts. In the Nov. 8 election, they voted by a wide margin to ensure better lives for farmed chickens, pigs and calves. The new law, to take effect in 2022, not only ensures more spacious enclosures for farmed animals inside the state, it also means that anyone who adopts illegal confinement practices for these animals will not be able to sell eggs, pork or veal in Massachusetts.
6. Regional nature centers. At places like the Virginia Living Museum, where I sometimes walk the nature trails, and the Vermont Institute of Natural Science in Quechee, where a family friend works as a raptor biologist, scientists rescue animals and connect visitors in informed ways with the natural world.
5 Anthropologists who write books that urge us to think in new ways about animal-human relationships. The ethnographer Marianne Elisabeth Lien's book Becoming Salmon is a good example. Aquaculture, in this case the industrial raising of salmon in Norway, is an ever-increasing endeavor with an impact on wildlife, the ocean and human health. It's getting much less attention than is factory farming, so Lien is a pioneer in this regard.
4. The movie Arrival. Making first communicative contact with space aliens is a part of this film, sure; that aspect is well-advertised. But it's also a film beautifully steeped in the principles of my discipline, anthropology; wrestling head on with xenophobia is also a big part of the story. Those ink-jetting space heptapods Abbott and Costello are just fascinating in their own right, too. (I'm counting them as animals; humans are animals, too, after all.)
3. Increasing awareness that our closest living relatives, the monkeys and apes, may grieve when their mates, friends and relatives die. This is a topic I've been working on for about five years, and the new scientific information coming in this year shows protection of, and distress at, the body of a loved one, by survivors. This awareness helps situate us as part of a web of animals who may experience keen emotions like love and grief.
2. And the increasing awareness that it's not just primates. This year, also, a study revealed new information on mourning in seven species of whales and dolphins. The topic itself is a sad one but, just as with primates, the cetacean evidence attests to how much we share with other intelligent life right around us on this planet — never mind waiting for heptapod contact!
1. Flapjack octopuses. Octopuses are on my mind lately, so I'll conclude with a calming and rather fascinating short video of this flapjack octopus filmed by Nautilus researchers deep off the coast of California. That's my way of saying thanks to all the wildlife researchers, film-makers and photographers who bring alive — and also often fight for — the lives of animals all around the world.
---
Barbara J. King is an anthropology professor emerita at the College of William and Mary. She often writes about the cognition, emotion and welfare of animals, and about biological anthropology, human evolution and gender issues. Barbara's most recent book on animals is titled How Animals Grieve, and her forthcoming book is Personalities on the Plate: The Lives and Minds of Animals We Eat. You can keep up with what she is thinking on Twitter: @bjkingape