Looking At Jazz From Across the Pond
Too often these days we find ourselves receiving e-mail newsletters, listservs or forwards we don't actually want. The other day I almost deleted an e-mail from the Darmstadt Jazz News without looking at it.
I'm glad I didn't.

The JazzInstitut Darmstadt at night. Photo Credit: courtesy of the JazzInstitut Darmstadt
The e-mail introduced me to the JazzInstitut Darmstadt and opened a door to the European jazz scene that I hadn't expected I would ever find, let alone crack apart. Dr. Wolfram Knauer is the man behind the Darmstadt Institute, and he's a serious jazz fan. He's one of those cultural warriors who can't help themselves from spreading the word about jazz in creative and instructive ways.
Here's an e-mail Q&A I did with Herr Knauer: first about what the Institute does, and then about his own experiences as a European jazz fan. I want to thank him publicly for the thought and time he put into his answers. I learned a lot, and I hope you will too.
-----
What does the title "Dr." represent (medicine, Ph.D., etc)?
Wolfram Knauer: It is the German equivalent to a Ph.D. I have a doctorate in classical musicology, but did my doctoral thesis on a jazz subject -- on the music of the Modern Jazz Quartet.
The rest of the interview, after the jump.
What country do you live in? What country were you born in?
WK: Germany for both questions. I was born in Northern Germany, the port city of Kiel at the Baltic Sea and have lived in Darmstadt for 19 years. Darmstadt is very close to Frankfurt (about 25 minutes by car). Both cities are in what used to be West Germany.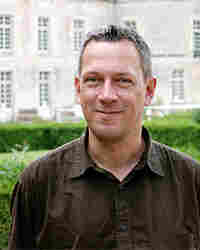 First I'd like to ask you questions about your clip service. When and why did you start your clip service (Darmstadt Jazz News) at JazzInstitut Darmstadt? What does the title mean?
WK: Basically the JazzInstitut Darmstadt is municipal institution of the city of Darmstadt, an archive and information center -- which means that we collect information from all different sources. We have the largest public archive in Europe at our disposal. This service is called Jazz Index, and is used by researchers, journalists and students from all around the world. We have always searched online newspapers for lengthy features and interviews which we archived and indexed in this Jazz Index. So one day we decided that we should make our knowledge database known to people who perhaps had not heard about the JazzInstitut's work before, which is how the Darmstadt Jazz News came into being.
What has been the response to the JazzInstitut Darmstadt?
WK: People were quite enthusiastic. Basically what we do is to look at news issues from American, British, French, German and other sources which we summarize in a couple of sentences, also providing a link to the original article. We try to keep a balance between articles about American jazz and articles shedding some light on the European scene. The Darmstadt Jazz News is updated daily on our website and sent to an e-mail list about once every ten days. The choice of articles summarized is purely subjective: We chose what piques our eyes. Sometimes we realize that some of the stories we summarize end up in a larger feature in some newspaper, magazine or elsewhere. But that's just what we want to achieve, so we regard it as a sign of success.
Where do you send the newsletter? Which countries?
WK: All the news entries are both in German and in English, so basically we have two mailing lists: one going to German-language readers, the other going to an international community of experts, fans and jazz lovers. People come from everywhere, though: Japan, South Africa, South America, the Philippines, all over Europe, of course, Canada, the USA.
Do you hear from your readers? What do they say about getting jazz news from around the world?
WK: There are Europeans who complain that we feature too many articles on American jazz, then there are some who complain that there are too many obituaries. But mostly we get very positive reactions from readers who seem to appreciate the odd mix of the news items.
Does the Internet make it easier to spread the word about jazz in other parts of the world?
WK: That's what it's all about, of course. I explain the reason for the Darmstadt Jazz News service sometimes by telling people we just want to lure researchers and jazz fans onto the JazzInstitut's Web site, make them aware of the resources we have in Darmstadt, make us the first [organization] they contact if they have a question and make them inform us about what's going on in the jazz world as well.
What were your goals when you started the service? Have they changed since you've been doing it for a while?
WK: The goals are multiple: (a) to inform people; (b) to draw their attention to our work, our expertise and other services that we can provide; (c) to spread information about European activities among especially American colleagues and fans and about some international ongoings elsewhere. All these goals still work.
Now a couple of questions about your personal relationship with jazz: How did you discover jazz? How old were you?
WK: I got interested in jazz around the age of 14, I guess, although I realize that I had been interested in it before, hearing it on the radio but having no idea what it actually was called. What I had actually heard there was pretty far-out experimental improvised music as well as contemporary composed music, as I realize now -- something often featured on public radio stations in the late 1960s and early 1970s. At the age of 16 I first heard Oscar Peterson. One year later, I hitchhiked to the south of France, heard Count Basie, Ella Fitzgerald, Earl Hines, Eubie Blake, Dizzy Gillespie, but also Charles Mingus, Cecil Taylor, Sun Ra, Dollar Brand [Abdullah Ibrahim] and a lot of other exciting musicians. That did it. I returned to the Nice and Antibes festivals for more than a decade, spending at least two weeks full of jazz down in Southern France. Plus, at the Nice festival you actually had the chance to meet and talk to the musicians, who usually stayed there not just for one concert but for up to a week.
Did jazz influence your perception of the U.S. when you were younger?
WK: Oh, the U.S. was all about jazz for me. When I came to New York the first time in 1979, I went to to three jazz shows a night for all the months I stayed there -- it was affordable then, and the Deutsche Mark just happened to be at a very good exchange rate. Jazz for me was African American music then, and is now -- even though today I see the development of this music to be much more global. It still is African American music, but it also is a gift of African Americans to the world, asking musicians from all over to take it and make good use of it, playing themselves and developing the music even further.
Do you think that European jazz fans have a more profound appreciation of jazz than those in the U.S.? if so, why do you think that is?
WK: I wouldn't say that, but there is certainly a different attitude to concerts and to the reputation of music over here in Europe. Musicians will tell you that European audiences are more attentive, but that can also get on your nerves when you realize you will never get the active audience feedback you can get at any American club. So, as with many things, there are two sides to the story.
Do you feel as if most of the jazz news/activity is centered too much around the U.S.?
WK: Sometimes I think it is and try to counterbalance that. But then, to be honest, many of the American articles we sample every morning are simply more interesting to read than the German or British or French counterparts I find. So I guess in some way the choice of articles also sheds some light on the press reception (and the current quality of jazz criticism) one finds in these countries today -- and definitively on the length of jazz history and how it is embedded in the everyday culture.
Which musicians would you recommend to jazz fans who would like to know more European jazz musicians?
WK: Listen to recordings by Albert Mangelsdorff (Germany), Michel Portal (France), Chano Dominguez (Spain), Pierre Dorge (Denmark), Tomasz Stanko (Poland), Jiri Stivin (Czech republic), Django Bates (England), Enrico Rava (Italy), Misha Mengelberg and Han Bennink (Netherlands). Or check out some of the young cats: Der Rote Bereich, Christopher Dell, Michael Wollny (all from Germany). But stay open-minded and don't be surprised if you find out that the European jazz aesthetic might be quite different from things going on in the U.S. That never is nor was a criticism of how jazz develops in its home country. It is simply a fact -- jazz became a world language, and other people have other things to tell, I guess.
What would you do to attract more younger listeners to jazz?
WK: That is a question we have to face as concert organizers. We do regular concerts at the JazzInstitut's performance space which seats up to 100 people and has great acoustics (and a good Steinway). We lowered the admission fee for those under 21 to 3 Euro but that alone doesn't help. I guess the only way is to go into schools, bring musicians into schools to show the young people what improvisation means, that jazz is fun and not just complex serious music. To many people, young or old, jazz has become some kind of secret science, and if you have to know too much to understand a type of music you might easily feel that you don't really want to listen to it in your spare time. So we should make sure to let people understand that the music does not really need so much pre-knowledge. Get people into a concert and they understand. Jazz is live music and if you get people into concerts they will automatically experience the magic of spontaneous musical communication on stage. It may be a good political idea to call jazz "America's classical music," but then European classical music is an art of the past, whereas I still see jazz as a living and developing thing.
Any other thoughts you may have about being a European jazz fan that I didn't ask?
WK: Where you come from definitively shapes what you hear and how you hear it. I believe that personally I have become very much of a bi-national listener, knowing both the American way of appreciating and reacting to the music as well as the European (or more precisely German) way of respecting and listening to the art. When I'm over here I sometimes miss the American openness and spontaneity; when I'm over there, I sometimes miss the European seriousness and respect for the music as an art that has not only a past but also an uncertain -- and thus, in its openness, just as interesting -- future. But that is what makes life so interesting, and jazz as well: that everyone is different, sounds differently, speaks differently, thinks differently, hears differently, reacts differently. I would not want to live in a world where everyone reacts the same, so I am happy that within the jazz world you have the same diversity of reactions, musical love affairs and petty fights as you have in the real world. It's a living music, and it moves me as it always has. It gets to my heart and my brain. It makes me think, and in my long relationship with it, it also feels like home.