10 Moments From The 2009 Chicago Jazz Festival
Over the Labor Day weekend, I was privileged to attend the Chicago Jazz Festival, a free three-day event held in downtown Grant Park. The weather was perfect -- about 80 degrees every day, and totally dry -- and the crowds came out in the hundreds of thousands to sit, consume, relax and maybe even catch a little jazz music.
I'm a big admirer of the way the event was programmed by the Jazz Institute of Chicago: not only did the organizers book impressive acts from around the world -- among them Gonzalo Rubalcaba, Esperanza Spalding and the Dave Holland Big Band -- but they made sure that Chicago artists were well represented at their hometown festival. According to the festival announcers, about 60% of the talent was local -- which is all the more impressive, seeing as how this is Chicago we're talking about.
Seeing how it was technically my vacation, I didn't do much in the way of formal reporting, and I didn't make it a point to stay for each show in full. But in three days of non-stop performances from noon to 9:30 p.m., I did catch a lot of great music, semi-obsessively Tweeting about it from my bottom-of-the-line Nokia brick and taking very amateur photographs from a point-and-shoot camera. Here are 10 great musical moments (and then some) from the festival last weekend that I found worthy of sharing:
-----
1. A little bit of a late arrival meant that Esperanza Spalding's set, headlining daytime action on day one of the festival, was the first full show I sat for. Spalding is something of a rare bird, see: an incredibly talented bassist, a wonderfully charismatic performer, a very musical crafter of arrangements, a daring singer -- and quite a photogenic young lady. (A raft of photographers, professional and amateur, rushed the front of the stage as soon as she appeared to set up, and didn't relent for half an hour.) I've already written about how her take on "Wild Is The Wind" pretty much rules, and the rest of her set was happily tuneful. A remarkable solo bass + voice turn on "Look No Further" won over most non-believers of her bright attitude. But probably my favorite part came at the end, when she sought the audience's help for a scatted call-and-response -- and promptly gave us lines far too difficult to mouth back. It was all in good fun, though, and after she segued into the wordless vocals of "I Adore You," she got the audience to sing the "la la la, la, do-be-do-buy-oo, la-da" refrain back to her as she rode out on that vamp. It assured that none left that set without being charmed. The person who captured this footage of that moment wasn't too far from where I was:
2. The Trio of veteran improvisers George Lewis (trombone and computer electronics), Muhal Richard Abrams (piano) and Roscoe Mitchell (saxophones) know each other from way back; they also have a 2006 record called Streaming. On the main stage in Chicago, their performance was one continuous stream of free improvisation between the three. (Which most of the Petrillo Music Shell actually stayed in their seats for despite its difficulty, I'm happy to report.) On the whole, it struck me a more of a process music than a finished product, one where the live environment is crucial to absorbing any of it. Having taken a class with him in college, and watching him construct a wonderfully full solo out of precise trombone burbles and swishes in Muhal's big band on Sunday evening, I know Lewis to be a fellow with a sense of humor amid the most serious music you could imagine. And when a police siren blew by Grant Park with its Doppler effect, Lewis just happened to have his trombone synched to a computer reverb effect. When he imitated that siren, and built his next phrases off of it, laughter murmured through the crowd. A mass, outdoor, U.S. audience was trying to follow this stuff. And that was good to see in itself.
2.5. Ok, so this isn't really a moment. But Gonzalo Rubalcaba hired 23-year-old drummer Marcus Gilmore to play in his quintet (also featuring Yosvany Terry on alto saxophone, Mike Rodriguez on trumpet and Matt Brewer on bass), and almost all the tunes the Cuban-born pianist selected felt metrically irregular. It was as if Rubalcaba instructed that the rhythm section subdivide the beat in a different way every other measure until they all somehow wound up ending together at the conclusion of a solo. And to this end, Gilmore either has three different internal metronomes, or he's incredibly good at creatively faking like he knows what he's doing. Captivating either way.
3. You know that feeling of discovery you get when you hear an emerging artist who seems to be making that next step? That's Greg Ward. Multiple young musicians I talked to beforehand told me that the 26-year-old alto saxophonist was someone I should look out for, and literally the day following his Saturday performance he moved to New York. Ward plays in nearly every other group around Chicago -- for instance, he performed with the Chicago Afro-Latin Jazz Ensemble that afternoon -- and as a bandleader he fronts a quartet called Greg Ward's Fitted Shards. With electric bass and keyboard synths, I'm not sure it wouldn't translate to "kinda-sorta cheesy" on wax, and on a new commission called "The Return," his compositional vision felt a little overlong and a little overwrought to my ears. Whatever whatever whatever. The ambition to go big or go home was there, and the vast majority of his set was brilliant. Ward has unusual command of his saxophone; his tone is burly and breathy, and it went everywhere he willed it to. The bulk of the material was a sort of jamband-jazz-gone-avant sort of tip, with none of the distaste and all of the energy that implies. But on a ballad that he said was inspired by a Daniel Barenboim-led performance of a Mozart symphony, the band (and Ward's alto) turned toward sincere beauty, and nailed it. That was my "Eureka!" moment, anyway.
4. Flutist Nicole Mitchell -- Nikki, to the locals -- has this disarmingly sweet, unexpectedly high-pitched manner of speaking. She also consistently makes such interesting music that pretty much everyone who likes jazz in Chicago loves her. When she was on stage with her Black Earth Strings project -- a multigenerational, African American, nearly all-female group with violin, cello, bass, light drums/hand percussion and her flute -- there was really no way you could have disagreed with anything she told you. She could have smiled and said, "Give it up for Pol Pot and three cheers for the H1N1 flu!" and I would have nodded. I digress though; on the surface, Mitchell's writing for Black Earth Strings is open, light, breezy -- a perfect complement to the summer day and the airy flute she wielded. (See also: the band's fine 2009 album Renegades.) But there are also these roiling undercurrents in her tunes, be it a stringent cello countermelody, a dissonant free passage, a sinister chord progression. One of them bubbled to the surface when, at the end of "By My Own Grace," she stepped to the microphone: "I will never again let my destiny / Be in the hands of my lover." That could only be a statement from one who's attained self-empowerment after a long, weary journey. Coming when it did, and from Mitchell's unassuming persona: that was some powerful stuff.
5. After Nicole Mitchell's band finished its set, I wandered over to the Petrillo Music Shell, where the Dave Holland Big Band was soundchecking on stage. And by soundchecking, I don't just mean playing the first halves of three tunes and packing up; it was practically a full open rehearsal. The video screen and the entire sound system were switched on, and though security wasn't letting anyone into the actual seating area, you could look on from the outside. Now, I don't always love Holland's small group writing, but translated and expanded to the full ensemble, it was big, brassy, full of bounce and sway. Their headlining concert that evening was spectacular and all -- Steve Nelson on vibes! Josh Roseman on trombone! Nate Smith, drum hero! Chris Potter bringing down the house! -- but the "hey, look at that" of stumbling upon an ensemble packed with world-class soloists just woodshedding a bit: pretty sweet.
6. At 80, Fred Anderson doesn't stand up straight, and even less so when he plays the tenor saxophone. But he can fill that sucker with wind (in terms of physical embrochure, how? I wonder), and also play for, say, 30 minutes straight if he wants to. With completely engrossing drummer Hamid Drake and the ubiquitous Josh Abrams on bass, he played two pieces and won three standing ovations from the crowd: one when the group took the stage, one after the continuous free improvisation which occasionally locked onto some intense grooves and cathartic resolutions, and the final after a soothing closer that saw Drake take the frame drum and do some chanting in Arabic. I know that was three moments, but I would be remiss if I didn't mention a Chicago legend being legendary.
7. I like most things which poet/writer/activist Amiri Baraka has been involved in -- though personally, I would universally like each of them better with less Amiri Baraka. In spite of what I think, William Parker called upon Baraka's spoken word services for his "The Inside Songs of Curtis Mayfield" project, and annoying as he occasionally was, somehow his presence made it better. Parker's band featured some free jazz heavies -- Dave Burrell, Sabir Mateen, the aforementioned Hamid Drake -- who, apart from an opening all-out gonzo salvo to the late Rashied Ali (Baraka: "Rashied! Rashied! Rashied! Rashied!" etc.), transformed into a credible soul/R&B outfit. Vocalist Leena Conquest sang with grace and flair, and there were also some wickedly out solos from Mateen and company. But it was impossible to ignore Baraka: he was front and center, and stepped over Conquest's lines frequently. That was all right, though, if you occasionally thought of him as comic relief. On "Freddie's Dead," he issued a dictum which was surprising, absurd and somehow perfect. "Freddie's dead," sang Conquest. "And that's the worst s--- we know," Baraka exhorted to the family-filled crowd. Twice. I don't know if Curtis Mayfield would have approved, but in some odd way, I did.
8. Fun fact: the Kevin Nabors quintet is also, on a 2009 album called Cries From Tha Ghetto, called Corey Wilkes & Abstrakt Pulse. Same band, some of the same material even -- different leadership, and a slightly different approach. On Sunday at the Jazz and Heritage Stage at the festival, Nabors' group was less free improvisation, and more original, open postbop -- plus a totally straight-faced jam on the blues head "Nostalgia In Times Square." The Nabors/Wilkes alliance (saxophones/trumpet, respectively) has put together a stellar ensemble: Nabors and Wilkes are killer soloists; Scott Hesse is an actually inventive guitarist, which is a rare thing, as jazzheads know; the rhythm section of Junius Paul (bass) and Isaiah Spencer (drums) are a go-anywhere backline. Now, Wilkes has this habit of walking off stage and looking disinterested while others are soloing -- I saw it myself, and it's been confirmed to me by other folks on the scene. But on the last tune, which Nabors dedicated "for [his] mama -- and all the other mamas out there," Nabors picked up his soprano sax for an inspired solo. And as Nabors was duetting with Isaiah Spencer, trilling on high notes and arching his body backwards, Wilkes got up on stage next to him, cheering exclamations, grinning ear to ear and waving his towel in delight. That's also how many who were watching felt, I would imagine.
8.5. Benny Goodman was a Chicago native, and his 100th birthday year wasn't lost on the Chicago Jazz Festival planners. They tapped reedman Eric Schneider to lead a more traditional Benny Goodman centennial tribute, and they commissioned an inventive set of Goodman-inspired originals and re-arrangements from clarinetist James Falzone. His quartet KLANG (aside: just which Chicago ensembles does new father Jason Adasiewicz not play vibes in?) just released an album as cleanly executed as its name Tea Music might imply. But it was an exquisite treat to hear him re-score "Stompin' at the Savoy," "Memories of You," "Six Appeal" and other Goodman repertoire in a sort of 21st century, post-Jimmy Giuffre version of small group swing. (Dave Miller played the Charlie Christian to Falzone's Goodman, making KLANG a quintet.) Wasn't really a specific "moment" in there that really stood out to me; it was just lovely is all. That and the fact that it would likely stand up really well to a recording. Oh wait: Jazz Ensemble Pays Tribute to Benny Goodman (from Chicago Public Radio).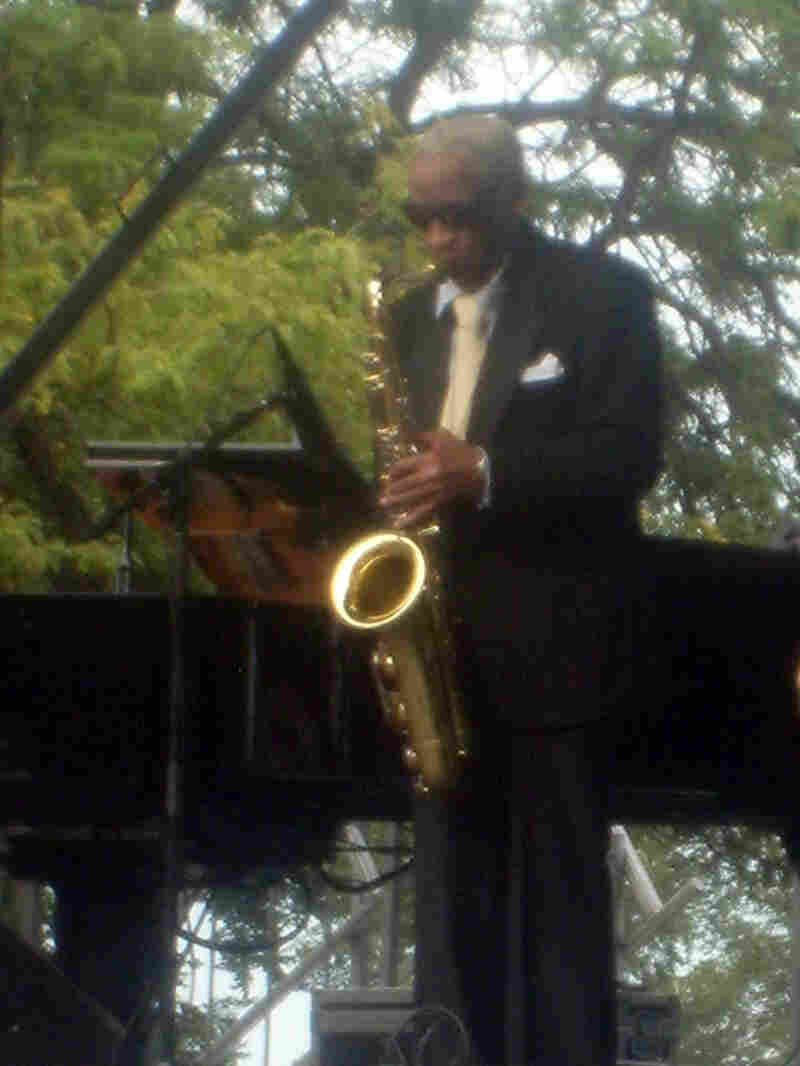 9. I've never been to his weekly jam session, but it's impossible to talk Chicago jazz and not mention Von Freeman. The man is nearing 87, but he's still a tactful saxophonist, and continues to mentor multiple generations of Chicago cats. At the festival, "Vonski" brought out his rhythm section for a few tunes, and later invited two high school age jazz students to come up and call out their favorite songs. (Where else except Chicago would a black man be given a Polish nickname and embrace it as his own?) Some intonation problems made Freeman's first tune a little shaky, but then he took the mic to dedicate the next tune, "Blame It On My Youth," to all the ladies. (I have a feeling this isn't the first time he's said that.) He said that this -- and here I was unclear what exactly he was referring to, the song or the women -- this meant more to him than anything else. He started blowing the melody, then paused to crack a joke. "Don't blame it on my heart / Blame it on my youth," he said, echoing the song lyrics. Then "If you must blame me. Don't blame me." The man has charisma for days. Sounds like he has music for years to come too.
10. This year's artist-in-residence at the Chicago Jazz Festival was AACM co-founder, composer and pianist Muhal Richard Abrams. And for a festival finale on Sunday evening, the bookers commissioned Chicago trumpeter Art Hoyle to put together a big band (of completely straight-ahead musicians) to premiere a new Abrams composition called "Spiralview"; Abrams also asked trombonist George Lewis (funny), saxophonist Roscoe Mitchell (rigorous) and the team of saxophonist Ari Brown and bassist Harrison Bankhead (balls to the wall) to perform featured solos. As a big band composer, Abrams is no more compromising; his palette includes tangled interweaving passages, spiky and dissonant harmonies and section soli comprised of collective free improvisations. When it all ended, with one of the few distinctly scripted passages of the entire thing, everyone stood up, whether from disbelief or exhilaration. (Mostly the latter, I think.) And then, while receiving the audience's adulation, with little warning Abrams went over to the piano and started playing three boppish blues choruses. One by one, everyone in the band took a one-chorus feature too, ending with everyone improvising together. It was definitely a "what?" sort of encore -- but not an entirely inappropriate one either.
11. (Bonus) I've already stretched the boundaries of my 10 moments stratagem -- so why not keep going? One of the best parts of going to the Chicago Jazz Festival is that the action is over by 9:30 p.m. This means, of course, that a raft of post-fest shows then begin at all the clubs around town. This year, Sunday's buzz was that the action was going down at a North Side bar called the Hungry Brain, where a band called the Lucky 7s took the stage sometime after 10:00 p.m. (Ok, fine, I heard that in part because I met over half the band in the days leading up to their gig, but whatever, right?) It was part of an ongoing concert program: every week for the last nine years, musicians Mike Reed (drums) and Josh Berman (cornet) have curated the Sunday night Transmission Series, featuring some of the city's top progressive jazz talent for a $10 suggested donation and no drink minimum. (There's even a tune on the new Lucky 7s album Pluto Junkyard dedicated to the Hungry Brain's bartender.) This week was somewhat special: not only did the show go on alongside the jazz festival, but trombonist Jeff Albert came up from New Orleans to take his spot in the band. The music itself was, as drummer Quin Kirchner wrote in the liner notes to one of his tunes, alternately "exciting, scary, fun and unusual." And a completely packed house -- like, people were standing all the way into the entrance -- left happy. Berman told me afterwards that the usual crowd was around 40-50 people -- so that night was an especially full house. It was a perfect way to end a long weekend of music -- even if I did have a 9:15 a.m. flight the next morning from an airport two hours away.