Bobby Bradford, James Carney, Conrad Herwig: New York Concert Notes
So as I mentioned offhandedly, I'm working out of New York this week, and thus seeing as many shows as my schedule permits while I'm in town. I'll be jotting some brief notes about my peripatetic venue-hopping, because -- well, I don't know why because, just because. (Somebody's gotta do it, right?) I also figured I'd take along a fancy company-owned Digital SLR as to subject you to my terrible rank-beginner photography. Enjoy!
Sunday, Oct. 4
7:30 p.m.
Bobby Bradford Octet
Jazz Standard (Festival Of New Trumpet Music)
The annual Festival of New Trumpet Music became a semi-annual event this year, broken into chunks throughout the year. The fall 2009 edition saw the organizers -- among them Dave Douglas and Taylor Ho Bynum -- importing 75-year-old Bobby Bradford from L.A. for four days of tributes and original performances. The Sunday night shows paired the guest of honor with an octet of veteran murderers: Benny Powell on trombone, Baikida Carroll on trumpet, David Murray on tenor sax, Marty Ehrlich on multiple reeds, James Weidman on piano, Mark Helias on bass and Andrew Cyrille on drums.
Without his regular personnel with him, the former Ornette Coleman and John Carter associate had to walk around, point and generally quarterback the set. But by the second tune, a slinky minor shuffle called "A Little Pain," all began to fall into place when Andrew Cyrille carved out a pocket with the simplest of quarter-note patterns. The third and last number, the reflexively descriptive "Crooked Blues," was another head-solos-head arrangement. But something about the unconventional melody encouraged all hands to skirt blues conventions, whether Murray's tenor madness, Weidman's subtle dissonances, Ehrlich's passionate clarinet. Assembling that many stone-cold heavies together for a one-off can be frustrating for all involved if the inspiration is lacking. Fortunately, the whole team was there to honor Bobby; they took his suggestive recipes and brewed fiery, heartfelt stuff.
Sunday, Oct. 5
10:30 p.m.
Conrad Herwig's Latin Side Band, feat. Eddie Palmieri
Blue Note
Taken alone, the idea behind trombonist Conrad Herwig's The Latin Side band sounds very much unlike my cup of tea. The band presents Afro-Cuban takes on the obvious repertory of the greatest in the pantheon: on this night, Miles Davis and John Coltrane. It had every possibility of being an overly bright, chintzy, unoriginal set where virtuosity overpowers imagination. I am happy to report it was none of that.
Herwig speaks freely with unadulterated reverence for Miles and 'Trane, but his band's re-scoring of these tunes sounds little like the source material. A clear highlight was trumpeter Brian Lynch's drastic rewrite of "Solar" as a son montuno; the facile Lynch even devised an entirely different alternate melody. Craig Handy (tenor sax) and Pedrito Martinez (congas) were essential role-players in the occasionally intricate arrangements. And when the Eddie Palmieri came on stage for the second half of the set, a warhorse as tired as "Blue Train" took new life, his left hand a glorious mess of montuno and muddy McCoy Tyner-isms. Sound issues plagued the whole experience -- too loudly engineered for an already deafening band -- but the presentation was slickly polished in the best way.
Monday, Oct. 6
after 9:00 p.m.
James Carney Group
Local 269 (RUCMA Evolving Music series)
Monday nights at the Lower East Side dive called Local 269 belong to the Rise Up Creative Music and Arts group, an offshoot of the fine folks who put together Vision Festival. It's a tiny corner bar -- there can't be any real bread coming out of this -- and only a handful of people turned up for Monday's triple bill. But it's a good deal: at $10 a set (plus a quantity discount), the lineups consistently feature some of New York's best unheralded improvisers in the most intimate of settings.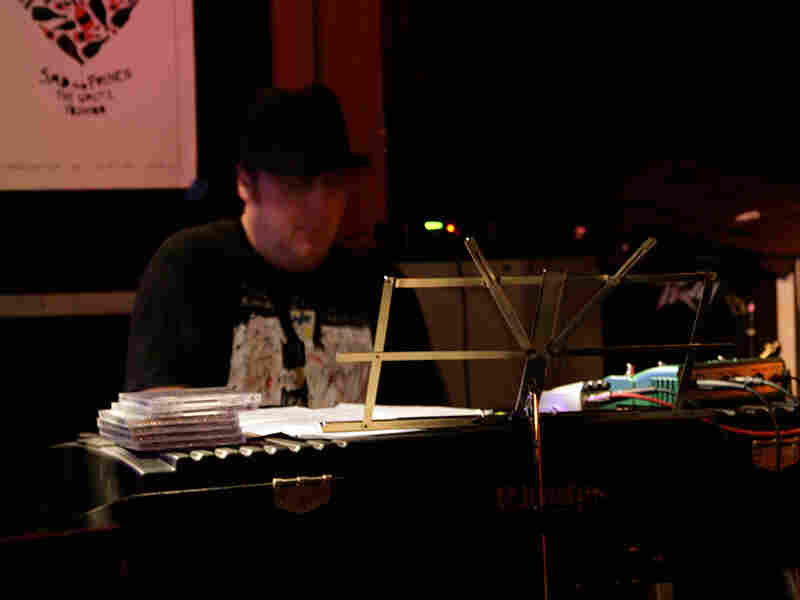 Pianist and composer James Carney's concept is rooted in long-form, scripted composition, but is also filled with open spaces for freely improvised interaction. I have yet to actually ask him about the specifics of putting it all together. Whatever the case, it all seems to resolve in the most riveting ways. He brought a Fender Rhodes to Local 269, which he plugged into an effects box; his solos (and tunes for that matter) were filled with his wonderful arpeggiated signatures. Drummer Mark Ferber and trombonist Josh Roseman are regulars with Carney; super-sub Drew Gress played bass. On a delicate number like "In Lieu Of Crossroads," (see 2007's Green-Wood) the Rhodes and bass tandem played aching textures, whisper-quiet and piercingly beautiful. Carney's writing really shines, though, when it's fast and rollicking -- an early composition called "Louisiana Raga" was a lustrous, driving start to the affair.