Preservation Hall Jazz Band: No Added Preservatives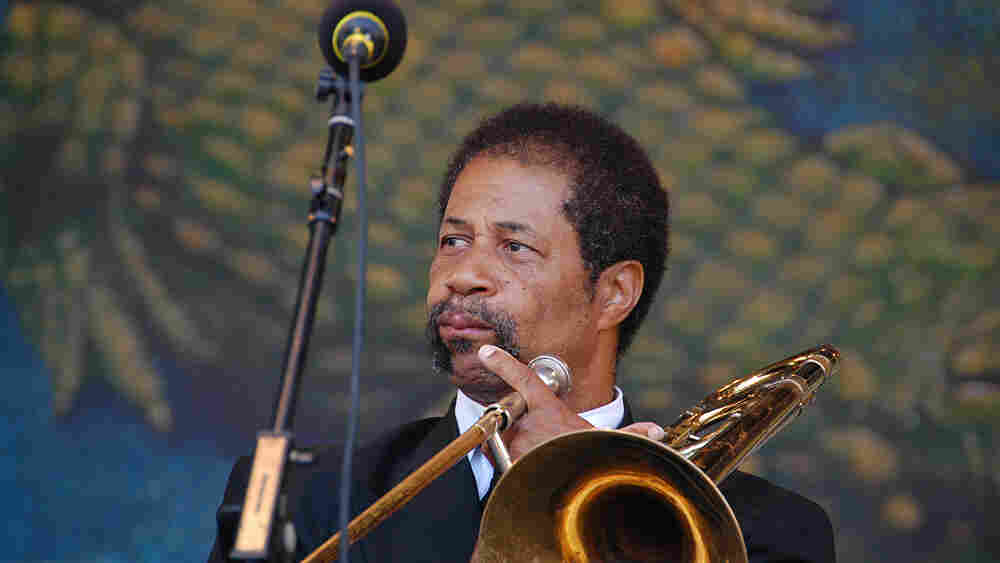 When Preservation Hall Jazz Band joined My Morning Jacket on the rock band's first Saturday performance at Jazz Fest, it was the beginning of a tit-for-tat. They recombined later that evening for a benefit in the French Quarter, at Preservation Hall itself. And Sunday at the Gentilly Stage, PHJB played a set of traditional New Orleans music laced with recent adaptations to the repertoire like The Kinks' "Complicated Life."

That's part of the complicated charm of Preservation Hall's new identity — there's a firm grasp of the tradition, but also an inherent pliability of the New Orleans style that can still resonate with a whole new audience. It's old sometimes, but it's also relevant.

Trombonist Freddie Lonzo and trumpeter Mark Braud provided the low-down brass blues, clarinetist Charlie Gabriel added a soaring clarinet response and singer Clint Maedgen was hip without pretense. Their version of "I Believe Like Moses Did" never broke down, even when they were goofing.
Preservation Hall has recently released a benefit CD, and they featured a few of the special guests from that recording. No, not Tom Waits doing "Tootie Ma is a Big Fine Thing"….
But Amy LaVere was there to sing the enticing "Baby Won't You Please Come Home" into a vintage-style ribbon microphone, albeit one that was wreaking havoc for the sound technicians. Her auburn-accented hair sailed into the breeze, and she handled an equally flowing delivery.
Jim James showed up in the band's suit-and-tie dress code, with a bullhorn resembling a stolen traffic cone. There was little caution to his sweetness on "Louisiana Fairytale," a song about smelling magnolias and being in love — "The world is at our feet, the picture is complete, like a Lou'siana fairytale." Really, Yim Yames?
Then homegrown trumpeter Terence Blanchard and trombonist Freddie Lonzo traded modern vs. traditional, and the lines from both kept blurring. James stayed in for the closer, "St. James Infirmary Blues," an old folksong about the usual – a man walks into a bar, having just returned from the hospital visit to see his dead girlfriend. Drink up.