New Atlantis Festival: Two Days Of Free Jazz In D.C.
Washington, D.C. is a weird place to hold a free jazz festival. Our jazz history skews mainstream, and the current local "out" scene is cozily small. Even stranger yet was the neighborhood -- The Fridge is in the back alley of Barracks Row, Capitol Hill's version of Main Street, where every other storefront is a "bar & grill." In any case, I'll greedily take it. And so did the mostly solid crowds.
I previewed five artists from the New Atlantis Festival last week and to my surprise, only a few of them really shook my ears. Charles Gayle was a no-show (Sabir Mateen was a more-than-comparable last minute replacement), power drummer Weasel Walter won over a largely older audience and saxophonist Jimmy Ghaphery was Saturday afternoon's secret weapon.
I was previously unfamiliar with saxophonist Ras Moshe's music, though I knew he came from the John Coltrane/Pharoah Sanders school. On Friday night, he bopped and bounced like the masters, his tight-lipped technique abetted with serious soul. After a particularly raunchy solo, Sonny Simmons yelled out a hearty "Yo!" He was right.
Right before Weasel Walter's trio took the stage, I asked the metal-shirt-wearing drummer if I could photograph the band from the side of the stage. (The Fridge is a cool venue, but, man, get some stage lights!) Never before have I experienced blastbeats that up-close and personal. Between the drumming, Tom Blancarte's furious bass shred and, I kid you not, Dillinger-Escape-Plan-worthy fractured arpeggios from saxophonist Darius Jones, I felt like I had been repeatedly run over by a bus driver. This is, of course, Weasel's M.O.: violent free-improv. But I had to laugh when the older audience (likely in attendance for Sonny Simmons) basically bum-rushed the stage to buy ugEXPLODE merchandise. Never judge a book by its cover.
Which brings me to Friday's big draw: Sonny Simmons. When he did play, it sounded great. His tone has become breathier, but sweeter in a way. From what I can tell, he saves his fire for bandmates he knows. But he had never even met his rhythm section before Friday night, and the promoters reportedly had to hunt far and wide to find musicians who would agree to play with Simmons. Take that as you will; the unrehearsed, shambling nature of the set was something of a don't-miss-it mess. It was boppy, but awkward; melodic, yet full of sore thumbs. I couldn't turn away from the disaster of it all.
Ending Friday night was the New Atlantis VItet with trombonist Steve Swell. It's a leaderless group featuring members of the New Atlantis Collective, which invoked the collective noise of Albert Ayler. Most notable was the bass interplay between the sonorous Vattel Cherry and Jason Ajemian's melodic yet haunting upright.
Saturday afternoon's secret weapon was Jimmy Ghaphery. I realized a day later I knew him from Impermanence, a understated trio disc from 2005 featuring guitarist Jason Bivins and drummer Ian Davis. Understatement seems to be Ghaphery's game. The Richmond-based musician sat in with D.C. duo Nine Strings, tossing dice a la John Cage to determine what bell or which part of his two flutes he'd play next. It was quiet, intimate and altogether lovely. His regular group, New Loft, played sans drums, but switching to sax, Ghaphery and guitarist/saxophonist Tim Harding played off each other as only a long-standing pair could. More needs to be heard from Ghaphery.
What little there was in the way of the afternoon audience, Wasteland Jazz Unit managed to clear out half of it. The duo's screeching walls of feedback and distortion emanating from their stacks of amplifiers and reeds was enough to crust over your eyes in dried blood. Those who remained were immediate converts. (Full disclosure: my record label released a split LP featuring Wasteland Jazz Unit.)
Many Arms' Palabras Malas didn't do much for me last year, which is surprising considering that it brings two of my favorite things together: metal and free jazz. But if it lacked anything on record, it convinced me in concert. Its tone was bolder, angrier, smarter. The Black-Flag-meets-Ornette-Coleman comparison had some weight here, and I couldn't help but geek out to the angular dizziness of Nick Millevoi's 12-string guitar workouts.
Chicagoan Jason Ajemian snuck in a solo bass set. His brief performance felt like a prayer, meekness turning to fervor, hitting the strings with a mallet and bowing with levity. He framed the three-song set around a country song, about the rain, that his uncle wrote. In Ajemian's hands, it sounded like a beautiful tune from Arthur Russell's World of Echo.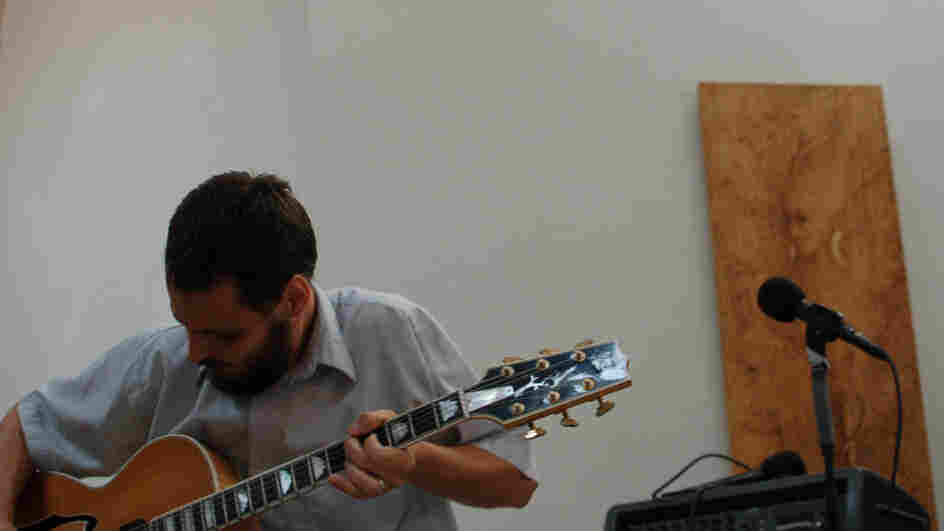 Another quiet afternoon set came from Trio Caveat, but this one was more about the subtlety of interaction. James Ilgenfritz (bass), Jonathan Moritz (saxophone) and Chris Welcome (guitar) wheezed sound like an antique pump organ, always tense, never releasing. There's a clip of the performance on YouTube.
By far, the most arresting set of the New Atlantis Festival was played by Susan Alcorn. The pedal steel guitarist wove in desert-swept country sadness in and out of Messiaen-like improvisation. (Full disclosure: Alcorn recorded a track for a compilation on my record label.) It was beautiful, mournful and cinematic, scoring an impressionist spaghetti western.
Nate Wooley's trumpet vocabulary is wholly his own. Few musicians can lay claim to a solo set so engaging, and Wooley clearly thrives on it. At New Atlantis, it was no different, expanding our ears to unknown possibilities.
With Charles Gayle a no-show, saxophonist Sabir Mateen came down from New York to replace him. Mateen is no slouch. His 30-minute solo performance was rare for his instrument: a circle of sound, tender and fierce, organically improvising a zone we all willingly followed.
But the real treat was seeing bassist Joe Morris in two modes: one in his very boppy and very fun Wildlife Trio just beforehand, and the other joining Mateen and Wildlife drummer Luther Gray in a free-for-all set. Morris picked up the bass in 2000 after years spent playing the guitar, but his melodic yet searching sense both finds new sound on bass.
Collective blow-outs at the end of free jazz festivals are a tradition. It makes sense -- invite everyone onstage, including the audience, and freak out. Honestly, it's always a mess, and this one was no different. But under loose direction from Sabir Mateen, the ensemble actually had its moments, always in the red.