Newport Jazz 2010: Eight More To Watch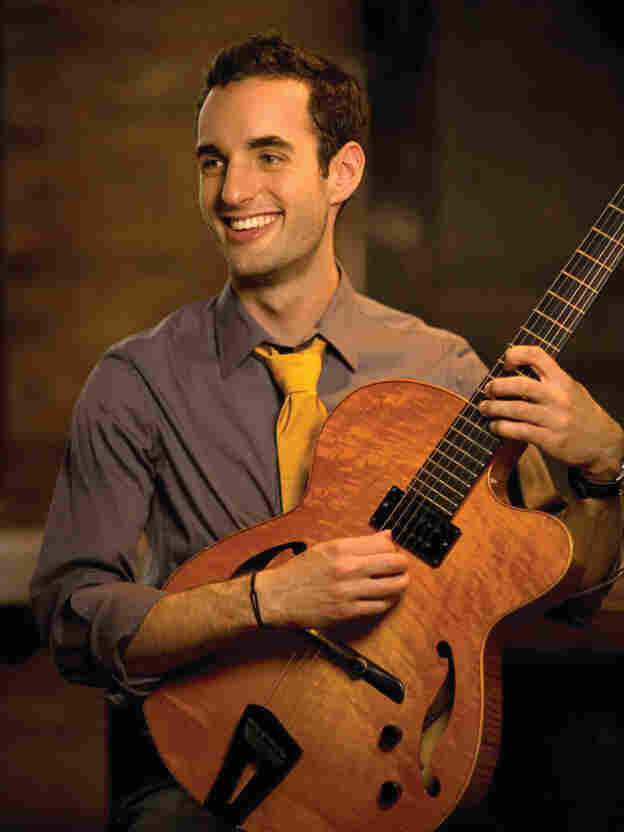 Recently, the weekend staff of All Things Considered kindly invited me into the studio to preview some of the sounds at next week's CareFusion Newport Jazz Festival. My conversation with Guy Raz aired yesterday; the accompanying web feature and online archive, with full streaming songs, is now up.
We only had time to discuss four different acts: Fly, Gretchen Parlato, Arturo O'Farrill with the Afro-Latin Jazz Orchestra and the Matt Wilson Quartet. You'll notice that we didn't discuss the absolute stars known outside the jazz world who will be there: Wynton Marsalis, Dave Brubeck, Ahmad Jamal, etc. I wanted to introduce a few of the many artists who ought to be as well-known, but aren't yet — and I also wanted to mention some of the folks who haven't been extensively featured by NPR Music in the last few years. (Darcy, JD, Maria, Dave, Jason, Anat, etc. — love you guys, but you know how it is.)
Of course, four bands is a woefully incomplete preview no matter how you slice it. So here's double that: eight more groups playing this year's festival, illustrated with video clips, with some priority to groups we're hoping to bring you. And remember, you can hear our live webcast of the festival on Aug. 7-8, and listen to all the sets we record on demand afterward, at npr.org/newportjazz.
---
We hear about plenty of precocious pre-teen prodigies in jazz, but it's not always the case that those young talents mature into musicians with individuality and personal vision. Guitarist Julian Lage was touted as one of those young shredders back in the day. Happily, his debut album Sounding Point is filled with expansive, almost cinematic compositions. He makes easy, natural references to folk and bluegrass, and his quintet is intriguingly staffed with a cello player and hand percussionist. You might catch him performing with Mark O'Connor's Hot Swing group too. And yes, he's still only 22.
Bassist Ben Allison is one of those composers with the rare ability to conceive music that sounds like rock 'n' roll and feels like jazz. His Think Free album from 2009 introduced a new working band, including acclaimed players Jenny Scheinman, Rudy Royston and Shane Endsley. But a big part of what makes his vision so appealing is the heavy lifting done by Steve Cardenas on guitar, occasionally driving but always tasteful. Allison is one of the heavies of today; we'll get to hear his band in glorious full force at Newport.
The Newport Jazz Festival will be something of a return for reedman Ken Vandermark: he was born in nearby Warwick, R.I., and his Vandermark Five lit up last year's festival with one of my personal favorite sets of the weekend. This year, he's bringing his Powerhouse Sound band, which takes funk, hardcore and reggae beats, then dissects, rearranges and blows mad over them. Vandermark is often called a free jazz musician, which is scarier to some than it needs to be: they don't realize that the loud skronk also comes with a great deal of careful crafting and arranging. But rest assured, he'll also blow the lights out too.
This Jon Faddis fellow: he can burn. He's been kicking tail and collecting names on the scene longer than I've been alive, but I've never seen him play yet. I'm clearing my schedule in order that I might amend that. He'll be with his quartet, and also with the Afro-Latin Jazz Orchestra.
The Freedom Band is the name being used to describe the alliance of Chick Corea, Kenny Garrett, Christian McBride and Roy Haynes. As you can see, it's a multi-generational all-star ensemble; it was put together for this summer, but happily, reports have it that sparks are flying from the stage. (McBride, on Twitter: "Man, this band is starting to scare me. That's the second time on this tour where some crazy s*** broke out on the encore!") I don't quite know what to predict, which is, I think, a good thing.
When I met David Binney last year in Washington, D.C., he said that he was on his first sizable U.S. tour. That surprised me a bit. The prolific composer and alto saxophonist, something of an artist-in-residence at the 55 Bar in New York — this was his first real foray into his own country? If he's finally making a wider breakthrough, he'll certainly carry a band up to the task. Binney's 2009 effort Third Occasion features Craig Taborn on piano and Brian Blade on drums (great drummer? or best drummer?), and they'll be up at Newport with him. It'll be a set with deceptively simple-sounding tunes, lit ablaze by all involved.
You may know Rez Abbasi from his solid solo discography, or perhaps from Rudresh Mahanthappa's celebrated Kinsmen or Indo-Pak Coalition bands, the latter of which played Newport last year. He's bringing his own, new band this year, and a new axe: RAAQ, which stands for the Rez Abbasi Acoustic Quartet. Vibraphone and acoustic guitar make for a spacey, open sound — but a swinging one, as was displayed at Winter Jazz Fest this year. This performance excerpt is from a few months later.
For years, Conrad Herwig has had a good idea, executed tremendously. His "Latin Side of ..." series of recordings re-arranges the oeuvres of Miles Davis, John Coltrane and Wayne Shorter for a top-notch Afro-Cuban jazz band. Perhaps appropriately for Herbie Hancock's 70th birthday year, Herwig's band is playing Herbie tunes at Newport. (Perhaps Hancock himself, who will be playing his own set, will be watching?) This clip features a Coltrane tune, and the band is different now, but you get the picture: great arrangement, great group of players, great source material, great time.